Wifasso.com
Henry's Random Thoughts
2003
2003 saw the team scale back to three bobbles, and one was a mascot. It was quite a letdown after the excellent 2002 selections. I guess they didn't want to distract from the new stadium opening.
Marty and Joe
This one was the last one for which the team gave out 20,000, and you had better have been there early for the May 24 game to get one. The announcing team of Marty Brennaman and Joe Nuxhall had been together 30 years and were uber-popular with fans. This was the first dual bobble they made, and even the back was quite detailed, showing Joe's bald head and the chairs the two guys sat in. A Job well done, even if the tiny microphones were prone to breaking.
<![if !vml]>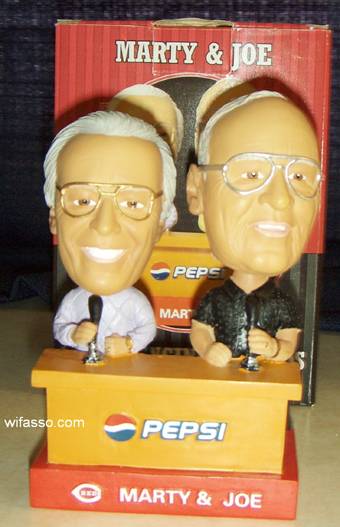 <![endif]>       <![if !vml]>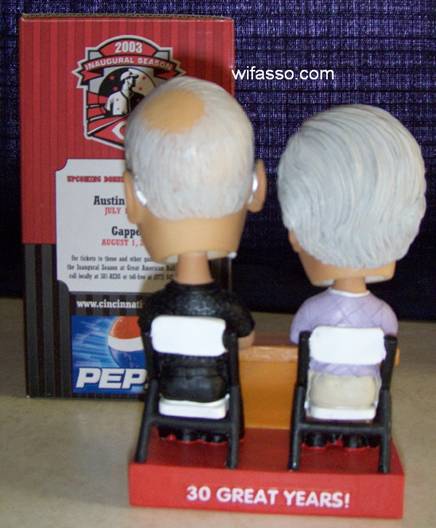 <![endif]>
Austin Kearns
A bright prospect who never quite panned out for the Reds and was traded in 2006. He started off well in 2003, but had a nagging injury keeping him out of action when this one was given out on July 19. Add in the fact that they increased the quantity to 30,000, and this wasn't a real hot collectible. Sure, you need one for the set, but there are enough to go around.
<![if !vml]>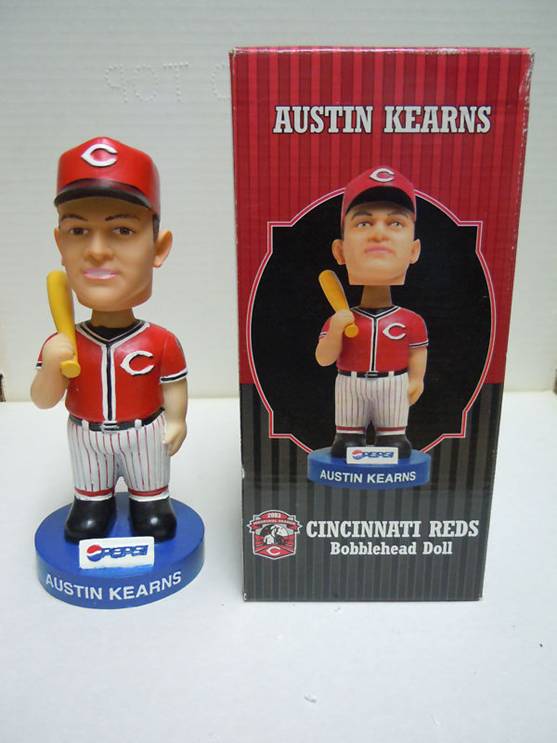 <![endif]>
Gapper
Things that make no sense to me: tip jars at self-service delis, New Coke, websites that sold pet food, and teams adding a second mascot. In 2003, the Reds added Gapper, a thing that was inspired by the Phillie Phanatic and the Expos' old Youppi, mascots that make you say "What the heck is that thing supposed to be?" I guess the point is to keep Mr. Red for the baby boomers and have something just for the kids as well. They only gave out 10,000 of these bobble bellies, but demand was less than for the player ones. Since they only gave them to kids 12 and under (a bad idea for something breakable), I had to get mine from Ebay. I'm not trying to be anti-kid here, but when I was 12 and I saw "unbreakable" on something, I saw it as more of a challenge than a guarantee. This one was given out August 1.
(2012) It has come to my attention that this is one of the more desirable and hardest-to-find items of the bobblehead series. I guess the combination of a small run, an extremely elaborate and fragile piece, and the fact that they were only given to young children did, in fact, conspire to make this a scarce collectible. One guy who contacted me through this website told me he paid $100 for his. A check of current values on Ebay shows no recent sales, but BIN sellers are asking pretty hefty sums for them, somewhere in the $60-$80 range.
<![if !vml]>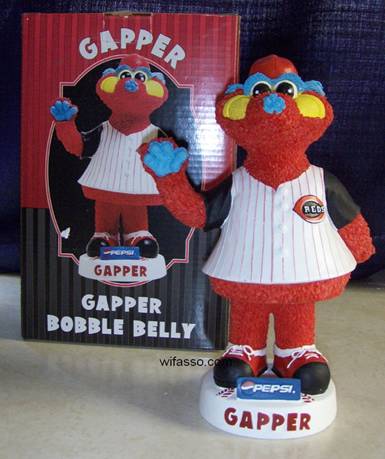 <![endif]>      <![if !vml]>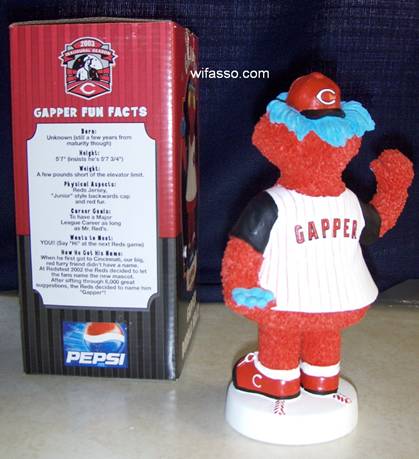 <![endif]>
Great American Ballpark Replica
While not technically a bobblehead, this nice ceramic giveaway could probably go on display in a place where your wife might not let you put a bobble. I wasn't planning on getting one of these. I just went to the game and they happened to be passing them out that day.
<![if !vml]>
<![endif]>