Wifasso.com
Henry's Random Thoughts
2004
The team gave out three bobbles again in 2004. It was a bit of a comeback for the team, as the player selection got much better than in 2004. They began giving them out on Wednesdays this year. I guess that Saturday crowds were good enough for the team, and they wanted to beef up the Wednesday crowds, which are usually a little wanting. They also offered them to the first 40,000 fans. This means that effectively every fan that wanted one got one. The people buying them on Ebay would be those who couldn't get to the stadium on bobblehead night. Every bobblehead night from 2004 to 2007, the team purported to have 40,000 available, even though many of the games only drew 30,000.
Joe Nuxhall
You can't go wrong giving out Joe in Cincinnati, and the one thing he's famous for outside Cincinnati is being the youngest major leaguer in modern history. It's a fact repeated on seemingly every Nuxhall baseball card, and this bobble commemorated it. It is the 1944 version of Joe at the age of 15.
<![if !vml]>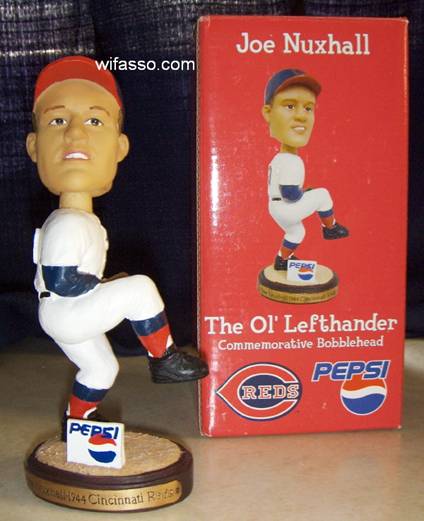 <![endif]>        <![if !vml]>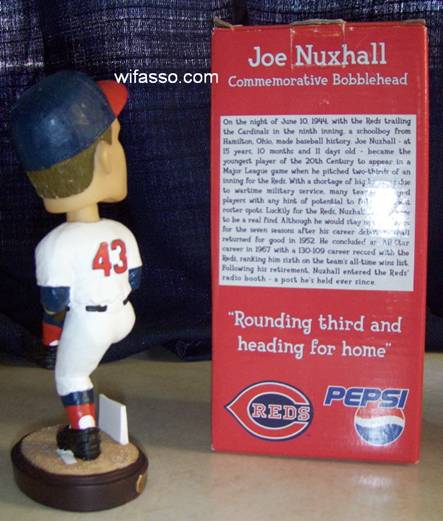 <![endif]>
Sean Casey
On June 30, the team sold standing room tickets for a Wednesday night game, thanks to the unbelievable popularity of Sean "the Mayor" Casey. Even the Ken Griffey Jr. bobble given out in 2005 didn't get this kind of crowd. As I write this, Red Sox fans love Casey even though he plays first base and hits four home runs a year and is hurt all the time. Only sainthood could make this guy more popular. His bat was much more productive when he was a Red.
<![if !vml]>
<![endif]>          <![if !vml]>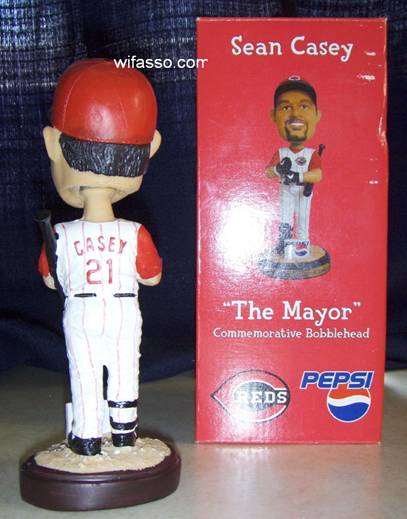 <![endif]>
Joe Morgan
No introduction necessary. The guy that made a good team great. They made the bat separate from the rest of the figure, which was a nice touch, since bats are the most breakage-prone parts on bobbleheads. Sponsored by Great American Insurance.
<![if !vml]>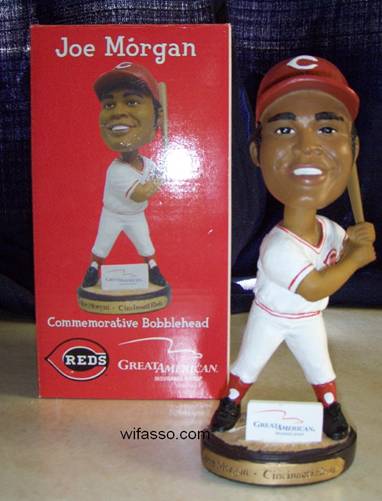 <![endif]>       <![if !vml]>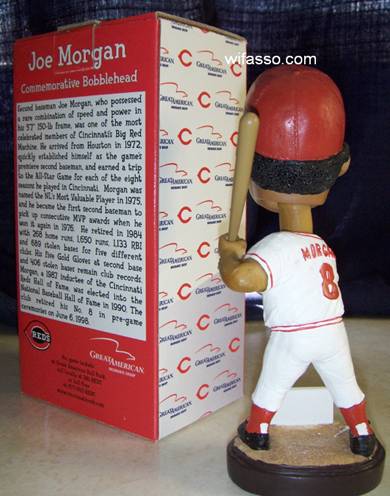 <![endif]>