Wifasso.com
Henry's Random Thoughts
2005 Cincinnati Reds SGA

Bobbleheads
Sean Casey Figurine
While not technically a bobblehead, this figurine is a pretty close relative in the family of SGAs. The popular Sean Casey was featured on this item, which was given away on a Saturday night, much like the Dunn figurine a year later. Given away July 23, 2005. They had done a Casey bobble in 04, so this was a good way to promote the guy who was by far the most popular Red at the time. Sorry the picture stinks, but we didn't sell these, so I had to get the image from somewhere else.
<![if !vml]>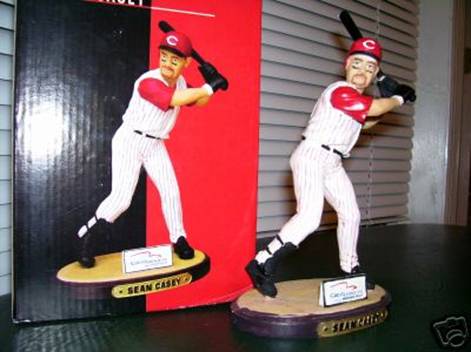 <![endif]>
Ken Griffey Jr. Bobblehead
May 24 of 2005 marked one of the most popular giveaways the team ever had in my opinion, on par with the 04 Casey bobble. We had 40 tickets for this game and got a last-minute chance to snap up 20 more from a broker. We pounced on them and were not sorry. The featured player needs no introduction. Despite a few jokes about the dolls being broken (a cheap shot at Junior's injury woes), these were very popular on Ebay from Day One. The Johnny Bench from 02 is more valuable, but that's because they made ¼ as many.
<![if !vml]>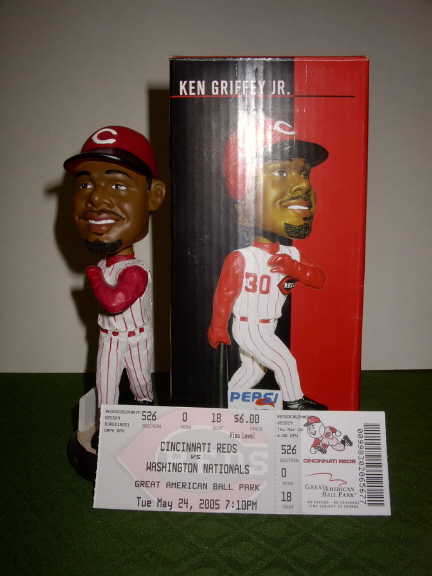 <![endif]>
Wily Mo Pena Bobblehead
June 8 featured Wily Mo Pena, a popular player who could hit some tape measure shots that made up for some adventures in the outfield. It remains to be seen whether this guy will become a career starter or just a role player. He was traded to Boston for Bronson Arroyo. This one was out a mere two weeks after Griffey's, but the Griffeys people stockpiled to sell were probably gone by then!
<![if !vml]>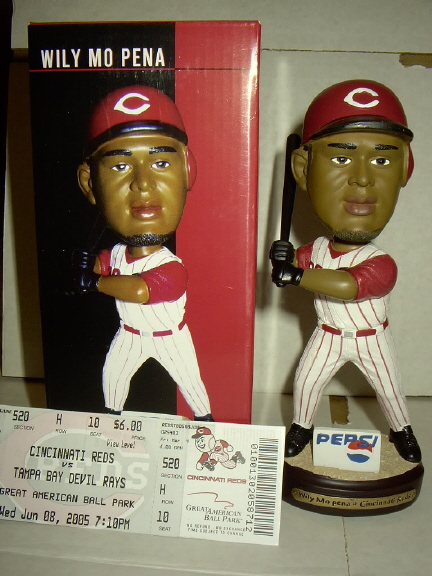 <![endif]>
Tony Perez Bobblehead
The retired player slot went to Tony Perez, another Hall of Famer from the Big Red Machine and also the manager of the Reds for a brief period. He never really got the chance to prove himself as a manager, and he was always near the top in the hearts of Reds fans. A popular bobble, given out August 3 of that year.
<![if !vml]>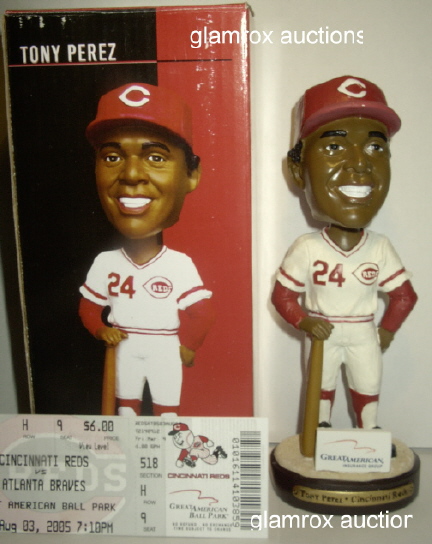 <![endif]>