Wifasso.com
Henry's Random Thoughts
2006 Cincinnati Reds SGA Bobbleheads
Adam Dunn Figurine
While not technically a bobblehead, this figurine is a pretty close relative in the family of SGAs. This item followed up on the popular Sean Casey figurine given away in 2005. Given away May 13, 2006.
<![if !vml]>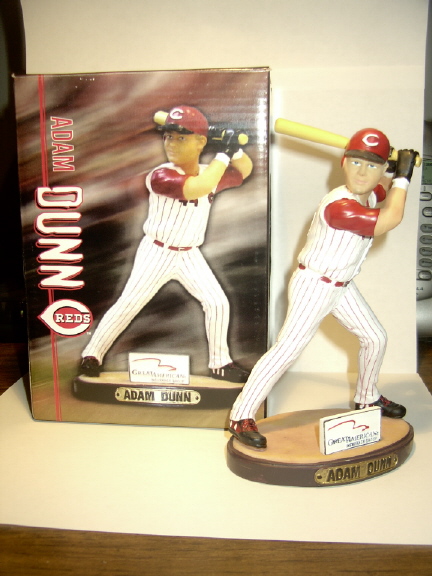 <![endif]>
Felipe Lopez Bobblehead
On May 24, the real bobble season began. Felipe Lopez was the Reds' only All-Star in 2005, a bright spot in that season. Whatever shortcomings his glove had, his bat made up for it. The front office made the decision to play him up as the heir apparent to a line of great shortstops that had patrolled the infield since 1970. Dave Concepcion and Barry Larkin would be the other two bobbles. Well, Felipe's 2006 season wasn't quite what his 2005 was, and he was traded mid-year to the Washington Nationals. So much for the shortstop dynasty. I think the people who make these things knew what was coming, since the paint job on these seemed to be pretty poor. It's not that they missed any details, it's just that the red paint was kind of pink.
<![if !vml]>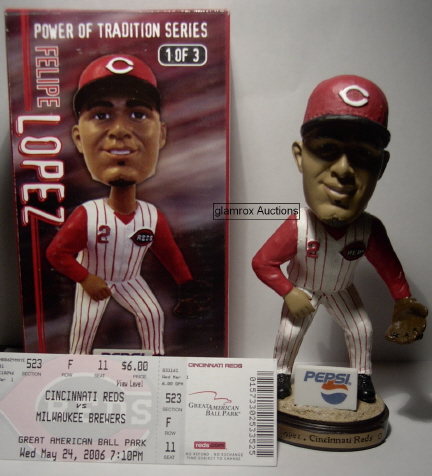 <![endif]>
Barry Larkin Bobblehead
June 28, another Wednesday, saw the next giveaway, a bobble of the popular Barry Larkin. The fact that there had already been a Larkin giveaway a few years back, and the fact that Larkin was unceremoniously let go by the team since then, did not interfere with the Reds' desire to use Barry's popularity to get a good crowd at a Wednesday night game.
<![if !vml]>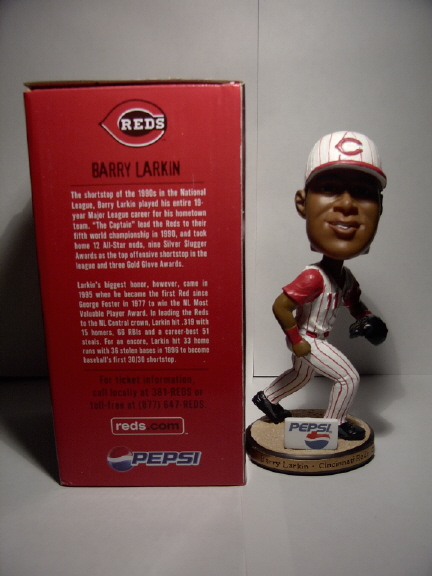 <![endif]>
Dave Concepcion Bobblehead
On August 9, the Reds honored one of my favorites, Dave Concepcion, shortstop of the Big Red Machine. Every Ozzie Smith fan should check this guy out. Not to take away from the Wizard, but Concepcion invented the style of play that Ozzie made famous.
<![if !vml]>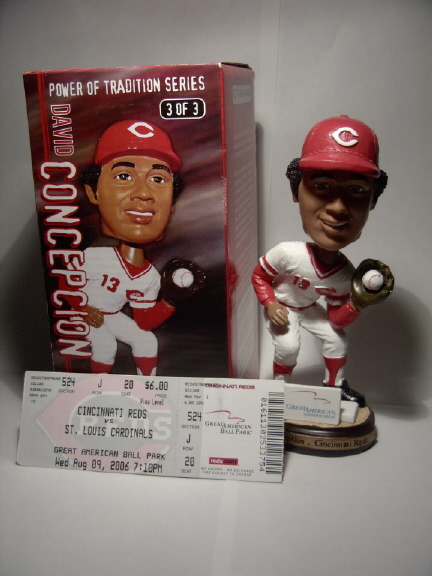 <![endif]>