Wifasso.com
Henryís Random Thoughts
2008 Cincinnati Reds SGA

Bobbleheads
Brandon Phillips 30/30 Dual

Bobblehead
A sellout crowd of over 42,000 packed into GABP on May 17 to watch the Reds beat the Indians on an Adam Dunn walkoff homer. The first 30,000 received one of these bobbles. It was the first time in several years that the team gave away fewer than 40,000 of them. Since they have been giving them away on Wednesdays recently, and the crowds have been about 30,000 for the games, Iím not sure it was their intent to leave people empty-handed. One person probably decided to cut the order, and someone else might have decided to move the game to Saturday. Either way, I hope all the people who missed this one were Indians fans.
Another factor hindering tightwad bobble collectors was that this was a premier game, meaning ticket prices were higher. Also, it was part of the Opening Day ticket pack, meaning the bleacher seats were unavailable in single-game form. For Joe Fan, the cheapest he could do was a $19 view level seat. Hours before game time, they sold some $12 standing room tickets, but Iím sure most people had broken down and bought their tickets by then.
<![if !vml]>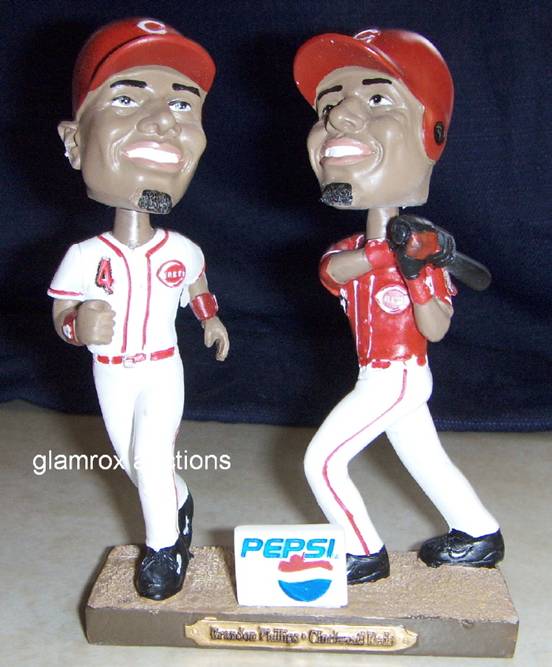 <![endif]>
<![if !vml]>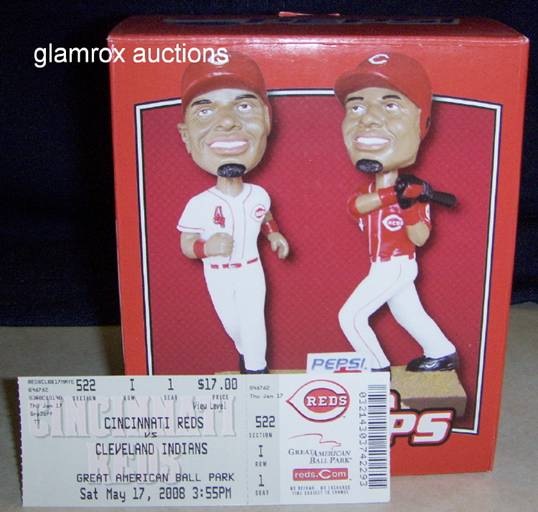 <![endif]>
<![if !vml]>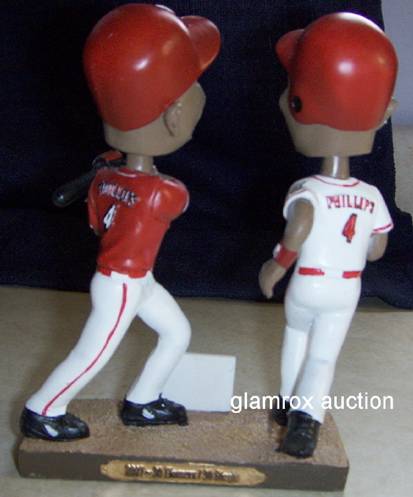 <![endif]>
Joe Nuxhall Replica Statue
Tuesday June 10th saw the team defeated by the St. Louis Cardinals in front of 34,000 fans after an emotional ceremony to honor local hero, pitcher and broadcaster Joe Nuxhall, who died in late 2007. The first 30,000 got an item that while it was not a bobble, belongs in the bobble family for sure. It was a small bronze replica of the statue of Joe that stands outside Great American Ballpark. It is very well done, and the fact that something like this can be given away is testament to how good modern life really is. We got some extras for Ebay listing, and they sold a lot quicker than we expected, thanks to the quality of the item, and ďThe Hamilton AssassinísĒ incredible popularity.
Amazingly, I got to meet Tom Tsuchiya, the noted sculptor responsible for the Nuxhall statue, as well as some of the other player statues in front of GABP. I told him how much I liked the big statues, and I mentioned that I had the little one. The one thing he told me is that the smaller one is not quite a perfect scale model of the bigger one. Apparently, there was something in the structure of the bigger one that just couldnít be shrunken down for the giveaway. Interesting.
<![if !vml]>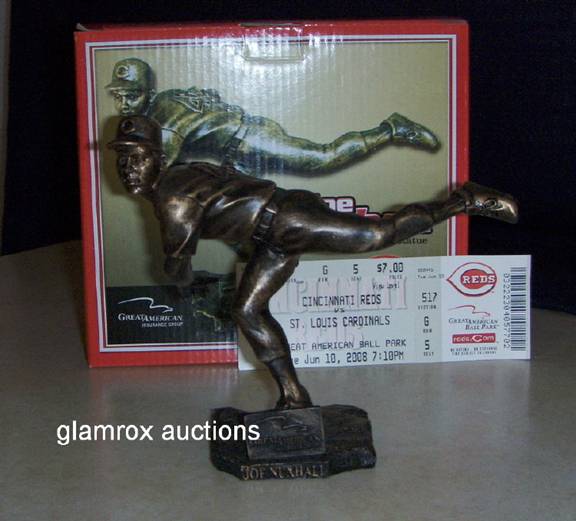 <![endif]>
<![if !vml]>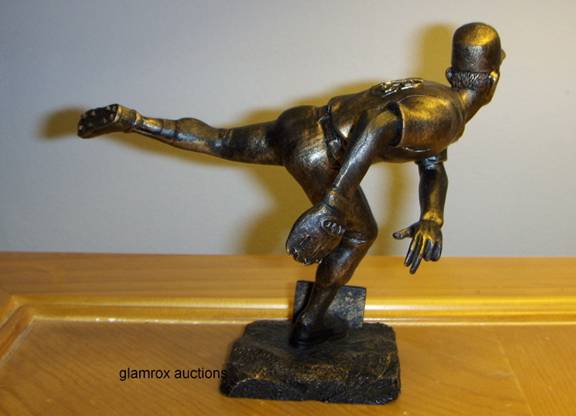 <![endif]>
Adam Dunn 80ís Themed Bobblehead
This one was a bit of a head-scratcher to me. After several years of being in somewhat of a rut with bobbles, most of the low-hanging fruit has been picked. Barry Larkin, as well as both Marty and Joe, have all been honored twice, in spite of 139 years of baseball history here and a lot of uncovered ground. I figured this Adam Dunn one would be the same deal, a repeat of the 2002 Dunn, perhaps with a different uniform. I was way off.
<![if !vml]>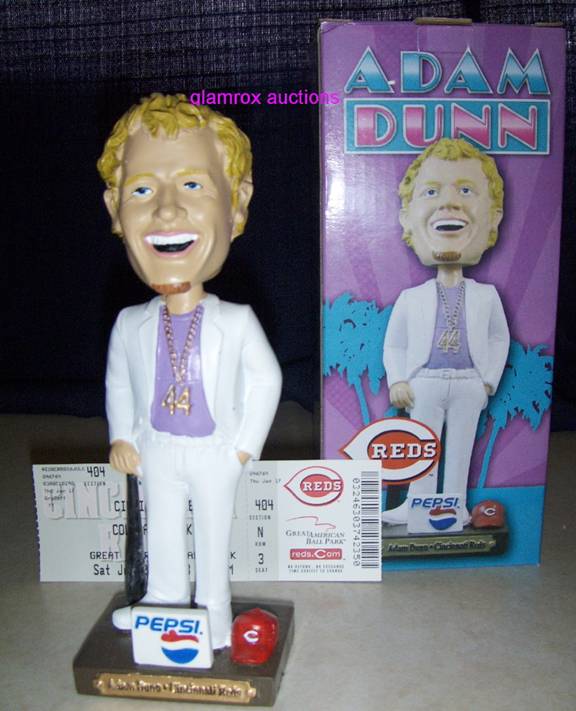 <![endif]>
What we have is Adam Dunn dressed like Don Johnsonís Sonny Crockett character from Miami Vice. This is about as different as you can get from the Reds SGAs. The bobble was given out on July 26, a Saturday night. The crowd was about average for a Saturday game. It was somewhere around 34,000 present to watch them fall to the Rockies in the midst of a five-game skid. It was part of an 80ís-themed weekend. Why they chose Adam Dunn to grace the bobble is beyond me. He was 10 when the 80ís ended, but maybe he has some nostalgia for the 80s and volunteered to have his likeness dressed up like this.
Fans got a little unexpected drama at this game, as radio broadcaster Jeff Brantley laid into Ken Griffey Jr. for dogging it in the field. Word got back to the rabbit-eared Junior, who hit one of his last homers as a Red later on that night, and after crossing home, made a throat-slashing gesture at Brantley in the announcerís booth and shouted profanities at him. He was traded the following Thursday. This will be some Reds fansí last memory of Junior, which is a shame. Not only is Junior not a thug, he is in fact a very decent person. While he will always be a scapegoat for the teamís failure to win, the teamís problems go way beyond anything he did.
Whether this bobble becomes popular will depend on how many collectors will be nostalgic for the 80s. Younger collectors donít even remember the decade, and Boomers may not care for it. I grew up in the 80s and this one suits me just fine.
<![if !vml]>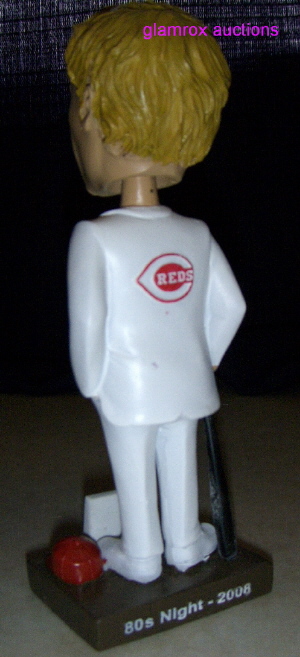 <![endif]>†
On a lighter note, my cousin scheduled his wedding the night of this giveaway, meaning I had to grab the bobbles and run from this game. I canít believe he didnít check the Redsí schedule before planning the big day. The only thing worse would have been having the thing during the Super Bowl.
Tom ďMr. PerfectĒ Browning Bobblehead
September 16 saw the team beat the Cardinals on a strong outing by Bronson Arroyo, on the 20th anniversary of Tom Browningís perfect game. Browning was an excellent pitcher and a popular guy who managed a .577 win percentage, a 20 win season and a World Series ring in his relatively short career. He was a mainstay of the Rose/Pinella era of Reds Baseball.
<![if !vml]>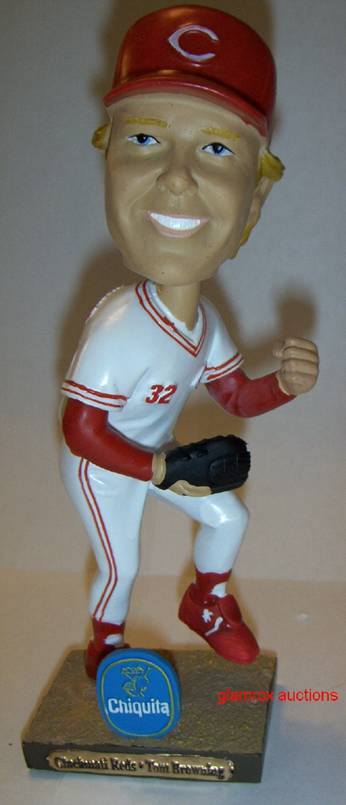 <![endif]>
This one was the first one sponsored by Chiquita, a Cincinnati business icon controlled by former Reds owner Carl Lindner.
<![if !vml]>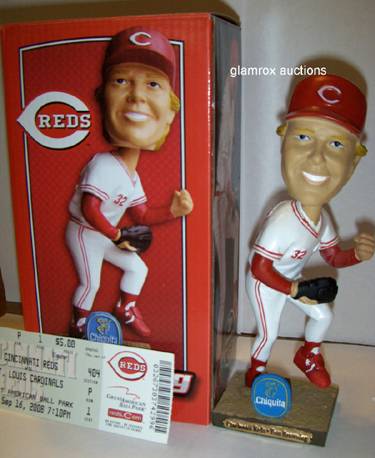 <![endif]>
This one saw a crowd of around 20,000, the smallest crowd ever to turn out for a bobblehead night. Iím sure one factor was that they have never had one this late in what has been a futile run of seasons, but another factor was the fact that the entire area had suffered a massive power outage, and at the time of the game, only about 50% of the people had electricity. Notice the patch for the 1988 All-Star game on his shoulder, commemorating the last such game in Cincinnati.
<![if !vml]>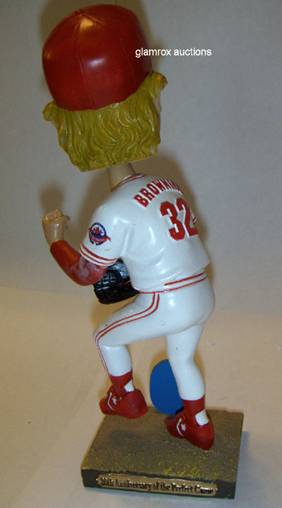 <![endif]>