Wifasso.com
Henryís Random Thoughts
2010 Cincinnati Reds SGA Bobbleheads
Joey

Votto

Figurine-May 29
Almost 37,000 fans saw the hot Reds team pound the Houston Astros on May 29. The first 20,000 of them were supposed to get a Joey Votto figurine, but the team cited logistical problems to explain the fact that the items werenít there. Instead, they passed out a voucher that entitled each fan to one figurine at the time of their arrival. Vouchers could be redeemed in several ways. The voucher also contained a coupon good for a half price ticket to a future game. In spite of the convenient redemption options and the coupon, Iím sure some kids were disappointed.
<![if !vml]>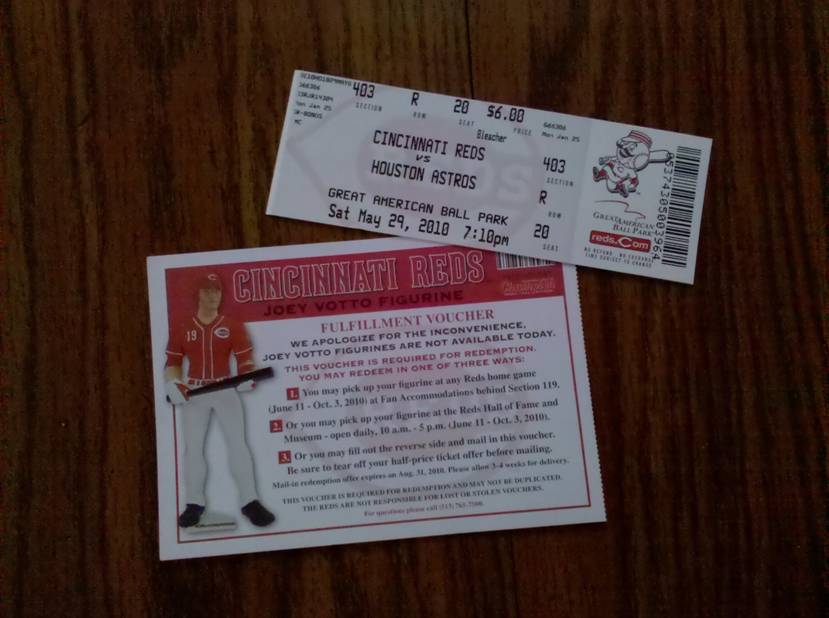 <![endif]>
Hereís the voucher without the coupon. I had a friend who wanted the coupon, so it was detached before I took the picture. Rumor had it that the logistical problem wasnít shipping-related, but was due to the fact that a contract manufacturer gave the figures the wrong uniform number. Unless the Reds feel like talking about the subject again, which I doubt they will, we will never know the exact reason.
One defect that remained even after they got there was that the home plate attached to Vottoís right foot broke off very easily, and was probably already detached from a lot of them when they were passed out. The good news is that the figurine stands without it, and unless you saw what it should have looked like, you would think it was complete without it. You could also glue it back on, which wouldnít really affect the integrity of it, since I think they were glued on to begin with.
<![if !vml]>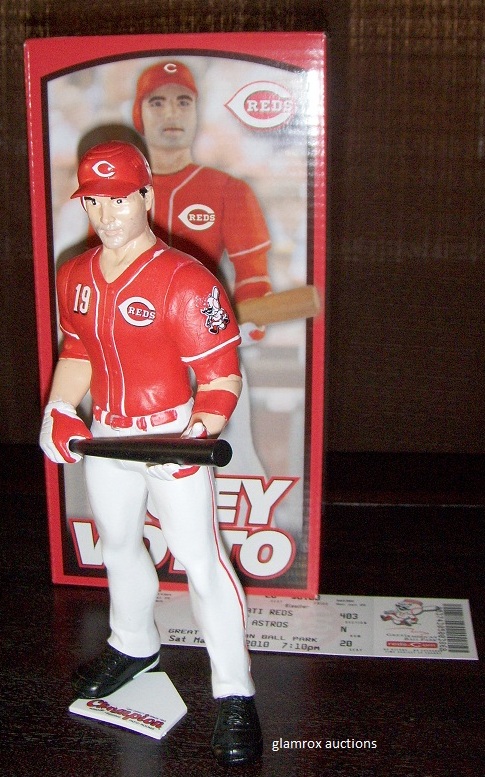 <![endif]>
The item is more of an action figure than a figurine. It is roughly the size of a bobble, but it is made of some kind of rubberized plastic, and the arms move. Itís kind of odd, because on the teamís promotion page, it was called an action figure first, then a figurine. For those of us who think of figurines as those Precious Moments things grandma used to collect, this item is definitely an action figure. But it isnít a stretch to say that the team didnít know what was coming until it showed up. Thatís what you get sometimes with contract manufacturing.
<![if !vml]>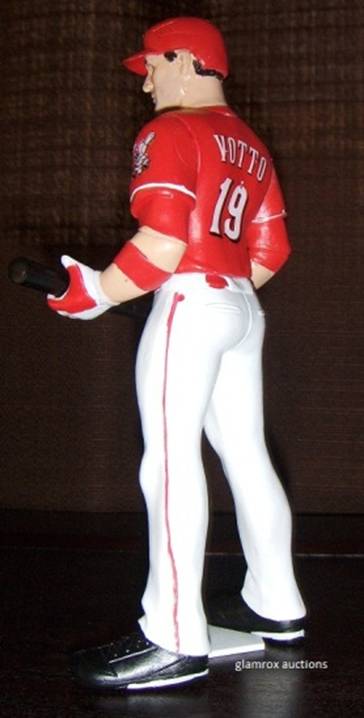 <![endif]>
With no disrespect meant to the players, whenever I take a picture of the rear of one of these, I always think ďThereís one for the ladies.Ē I once read an article that described the 1973 Topps Pete Rose baseball card that way, and I donít forget such things.
Below is an interesting inside peek at the world of stadium giveaways. The team gave us our figurines in one of the cases they came in. Of course, I kept it. After all, you might have all the items, but how many of you can boast the box that once held 24 of them? I keep some old bats in it now. The most interesting thing about the box is that it states that there were 920 cartons of 24 each. That means there were just over 22,000 of these made, a 10% overrun vs. the stated number. Who knows where those extra 2,000 went? They might just give out more than the stated amount on game day to keep the fans happy. Also, some might have quality issues and they might want to make sure the stated number are available. Domestic manufacturers and those from Japan are moving past this type of things. Toyota only orders the amount of parts they need. But these products ainít Toyotas.
<![if !vml]>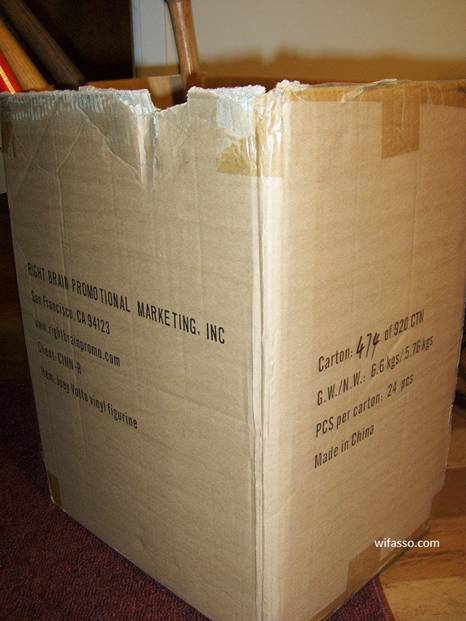 <![endif]>
This one was sponsored by Champion, the local window company.
Scott Rolen Bobblehead-June 12
Iím not sure what the team was thinking when it scheduled a giveaway on June 12, a date when major Ohio universities had their graduation ceremonies, not to mention the hundreds of graduation parties held by individuals for high school, etc. For those who wouldnít skip their kidsí big day to complete their collections, the fine tradition of people running around in circles to gather extra bobbles for sale on Ebay lives on. It could be that the team chose to compete with the Kentucky Speedway, as they had a giveaway on a race day last year, too.
<![if !vml]>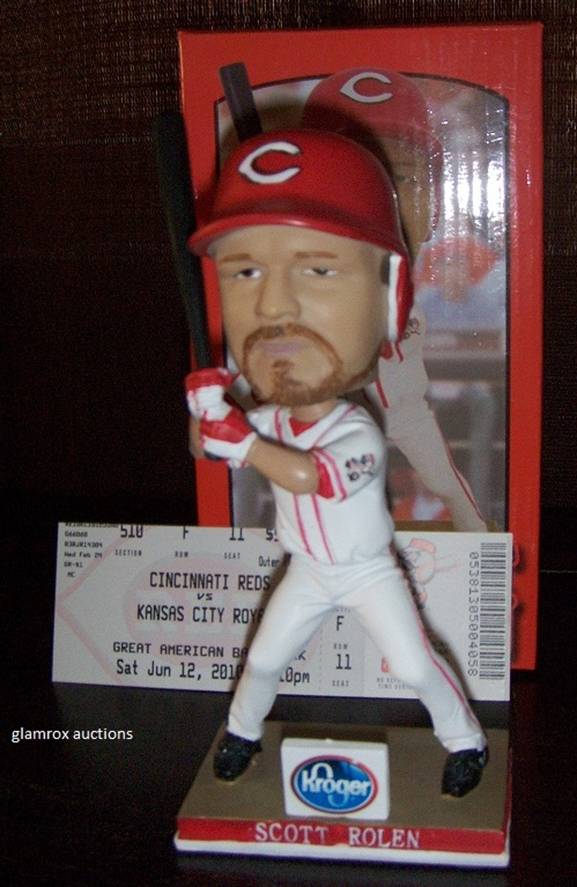 <![endif]>
The more than 34,000 who skipped Juniorís graduation party were rewarded with a Reds win, although it was in the middle of a cold streak that saw the Reds hovering in first place only because the Cardinals were playing even worse. The first 30,000 were also given the Scott Rolen bobblehead, the first bobble of 2010, sponsored by Kroger.
<![if !vml]>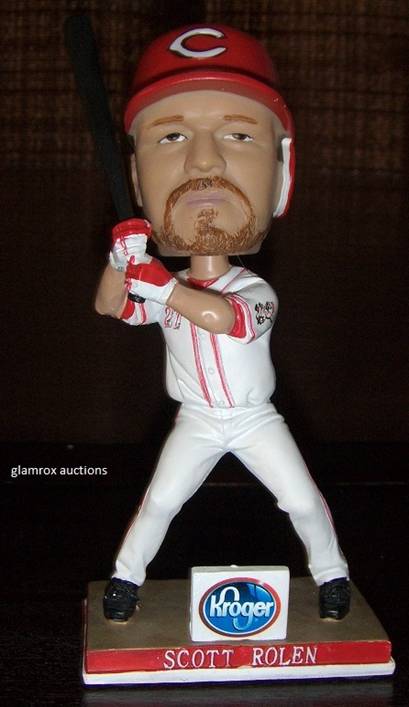 <![endif]>
The choice of player was a fairly easy one, as Rolen was an established star when he came to the Reds, with fans in his prior two NL stops. At this point, a Hall of Fame plaque isnít out of the question if his career keeps going well.
<![if !vml]>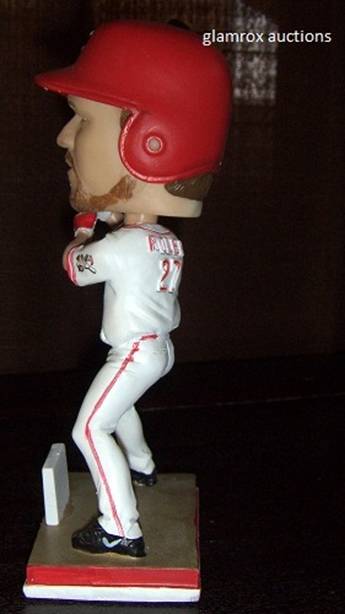 <![endif]>
The item was sponsored by Kroger. The name of the manufacturer is listed as Impact, a name with which I am not familiar. It seems a little odd that they seem to be going with new companies every year. For all I know, Impact might be an established firm that just changed its name. I donít really follow developments in the field or collect ones from other teams anymore. The Reds giveaways are the extent of my bobble universe these days.†
Chris Sabo Bobblehead-July 17
On July 17, a sellout crowd watched the Reds pound the Rockies 8-1 on a strong 2010 debut by Edinson Volquez. The Reds Hall of Fame induction ceremony before the game featured, among other luminaries, fan favorite Chris Sabo, whose short career coincided with the Redsí last multi-year run of success. Letís face it, much like Tom Browning, the teamís dream demographic, the people in their 30s, grew up watching Sabo. The team will never get tired of bringing 80s/90s stars back to the stadium to fill the seats.
<![if !vml]>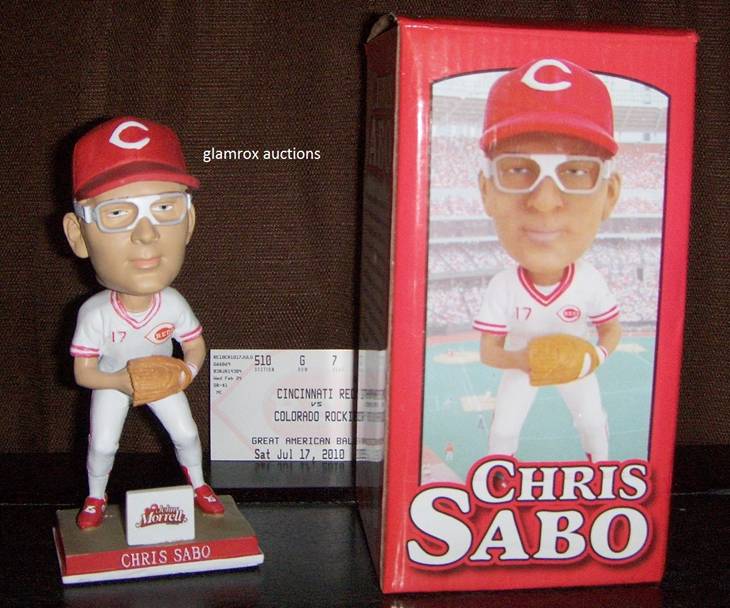 <![endif]>
Perhaps that explains why the team re-did a player who was featured back in 2002. The other thing to remember is that they only did 10,000 of these back in 2002. A lot of people simply didnít get one back then. With the teamís history, Iím never in favor of repeating one of retired players. But one thing we can observe from a repeat like this is how the giveaways have evolved in eight years. Back then, everybody who wasnít a pitcher got the same roly-poly body (holding the same bat over his shoulder). The customization of the poses really has come a long way.
<![if !vml]>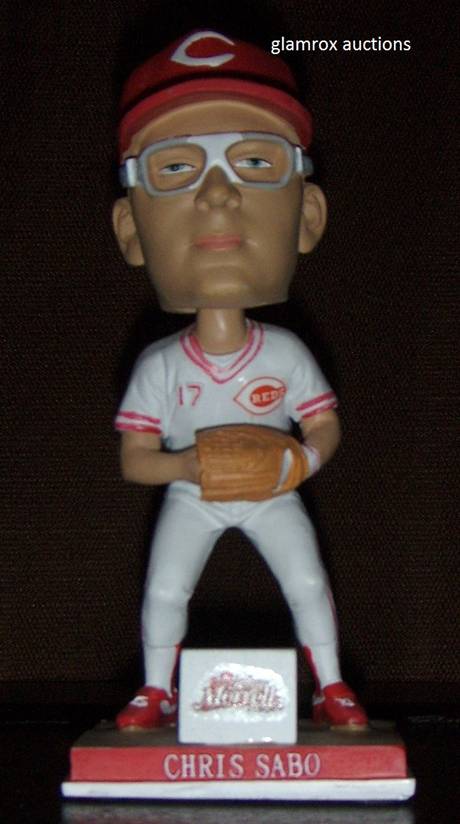 <![endif]>
This item was sponsored by John Morrell Meats, a local company that sponsored the Joey Votto bobble last year. They are also known around Cincinnati for an odd commercial they ran a few years ago featuring Carson Palmer, who seemed a bit too proud as he demonstrated that his smoked sausage was an inch longer than the competitionís. I want to keep this site PG rated, so letís just say that Sigmund Freud would have had a field day with that commercial. Itís probably still out on YouTube if you donít believe me.
<![if !vml]>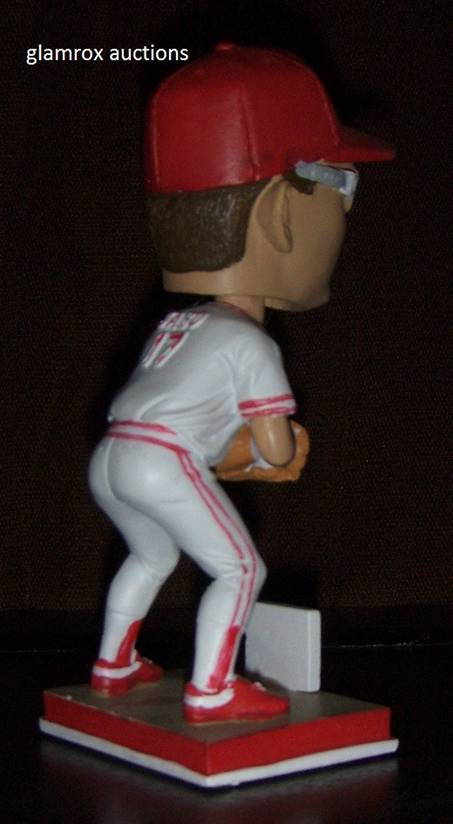 <![endif]>
Homer Bailey Bobblehead-July 31
They had another packed house on July 31, as the Reds beat the first place Braves 5-2 in a game that was moved up to 4:10 to be the regional televised game on Fox. For the second straight year, the fanís choice bobble was of a player who was not active when it was given out. Last year, Volquez was on the DL on the way to Tommy John surgery. This year, Homer Bailey was coming off a less severe injury, making rehab starts in Louisville at the end of July. As long as they have the Fanís Choice promotion, you canít avoid this situation. They have to vote months ahead of time in order to get them made and shipped, so stuff can happen in the meantime. Iím still waiting for the awkward year when the subject gets traded before the giveaway.
<![if !vml]>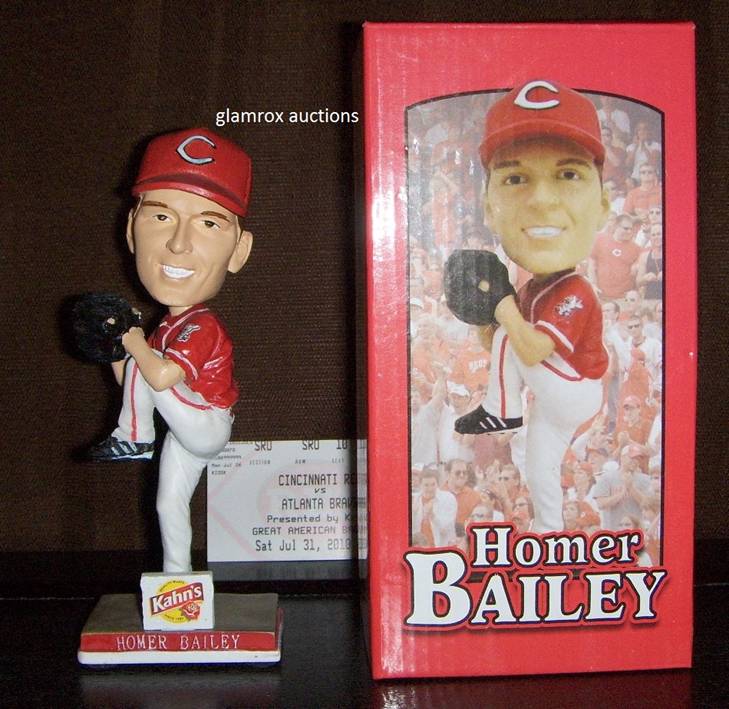 <![endif]>
This one, like the other two, was given out to the first 30,000 fans. That means that for this game and the Sabo game, a lot of people went home without them. I have to wonder if they are going to start giving away 40,000 again, have the games on weeknights again, or maybe just be content with a large minority not getting one.
<![if !vml]>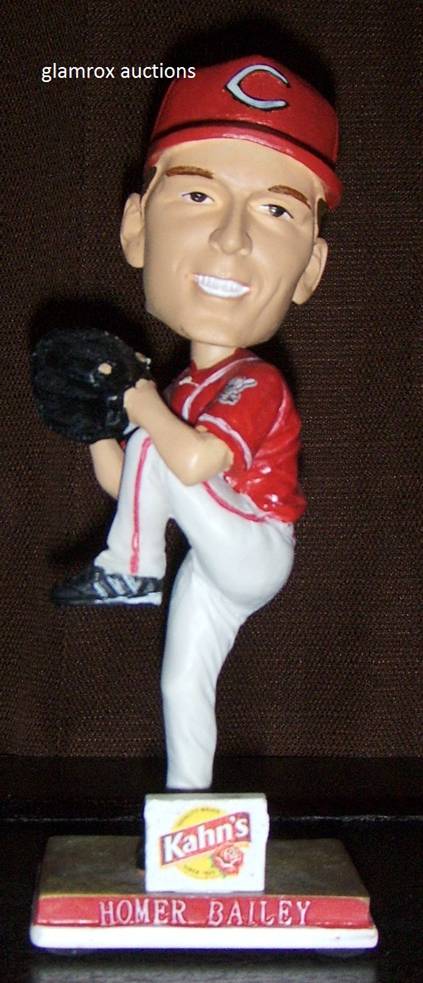 <![endif]>
This last one was sponsored by Kahnís, another local meat company. This year demonstrates what kind of companies donít have to slash their marketing budgets even when the economy is limping meekly out of a bad recession. You still have to eat, and companies like Kroger and the other two are sellers of middlebrow food, the kind that might even sell better when out-of-luck consumers have to retreat from eating out all the time and shopping at trendy stores like Whole Foods.
<![if !vml]>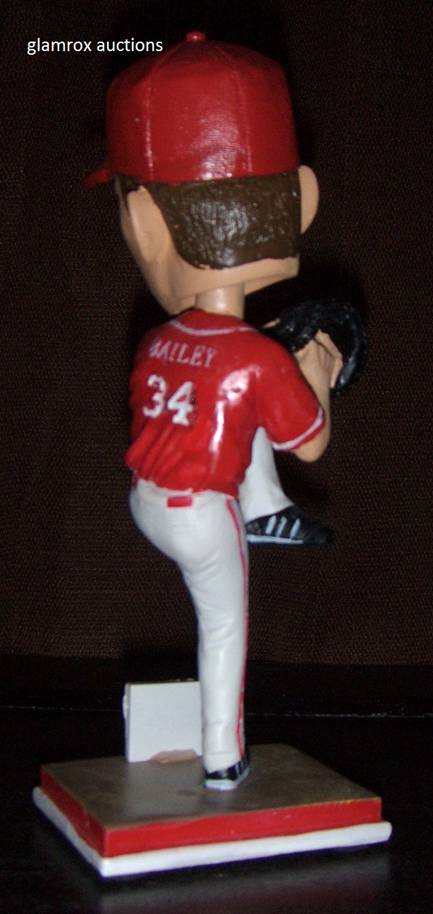 <![endif]>
There was no theme this year. Bobblehead giveaways, like a lot of things these days, are basically coordinated by the league. This is part of a larger trend in MLB promotions. An awful lot of the fun things the Reds seem to be dreaming up come down from the Commissionerís Office like directives from a corporate headquarters. The dollar menu, the four pack specials, the garden gnomes, the Fanís Choice bobble, etc. are all going on at almost every stadium in the league. Sure, Fenway might opt out of the dollar menu, but most teams go along. This isnít a knock on the Reds. The trick with promotions is to pull them off well, and in spite of the Votto figurine fiasco, the Redsí promotions department, led by Phil Castellini, nearly always pulls things off flawlessly and with a lot of class.
Hopefully, theyíll have one next year commemorating a hero from the 2010 playoffs.
Garden Gnome-August 14
This is a bit of a postscript to the 2010 bobblehead series, and while it doesnít bobble and does not depict a player, these have proven popular with the fans. I never got one at the stadium, and I donít know how many they gave away. They arenít too rare, so they probably gave away 20,000 or more. Reds outfielder Jonny Gomes appeared on the box, due in part to the similarity of his name to the word ďgnome.Ē They are about as tall as a bobblehead, and are made out of the same type of ceramic material.
<![if !vml]>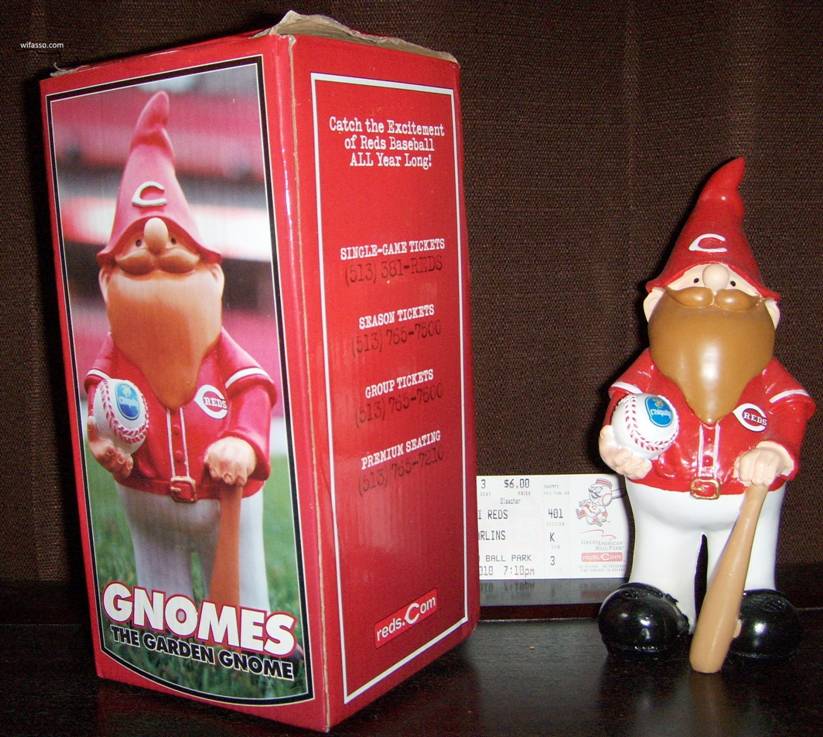 <![endif]>
<![if !vml]>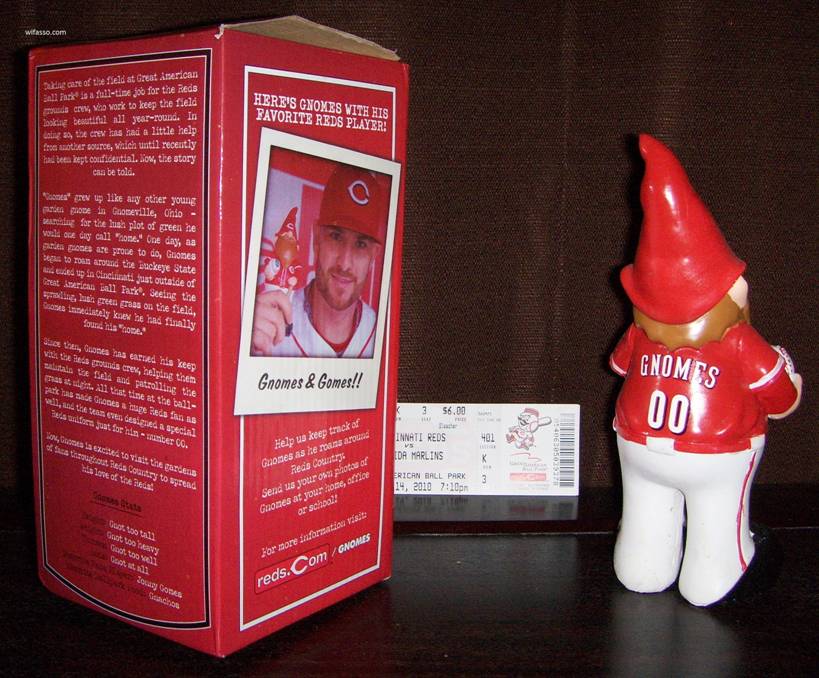 <![endif]>