Wifasso.com
Henryís Random Thoughts
2011 Cincinnati Reds SGA

Bobbleheads
Joey Votto MVP Bobblehead
April 30 saw a sellout crowd and a dramatic, extra-inning win by the Reds, exactly the thing the fans come down to see. The first 30,000 of the 42,000 or so fans got the Joey Votto bobble, the first giveaway of 2011. This choice was a no-brainer, even though fans have been showered with Votto giveaways for the past few years. You canít give away enough of a young superstar.
<![if !vml]>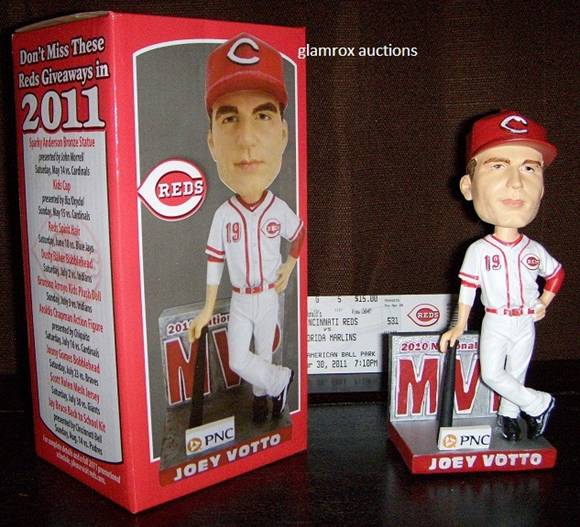 <![endif]>
This one is sponsored by PNC Bank, which has swallowed up enough local banks over the years to be considered a local institution, in spite of its Pittsburgh roots. It was made by Impact Promotions, the same company that provided last yearís bobbles. This is about as early in the season as they have ever given a bobble away by my recollection.
<![if !vml]>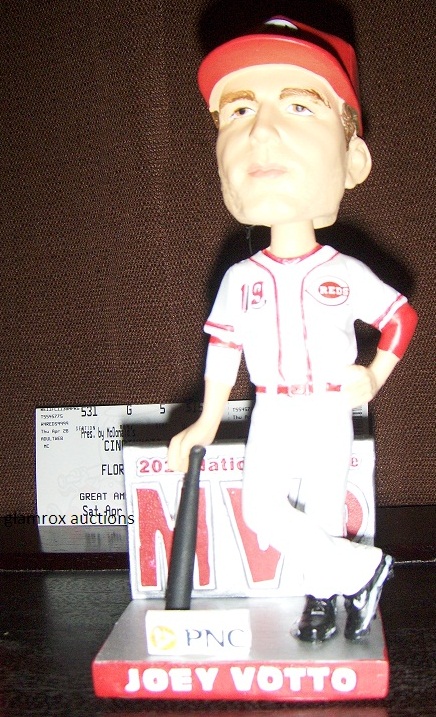 <![endif]>
It looks like they did a good job to me. The bat came separately and rests kind of uneasily in Joeyís hand. If you use the bobble as intended and give it an occasional bop on the head, you might dislodge the bat. This is much better than the alternative, though. In the old days, the bat was part of the main sculpture and they were always breaking in shipment.
<![if !vml]>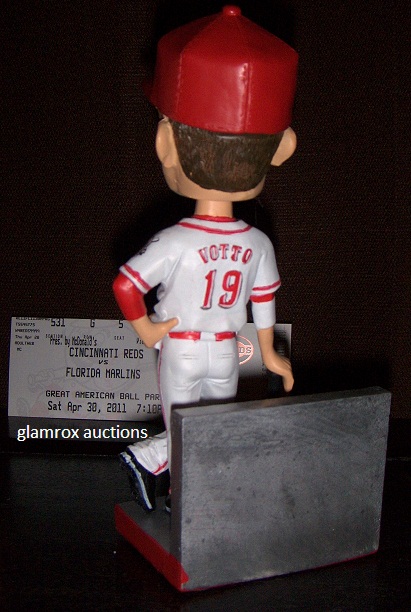 <![endif]>
Sparky Anderson Bronze Statue
May 14 saw Reds beat the hated Cardinals as part of a three-game sweep that left them in first place at the time. It also marked the return of one of the classier concepts in terms of giveaways, the bronze statue. The first one of these honored Joe Nuxhall several years back, and this one paid tribute to Hall of Fame manager Sparky Anderson, who passed away this past offseason.
<![if !vml]>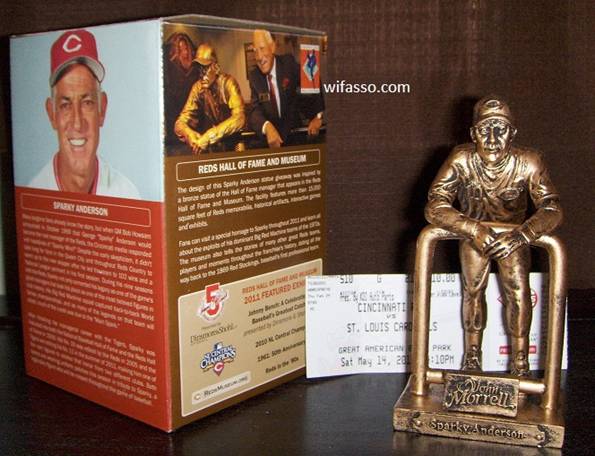 <![endif]>
My brother and I were on vacation for the game day, so we relied on friends to get this one for us. Fortunately, they came through. It rained that day, which got them a little damp on the outside of the box, but it probably also cut the lines down a bit. There doesnít seem to be quite the frenzy for the figurines and statues before the game that there are for the bobbles, in spite of the fact that they usually hand out 10,000 fewer of these. The game was a virtual sellout, but the team needed right up to game day to sell out, as opposed to the April 30 game, which sold out much earlier. A lot of people who buy tickets to resell probably got burned, as StubHub had large quantities of tickets below face value. Part of the reason might have been that they charged more from the get-go for seats, and Reds fans are pretty price-sensitive when it comes to the nosebleed sections.
<![if !vml]>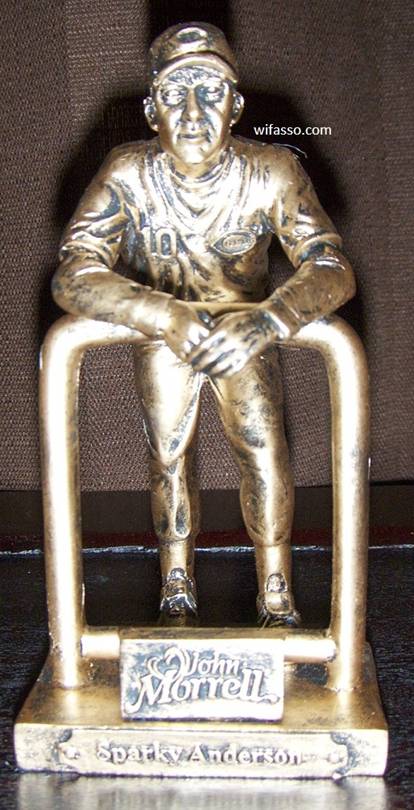 <![endif]>
Another reason interest was a little lower for this game vs. the bobble game is probably that as much as Sparky is a near-saint here in Cincinnati, the young kids who like to collect things really donít know him as well as a current player, and when it comes to current players, itís hard to beat the young reigning MVP in popularity. It will be interesting to see how the fans respond to the Jonny Gomes bobble if they trade or cut him before he is honored.
The Anderson bronze is very well-done, and is around five inches tall.
<![if !vml]>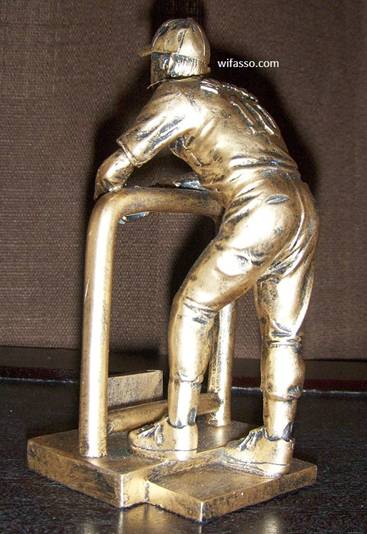 <![endif]>
Dusty Baker Bobblehead
July 2 featured a sellout crowd, which saw the Reds fall to the Indians in a season where that has been an all-too-common sight. It was part of a run where the Reds have defined ďaverageĒ with an almost freakish exactness, alternating wins and losses and hovering right around .500. The one positive is that for the time being, such play did not knock them out of the race in the mediocre NL Central. The team gets a lot more national attention these days thanks to last year, so the game was moved to 4:10 to be televised nationally.
<![if !vml]>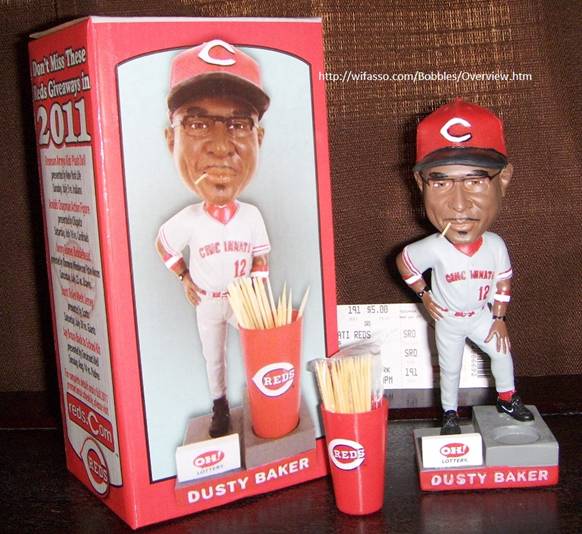 <![endif]>†
The first 30,000 fans through the gates got the above bobblehead, which came with more pieces than any prior one that I can remember. Dusty has clung to the time-honored baseball tradition of the toothpick in the mouth, which collectors of 70ís baseball cards know was once about as common as big afros and tacky uniforms. The makers of this bobble inserted one in Dustyís mouth, which does not appear to be removable, and just in case that was too subtle for you, included a small toothpick holder and a packet of toothpicks to get you started.
<![if !vml]>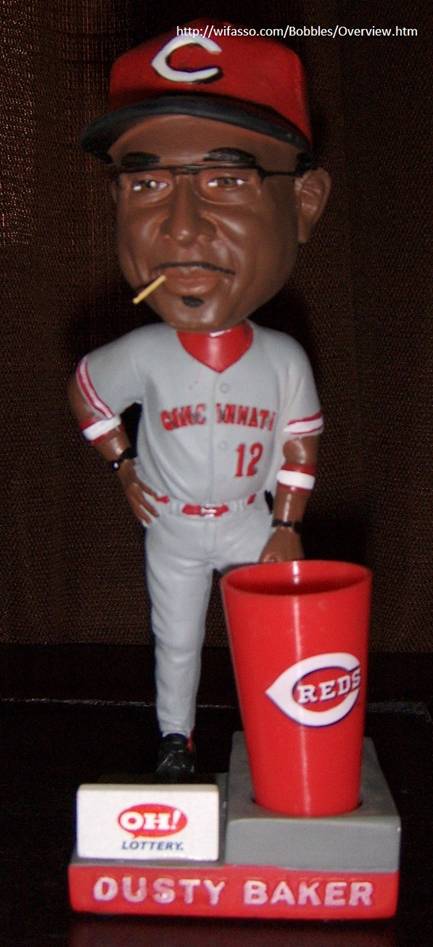 <![endif]>
One very minor flaw is that with the toothpick bucket in place, Dustyís knee bumps into it ever so slightly, so it doesnít sit perfectly flat. It sits well enough for display, but if you actually plan on grabbing a toothpick out of there once in a while, do it gently or be prepared to pick the remaining ones up. Itís the same thing I said about the set from 2009, which was supposed to fit together to form a panoramic background: Donít expect precision engineering on these.
<![if !vml]>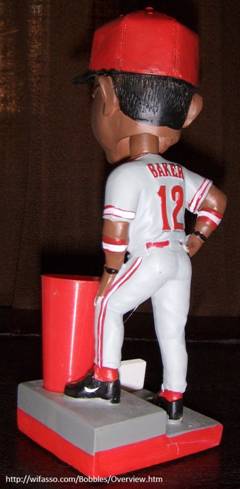 <![endif]>
Dusty has lived quite a baseball life, playing with the natural Home Run King and managing the allegedly unnatural one, winning a World Series ring as a player and reaching the postseason with three different teams. In addition, Cubs fans are annoyed by the sight of him. Thatís always a feather in his cap. You can argue this decision or that decision, and even debate whether the old-style of managing epitomized by Dusty is still needed, but itís hard not to like the guy. It doesnít hurt that competitive baseball came back to Cincinnati under his watch. When fans were served the poo-poo platter of the mid-2000ís, we wouldnít have been complaining about .500 baseball.
Aroldis Chapman Action Figure
July 16 featured a near-sellout crowd which saw the Reds fall 4-1 to the hated Cardinals as part of a long, slow slide out of the race. At least the fans had a distraction in the form of a superhero-themed weekend. The high point of the weekend was the 30,000 Aroldis Chapman action figures given out to fans on that Saturday.
<![if !vml]>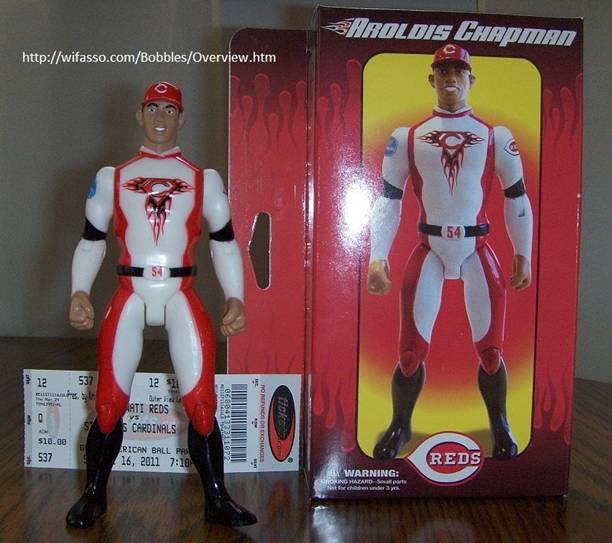 <![endif]>
As you can see, the uniform is not a typical Reds outfit, as opposed to the Votto action figure they gave out last year. That one seemed to have an identity crisis, like a figurine trapped in an action figureís body. It even had a home plate attached to Joeyís foot, which youíd never see on a real action figure (a home plate that was annoyingly prone to breaking off). The Chapman item embraced the whole otherworldly theme that fans of Star Wars and comic books are used to seeing.
<![if !vml]>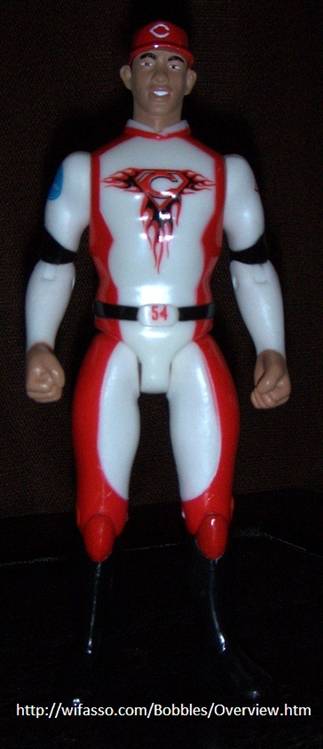 <![endif]>
Unlike the Votto, this one really is a kidís toy, in essence. You can imagine a kid playing with this thing. Who knows what this holds for its future value as a collectible? On one hand, Reds fans are straight-laced, Midwestern folks who want their mini-Reds sporting the proper attire. If you donít believe that, look at what a flop leisure suit Dunn was in 2008. But on the other hand, valuable collectibles get that way because few survive. If these action figures end up in the hands of kids, who will inevitably destroy them, someday the world might realize that there arenít many left. At that point, the few anal-retentive collectors who stowed these away meticulously in perfect condition might get rewarded. After all, thatís what happened with baseball cards.
<![if !vml]>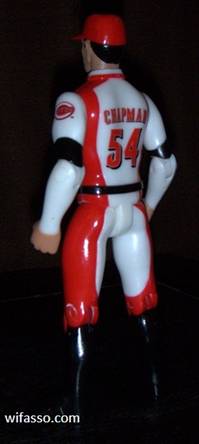 <![endif]>
From the back, it looks a little like a Reds uniform. The figure is oversized compared to most action figures, about as tall as the bobbleheads.
†Jonny Gomes Bobblehead
One week after the action figure, I was back down at the stadium for the last of 2011ís bobbleheads. Unlike the prior week, this was a full-blown sellout, and also unlike the prior week, the home crowd went home happy after an 11-2 thrashing of the Braves, who, as usual, were contending for a playoff spot. The Reds continued to limp along two games under .500 in spite of the win.
This will be remembered forever, at least by me, as the bobblehead night that was almost really, really awkward. As Iíve said before, some of the seemingly odd choices for bobbleheads owe themselves to the long lead times for these things (they are planned the winter before the season) and the fickle nature of life in professional baseball. Gomes seemed a good choice for a bobblehead last December, being a hustler with a lot of quirks who happened to have a breakout year in 2010. But he struggled all year in 2011, and was, at best, a platoon player by the time this day arrived.
<![if !vml]>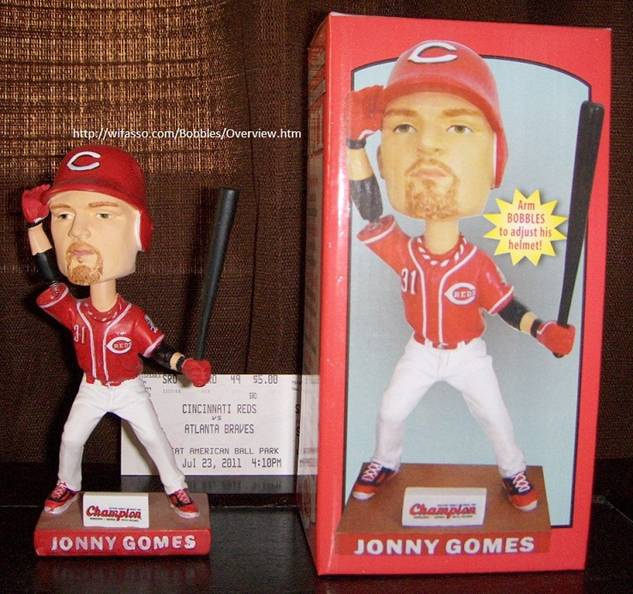 <![endif]>
But it wasnít his role as bench jockey that almost ruined the promotion. It was the fact that he was being thrown around as trade bait. The rumor was that of all teams, he was going to be dealt to the Braves, the very team that the Reds were playing. So we had the prospect of the bobblehead honoree being present at the game in the opponentís uniform. Man, would that have been strange.
<![if !vml]>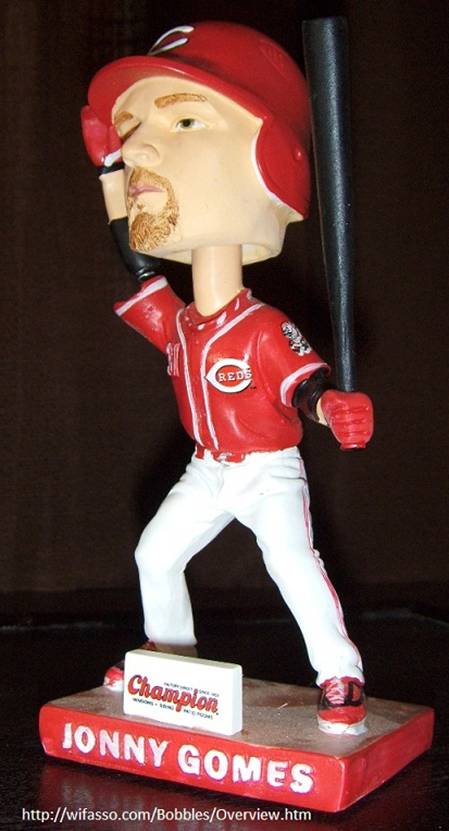 <![endif]>
The bobblehead itself was pretty innovative. Since Gomes has a habit of fiddling with his uniform during at-bats, they made it so he was adjusting his helmet on this one. To allow the head to bob freely, they had to make part of his right arm a spring. They didnít exactly try to conceal it, so you end up with something that resembles the old Inspector Gadget cartoons. They did the best they could to make this work, so I have to hand that to them. But I do wonder how well they will hold up. I overheard on the team walkie talkies before the game that they were getting a lot of reports of broken ones. I would recommend taking good care of this one and keeping the small kids away from it. There just seem to be a lot more weak points on this one that might break. The bat comes as a separate piece.
<![if !vml]>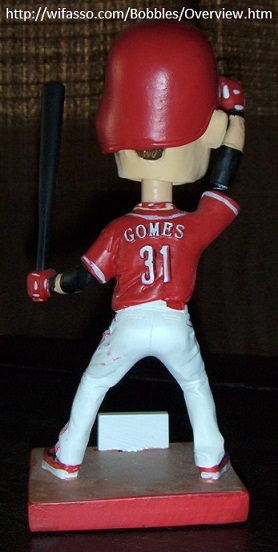 <![endif]>
As you can see from the back, they added another touch of realism by showing the back of Jonnyís Mowhawk haircut. By the way, the Tuesday after this game, Gomes was traded to Washington, confirming all the rumors. He had 72 hours or so to bask in the glory of being a bobblehead enshrinee, then it was off to the cellar-dwelling Nationals.
Which brings me to my latest theory: that the Reds donít have the guts to trade anyone before his bobblehead night. Itís a form of job security. Felipe Lopez hung around until after his giveaway, after all. Come on, Reds. Prove me wrong. I double-dog dare you.