Wifasso.com
Henryís Random Thoughts
2012 Cincinnati Reds SGA

Bobbleheads
May 12-Joey Votto Gold Glove Bobblehead
May 12 saw the Reds fall to the suddenly-competent Nationals 2-1 in a game that was pretty much devoid of any Reds highlights (the one RBI coming on a groundout). Still, the weather was good and there was a much-hyped promo, so the place was packed. Never shy to capitalize on the success of Joey Votto, the Reds honored him with his third bobble in four years. This one was in honor of his Gold Glove award. The team announced an allotment of 25,000 of them, 5,000 less than what they said they were passing out last year and 15,000 fewer than the numbers of a few years ago, a number large enough to satisfy almost everyone. In addition, they held some back for those holding vouchers distributed to those who bought multigame ticket packages.
<![if !vml]>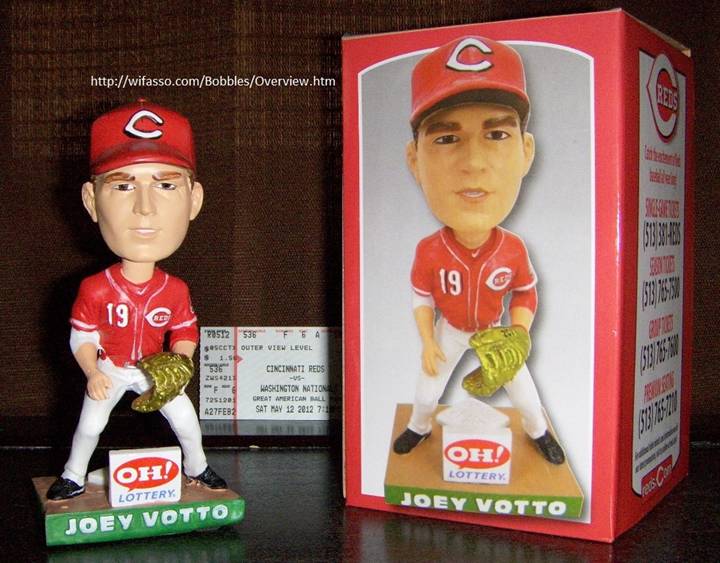 <![endif]>
The purpose of the voucher was to reward the fanís larger purchase by removing some uncertainty from his quest. The fan with the voucher was to be directed to a special area where one was held for him. Therefore, he would get one if he showed up after the main supply was gone. The problem is, this made even fewer available to those without vouchers. No one really knows how many vouchers were printed, but the number left for the general public was probably still over 20,000. Now of course, anyone dedicated enough to put this website up is going to be there before they run out, so I got mine. But I have to say that 30 or 40 minutes after they flung the gates open, supplies were significantly lower than at the same point in prior years. You probably needed to be there an hour early to have any hope at all.
Another interesting thing about the voucher program is that if you showed up early with a voucher, they just took your voucher and gave you one out of the main supply. I saw quite a few people down there early with vouchers being processed this way. In advance, they had to hold enough back to satisfy every voucher-holder, lest they get caught with their pants down. What that tells me is that at the end of the game, they had a stash of leftovers numbering several hundred or more. We will never know what happens to these, but they will get distributed somehow.
<![if !vml]>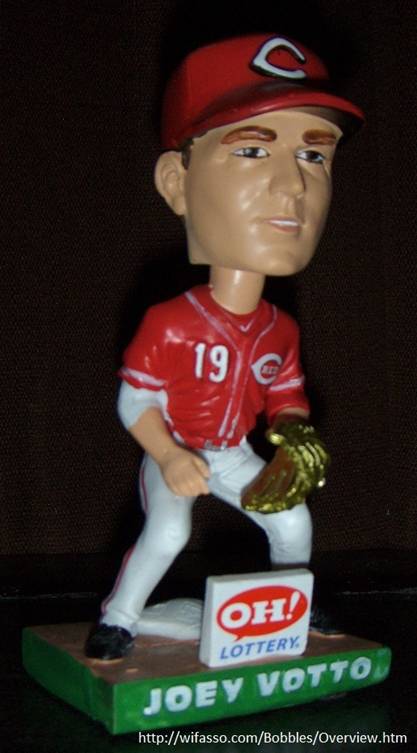 <![endif]>
The other change, of course, had to do with the large contract extensions needed to secure the services of Votto and a couple of his teammates. While the extensions were well-deserved, they had to be paid for somehow. One of the ways is that the Reds have $5 upcharges on most of the weekend games from May through August. Three of the four bobblehead games have this upcharge. For the casual fan, it may not matter much to cough up another $15 to get the full set, but for those who might depend on Ebay sellers to complete their sets, there will probably be fewer of those sellers this year. It canít be overstated how much the bobble reselling business model depends on a cheap ticket. The days of 2001 when bobbles were a craze are over. Thereís no more flipping a hot bobble for $60 to $100. Most sellers are grinding it out hoping to make ten bucks profit per doll on a good one and perhaps a few bucks on a bad one.
Perhaps the team made the decision to discourage reselling. But as Iíve said before, the fan that trolls Ebay looking to complete his set is probably the type of dedicated fan that the Reds want to keep, and it may be physically impossible for that fan to claim each bobble at the stadium. Hopefully they bear that in mind. In addition to some games being $5 more, thereís a $2 day-of-game upcharge to encourage fans to buy tickets in advance.
<![if !vml]>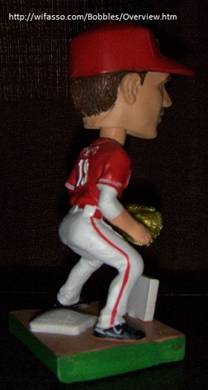 <![endif]>
Thereís not a whole lot to say about the design of this one. It is made by Impact Promotions, and the sponsor is the state lottery, which sponsored Dustyís bobble last year. The concept is the same as the Phillips Gold Glove one of a few years back, with a fielding pose and the glove painted gold. The way heís straddling the bag is not quite like anything Iíve seen in a real game. I donít even think they take pickoff attempts that way. But to make all the elements fit in such a confined space, I guess a little artistic license is in order.
As far as I know, 25,000 is the number for each future bobblehead in 2012, although I do not believe they will be messing with the voucher deal anymore. This promotion was a lot more hyped than the others. They were running radio ads specifically mentioning it as far back as December, which seemed a little over-the-top to me.
June 23-Sean Casey Reds Hall of Fame Bobblehead
June 23 saw the Reds spank the Twins 6-0 in front of a sellout crowd. Not all sellouts are created equally, though, and if this one sold out completely, it was at the last minute. Standing room tickets were there all week, so anyone wanting a cheap bobble had a way of getting one that way. Of course, I mean relatively cheap, since virtually all Saturday games this year have the $5 upcharge, plus $2 more if you waited for game day. The days of getting a Saturday bobblehead plus admission for five bucks are a sweet, sweet memory.
<![if !vml]>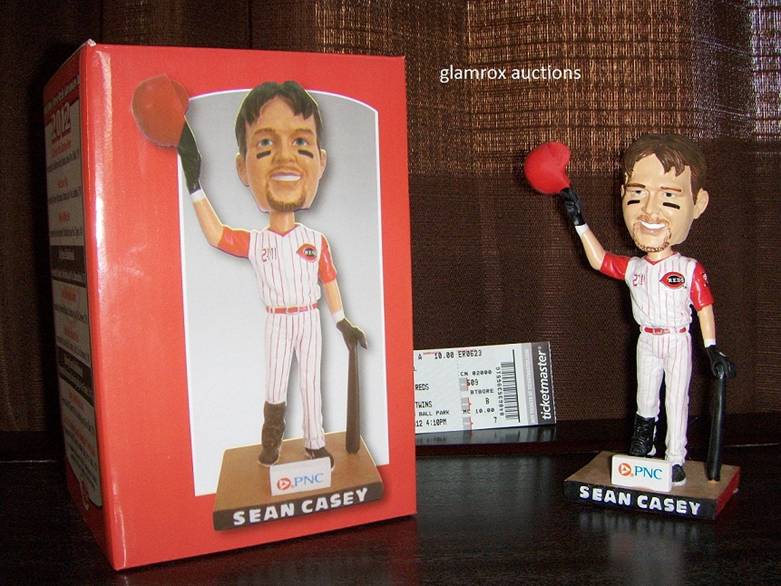 <![endif]>
Prior to the game, the Reds inducted the subject of the bobble, Sean Casey, into their Hall of Fame. For those who missed the late nineties and early aughts, Casey was a player whose popularity was so great that only sainthood could have increased it any more. Not only was he an excellent hitter, he was about as fan friendly as one could hope for. This bobble captures that friendliness with a pose that involves a hat tip to all those adoring fans. It was sponsored by PNC Bank. Usually, something like the batting helmet would be prone to breaking, but knock on wood, I havenít heard much about it busting off, unlike the arm gizmo on last yearís Gomes. This item came in the biggest box Iíve ever seen one come in, so perhaps that offered some protection to the item inside. The one authentic touch I noticed was the shin guard Casey always wore at bat. The Hall of Fame notation on the back of the base is a cheap sticker which was placed a bit sloppily on some of them.
<![if !vml]>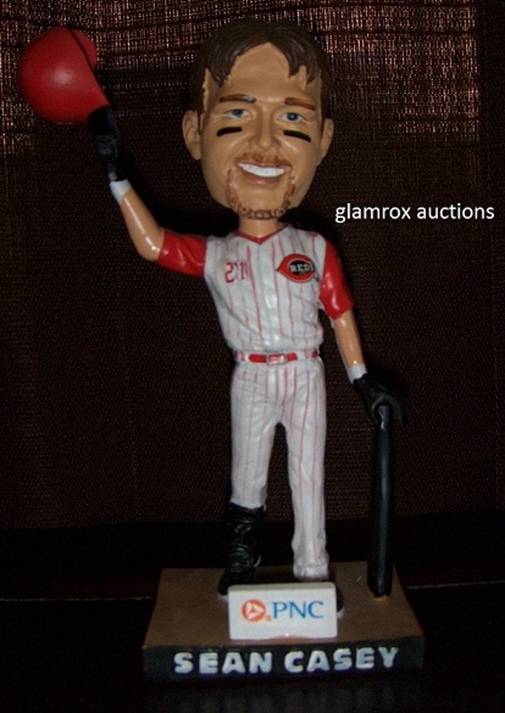 <![endif]>
This was a 4:15 game, and that changed the dynamic of the bobble distribution a little. They opened the gates early in anticipation of pre-game ceremonies, but by the time we got down there (two hours early), there were no lines and plenty of stock at the gates. Anyone who got there early enough didnít have to worry about getting through multiple times before they ran out. It probably had something to do with the game time. People who are in the middle of a busy summer just arenít going down to the park at 2:15. Iím not sure when they ran out, but the simple math of the 25,000 announced distribution and the attendance figure of over 40,000 meant that they ran out at some point. So while the pressure is off a little on day games, donít expect to get there at the last minute if you want to walk out with the goods.
<![if !vml]>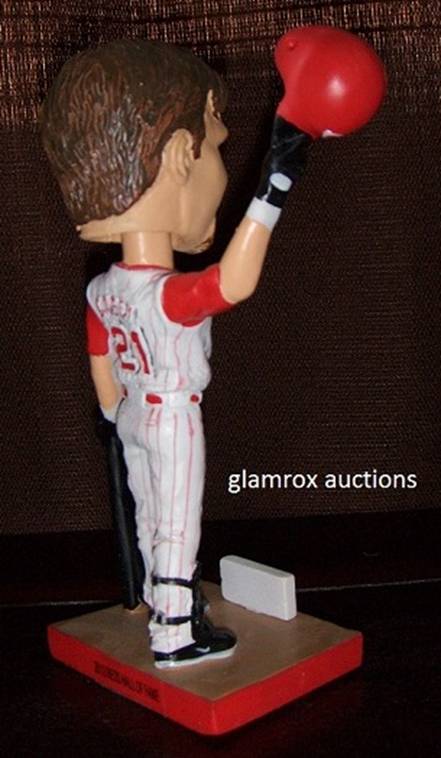 <![endif]>
Reds fans remember that we got Casey from the Indians for almost nothing, and in spite of the howling when they traded him away, that trade was perfect because his production fell off after he left, particularly in the area of hitting for power. The Reds really got the best out of him. The only downside was that he was perhaps the slowest-running star the Reds have had since the immortal-but-plodding Ernie Lombardi. I canít tell you how many times it frustrated me when heíd be on second and theyíd hold him at third on a single. But overall, Cincinnati was much better off from having Casey around for those years.
July 18-Jay Bruce Bobblehead
July 18 saw the Reds fall into a first place tie with the Pirates by losing to an average Arizona club 7-1. 26,000 fans witnessed the battle, 7,000 more than the mediocre crowd the night before. This showed the effect that a bobblehead promotion can have on attendance. This was the first weekday bobblehead in quite some time, so the stated number of 25,000 given out turned out to be ideal. Few, if any, fans who wanted one should have gone home empty-handed.
<![if !vml]>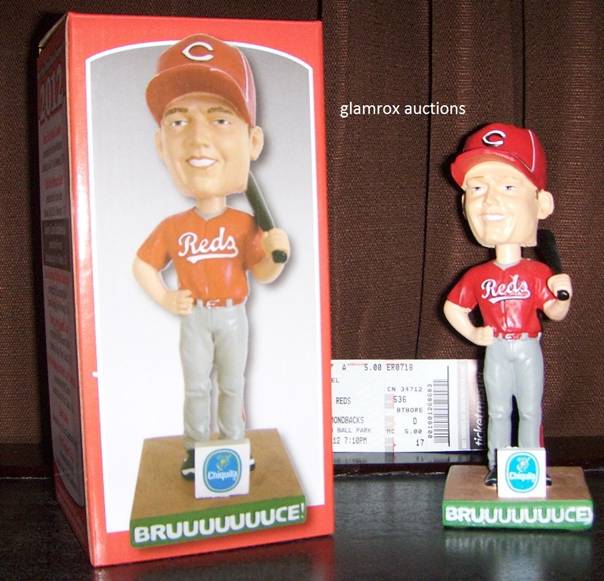 <![endif]>
A freak storm hit two hours prior to game time, when bobble collectors would typically line up outside the stadium. For obvious reasons, early lines were thin as the storm passed and a light drizzle remained. As a general rule, if your bobble box gets wet and it doesnít totally disintegrate from the soaking, it dries out pretty well. If you get multiple ones and collect them in a bag, just set them out separately as soon as you get to a dry place. Iíve never seen the bobble itself suffer the effects of bad weather.
<![if !vml]>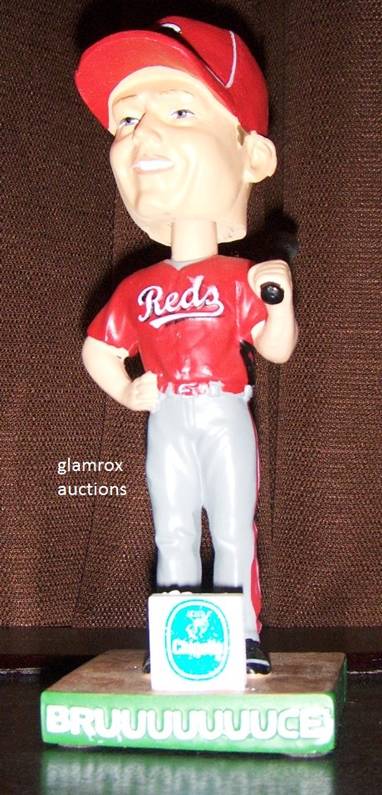 <![endif]>
This one is a fairly standard batting pose, with the bat being packaged loose to be placed (not screwed) into a hole at the top of his hands. The knob of the bat is part of the hands. The base immortalizes the rallying cry heard when Bruce bats, similar to when Mr. Springsteen takes the stage. It is sponsored by Chiquita, a company with close ties to the Reds, dating back to when Carl Lindner had an interest in both entities. Whatís kind of funny is that the exclamation point appears pretty comfortably on the one on the box, but they barely squeezed it on the real base. I guess the one on the box was a prototype that was made a little more carefully.
<![if !vml]>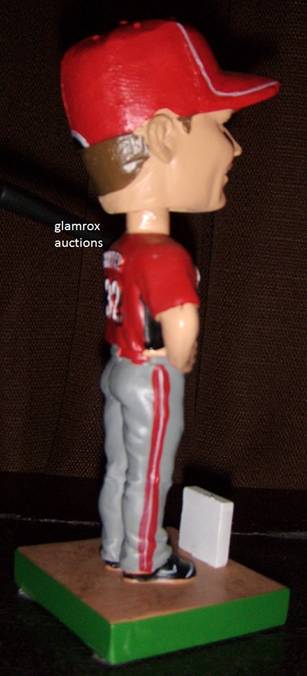 <![endif]>
August 4-Johnny Cueto Bobblehead
August 4 found the Reds on a tear that started before the All-Star break. They were in a battle for first with the Pirates, who were in town for the weekend. Naturally, the Friday and Saturday games were sellouts. The bobblehead game had all of the standing room tickets sell out, as well. This was a game that few people had on their calendar at the beginning of the year, so it turned out a very tough ticket. If the giveaway count was accurate, about 17,000 to 18,000 left the building without a bobblehead. But the truth is, a lot of them probably cared very little, as they were there for the game. When the team is on a tear, the box office really doesnít need the boost that a good promotion provides, particularly on weekends.
<![if !vml]>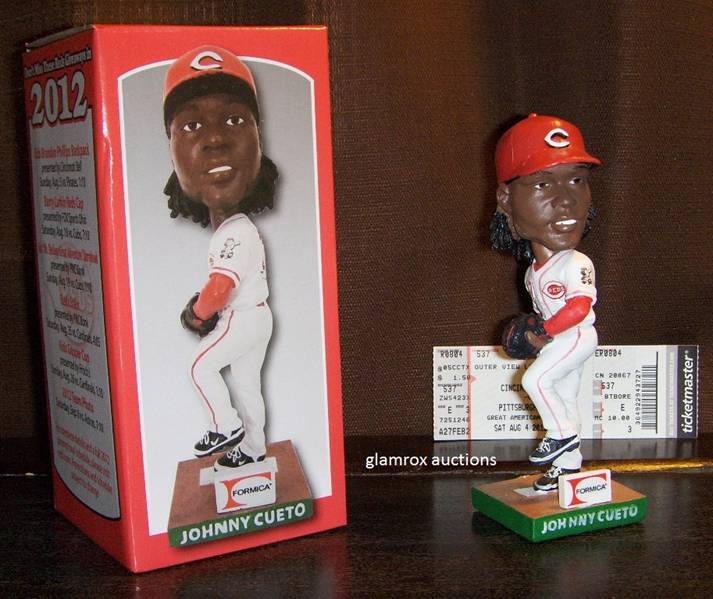 <![endif]>
The bobble was the first ever of Johnny Cueto, who established himself as the staff ace last year, and continued to chalk up wins in 2012. Cueto is proving to be a poor manís Pedro Martinez (with Edinson Volquez qualifying as a homeless manís Pedro). As he matures, he is getting his pitch counts down and saving his hardest fastballs for when he really needs them. A successful career could be in the making.
<![if !vml]>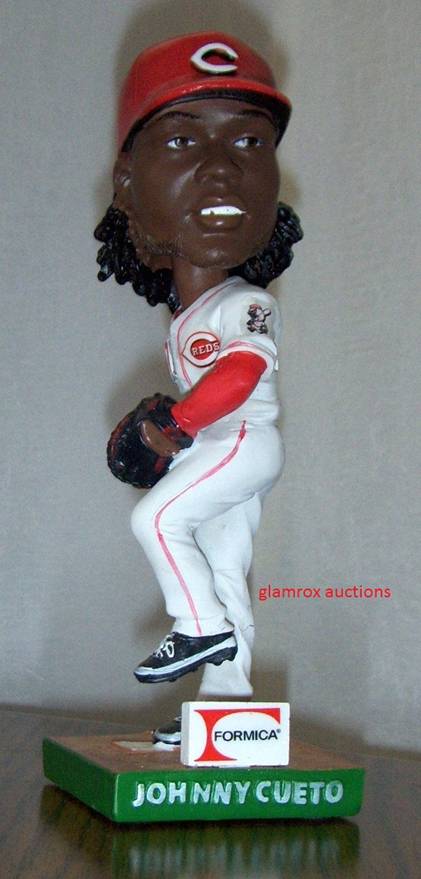 <![endif]>†
Thereís nothing too gimmicky about this one. It features Cueto in mid-windup, dreadlocks flying. The beard he started sporting this year isnít there, but as I have said before, these items have to be ordered well in advance, so new styles being sported by a particular player might not make it onto the bobble.
This item is sponsored by Formica, a local company that makes flooring. There are many companies like this in and around Cincinnati, so one would think that there are plenty of future sponsors for bobbleheads. Still, over the years the companies sponsoring them have become a bit less well-known over the years. They started out sponsored by the kings of consumer marketing, the cola companies. I believe it shows that the bobblehead giveaway craze has matured. Perhaps they are moving back to what the teams thought they would be when they started them around 2000. In other words, just another promotion out of many and not something that stands out any more than lawn flag giveaway or mesh jersey giveaway. But there are still hardcore collectors out there. And the fact that the giveaways have been going on over a decade means that thereís quite a set to collect for each team. My prediction is that teams may try to keep shaving the number given away down, perhaps to 20,000 next year. But the teamsí marketing research may not be catching how die-hard the small core of collectors are, and if they drop down to ridiculously low numbers like the 5,000 the Twins tried to give away in 2000, there are going to be some hard feelings.
<![if !vml]>
<![endif]>†
Thus concludes 2012ís bobbleheads. There was no unifying theme, and three of the four honorees had been featured before. It seems like they decided not to take too many chances this year. But with Latos, Chapman and Cozart not yet having been featured, thereís plenty of new blood for next year. Iíve always been disappointed when the all-time great is a repeat. There are so many untapped possibilities. My first choice would be Ernie Lombardi, my grandmaís favorite player. Kluszewski would also be a fine choice. Seaver would also be a good one. If anybody out there is listening, donít dilly-dally with Lombardi. Grandma isnít going to live forever.