Wifasso.com
Henry's Random Thoughts
2014 Cincinnati Reds SGA

Bobbleheads
May 10-Homer Bailey Dual Bobblehead
38,000 people showed up for a night game vs. the hot-hitting Rockies on May 10, about as close to a sellout as one can expect in early May. They saw the Reds take an 11-2 thrashing, but by the end of the weekend, the Reds got the last laugh by winning two out of three in the series. The first 25,000 fans also got one of these bobbleheads of Homer Bailey. Since Bailey pitched his second no-hitter last year and inked a generous contract extension, he was an obvious choice to be honored with something like this.
<![if !vml]>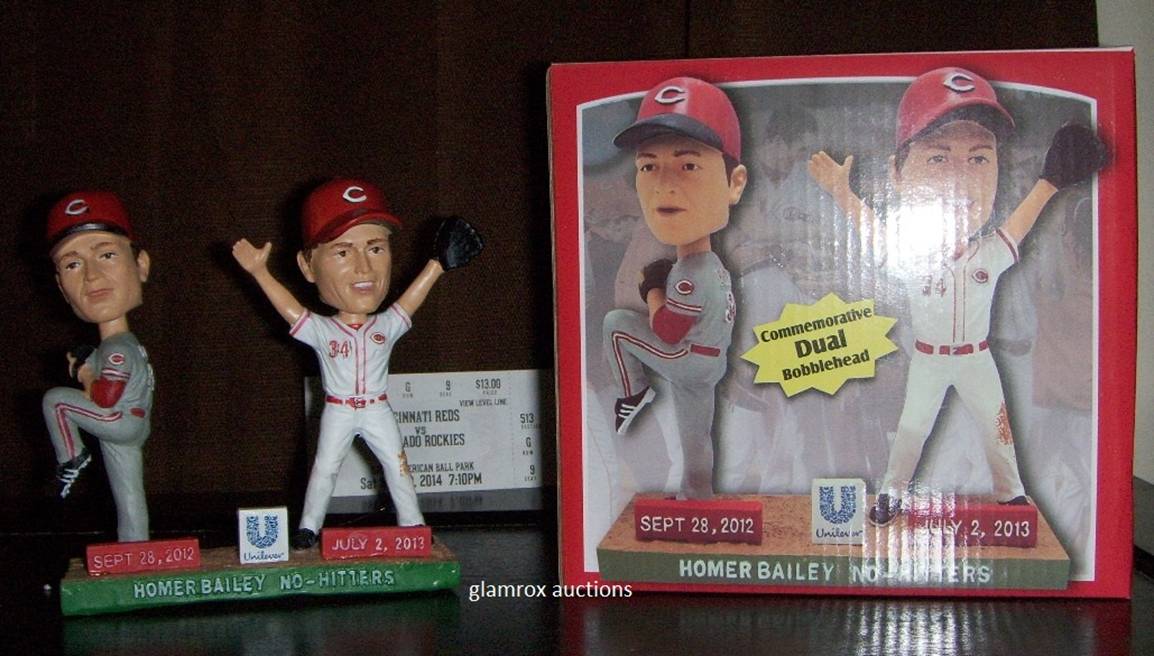 <![endif]>
The first thing you'll notice is the abundance of parts on this item. Besides the two figures, you have three different nameplates glued to the base. There's probably more going on with these than any other one they've ever made. We've had a complaint of one that was missing a nameplate, but knock on wood, no reports of mass QC problems. Manufacturers and designers have come a long way in the last 15 years. In the early days, they couldn't even get one roly-poly player right, because they put the bat on his shoulder and the bat always broke off. There are lessons here about the American design/Chinese manufacturer nexus that go way beyond bobbleheads. The quality may be laughable at first, and it may never truly catch up with a first-world product, but it gets to "good enough" before you know it.
<![if !vml]>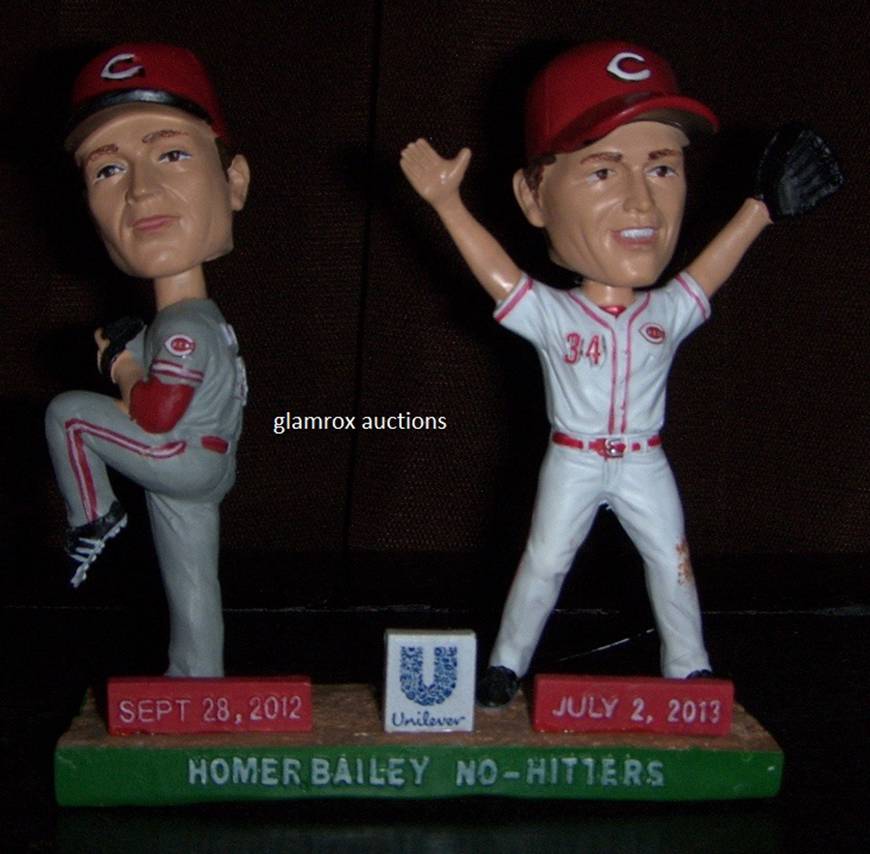 <![endif]> 
One thing that's visible in the picture is that the base of the item isn't perfectly flat. It's higher in the middle than at the ends. I have no idea if they're all like this. Perhaps there was a reason why they had to do it. Maybe they felt that the hand on the one figure would be too close to the head of the other with a flat base. They got quite a few details right, the most obvious being the dirt on the pants leg. Also, they do a good job showing the stitching on the hat, which is visible on the picture below. As usual, some of the painting isn't fine art-quality, as you can see around the left arm of the 2012 figure. But as I like to say, what do you expect for something you got free with a Reds ticket?
<![if !vml]>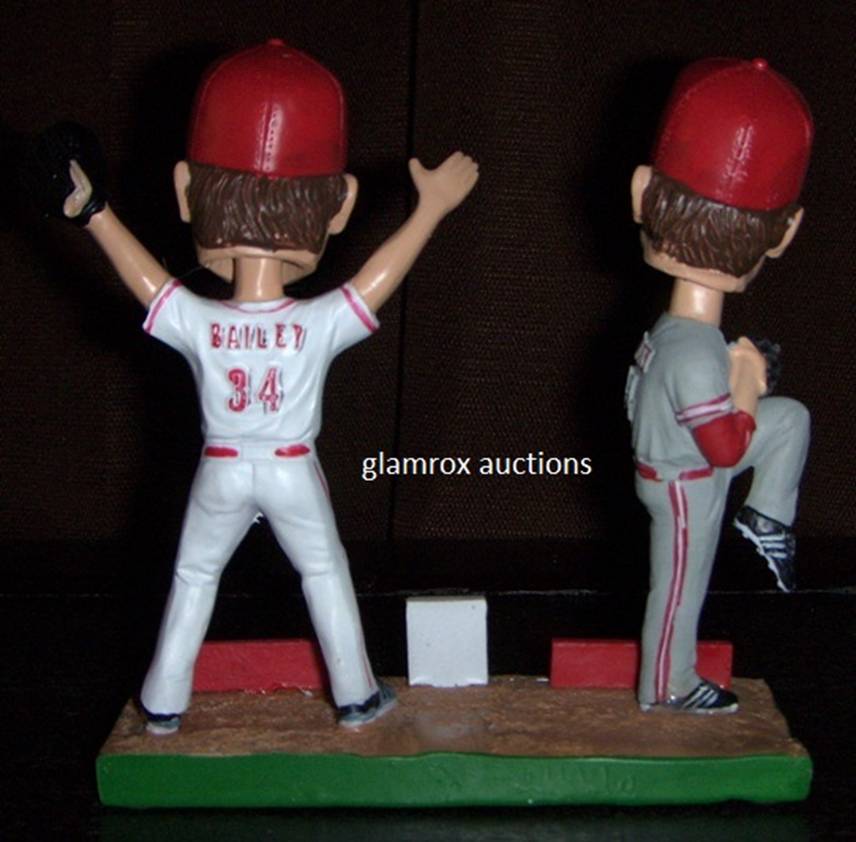 <![endif]>
The item was sponsored by consumer products giant Unilever. The interesting thing about that is that Unilever is a P&G competitor, and P&G pretty much owns Cincinnati. Unilever put the logo of the parent company, not one of its brands, on the item and the box. The only way I can interpret this is as a shot across P&G's bow. Maybe the Reds thought P&G was indifferent in terms of cross-promotion and decided to give them a little jab? That's pure speculation, of course.
For this game, they did the six-pack ticket promotion, with the special gate for six-pack holders to claim their item, which happened to be the closest gate to the exit, causing most of those who wanted multiple bobbles to have to run laps around the stadium. I had some of the six-pack tickets this year, so I was much less bitter about it than last year. The crowd was a bit smaller than last year's Chapman game, so you could have probably gotten your bobble without being super-early.
An interesting side note is that the Coliseum next door to the stadium was hosting UFC-style fights that night, and somebody I know spotted Joey Votto at the fights. They had pictures. If you check the Reds box score, a sub went in for Votto at first. The game was a blowout from the get-go, so it was probably something where they were giving him a rest and he just decided to head on over. Several Bengals were also spotted, but it isn't like their season was going on.
June 4-Aroldis Chapman Bobblehead
Just over 26,000 fans saw the Reds fall to the Giants 3-2 on this Wednesday night. 25,000 of them received an Aroldis Chapman bobblehead, the second of that player given out in as many years. Whenever the giveaway number is that close to the attendance figure, I assume that every ticket holder who wanted one got one.
<![if !vml]>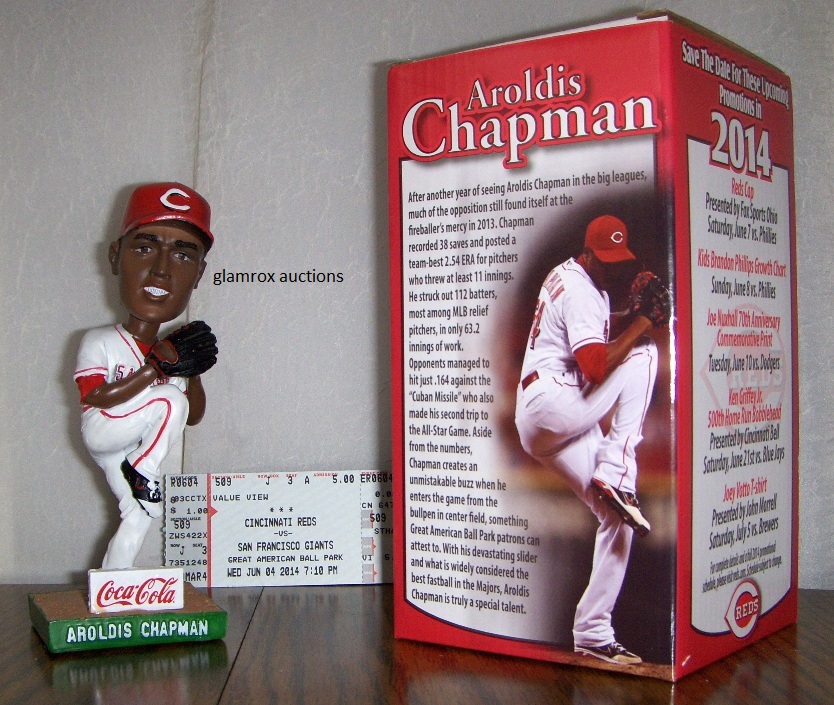 <![endif]>
As you can see, this one is not quite as gimmicky as last year's, since last year's had a flame effect coming from the baseball, alluding to the speed of the coming pitch. They played it pretty safe, showing him at the top of his windup. While some fans may like the gimmicks better, one like this without arms and legs sticking out is unlikely to break in shipment. Considering that some people open the box up immediately at the ballpark and find broken ones, it doesn't hurt to make them a little sturdier from time to time.
<![if !vml]>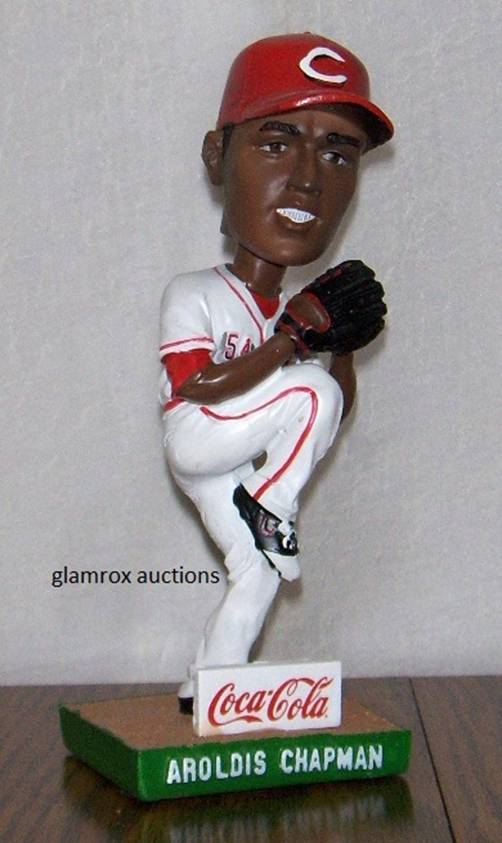 <![endif]>
This one is sponsored by Coca-Cola. That's interesting because Pepsi sponsored all of them in 2001 and 2002, plus a few thereafter. The Cola Wars rage on.
They got the details right on this one for the most part, but someone pointed out the minor issue of the face not really resembling that of the actual player. I was like "You've been collecting these this long and you expect otherwise?"
<![if !vml]>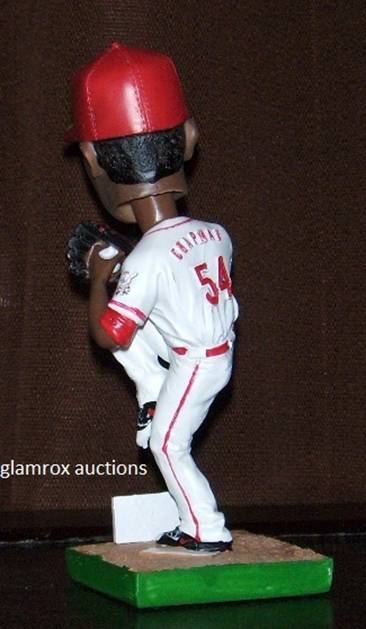 <![endif]>
June 21-Ken Griffey Jr. Reds Hall of Fame Bobblehead
A full house of 42,500 showed up on a Saturday afternoon to see the Reds thrash the Blue Jays 11-1 following a tough loss the night before. It was part of the first real hot streak the Reds had all year. As of this writing, it's inconclusive as to whether the streak will keep them in the hunt long-term.
Every year for at least the last few, the Reds have done a giveaway that coincided with the Reds Hall of Fame induction ceremony, and the giveaway has been one of the inductees. Typically, it is a player of recent vintage, as the Reds haven't done a Machine-era player in a long time, and might never do another one. This year, the ceremony didn't take place that day, but Griffey was an honoree and the date was the anniversary of his 500th homer.
<![if !vml]>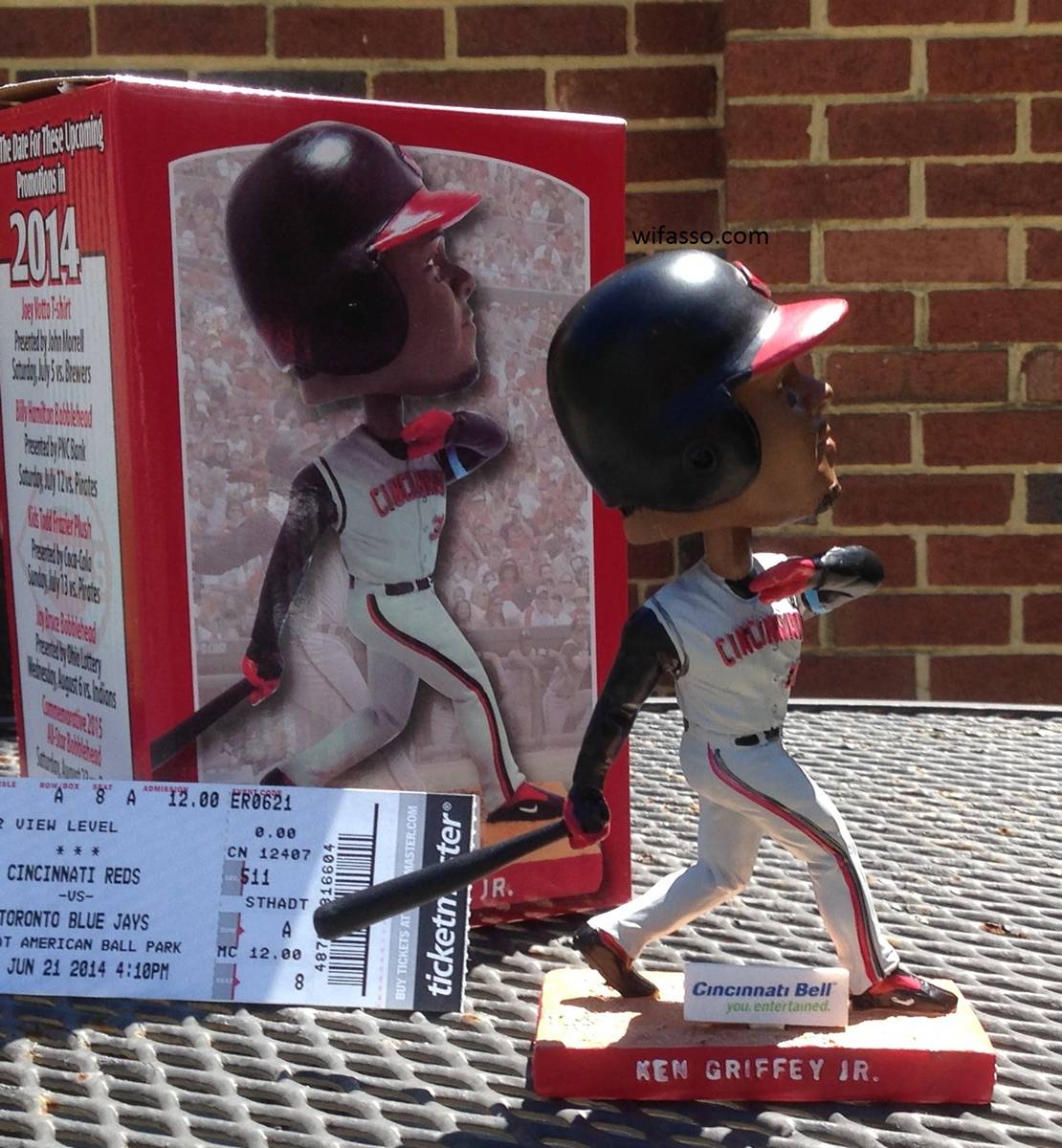 <![endif]>
Ken Griffey, Jr. was an obvious choice. In spite of the fact that his best days were behind him when he came to the Reds, he still had some good years, hit quite a few steroid-free homers, and earned the title Reds Hall of Famer. Maybe his Mariners HOF plaque should be bigger, but if the likes of Dan Driessen qualify for the Reds Hall, Junior is an easy argument.
<![if !vml]>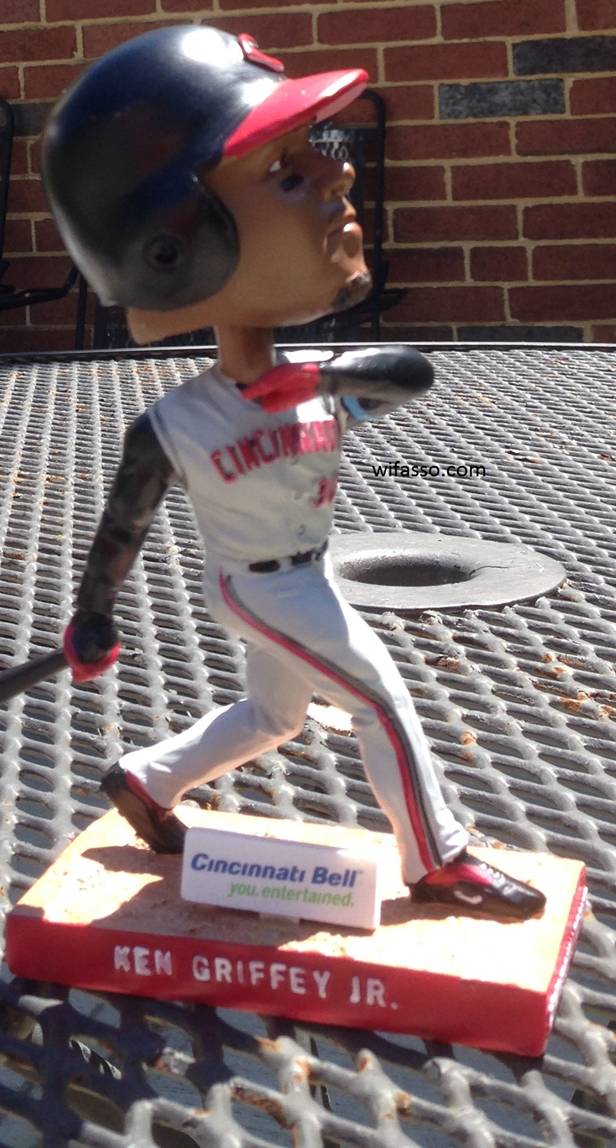 <![endif]>
The bobblehead commemorates his 500th home run. The pose is a follow-through on a swing. His swing was legendary, so anyone who grew up in the nineties would not need to read the name on the base to recognize the player. Even though they made the bat a separate piece to cut down on breakage, the resulting item was still very fragile. As some of you know, I sell some extras on Ebay sometimes, so I know how well they hold up in shipping. The two skinny arms sticking out were apparently too much. I'm not saying every one that shipped broke. It was, in fact, a small minority of them, less than 10% (unless someone glued it back together and didn't tell me). Another noteworthy detail is that the head on this one seems massive to me. I know the heads are supposed to be big, but this one is like an apple on a toothpick. But overall, the visual effect is pretty good. If you got one, and managed to keep it unbroken, you have a nice item that will be identifiable from across the room. It was sponsored by Cincinnati Bell.
<![if !vml]>
<![endif]>
Naturally, when an Ebay bidder gets a broken item from me, I try to make it right, and in discussing the "injuries" to the dolls, it did create some flashbacks of Junior's career here. I mentioned it to the bidders in my replies, too. One of the bidders was out near Seattle, and I felt a little bad about that comment. Every fan around Cincinnati is in on the joke, but Seattle-area fans may have different recollections of Junior.
On the whole, I have a positive opinion of Junior. Like many things in life, Junior's Reds tenure was just something that didn't work out. Not all players are going to be indestructible balls of energy like Pete Rose. Not all of them are going to "work" ball like Barry Bonds instead of playing ball. Junior was always taught to have fun out there, and he took the advice at face value. I remember reading about his aversion to the weight room as early as the mid-nineties. He played long seasons on rock-hard turf. He never hid anything. Everything was out there, pointing to late-career injuries, and the Reds signed him anyway. A nineties-era Griffey would not have moved the 2000's Reds to championships, anyway. With the skinflint ownership and lack of young prospects, his best season would have made the Reds .500, at best. What we got, as all the PED news broke, was one slugger who didn't cheat, when so many others did.
July 12-Billy Hamilton Bobblehead
A full house of 42,800 showed up for a rare Saturday summer night game where the Pirates beat the Reds 6 to 5. A Saturday night game against a divisional rival is one of the few times this year where they could pack the place without offering discount tickets. The giveaway certainly didn't hurt. This was the most anticipated bobblehead in a while, as it featured a rookie whose game was just heating up.
<![if !vml]>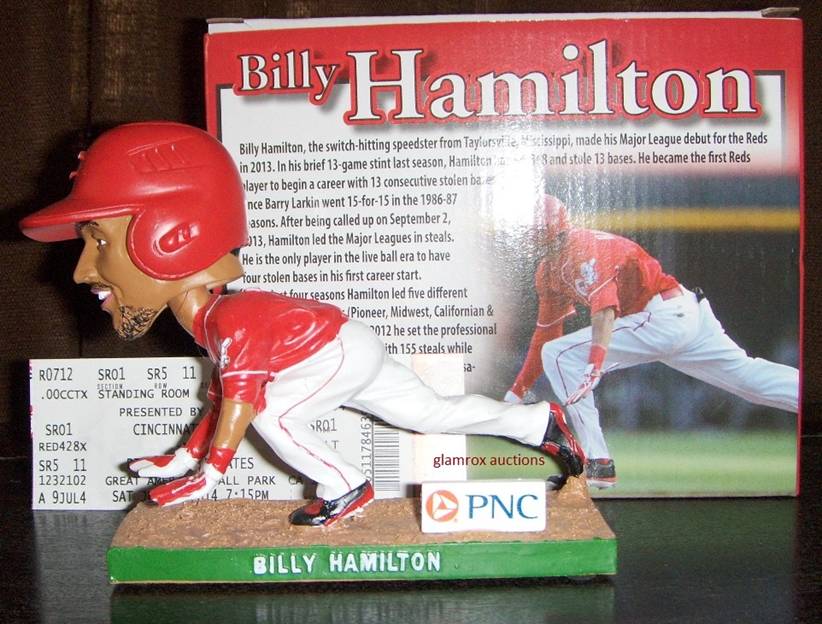 <![endif]>
As you can see, the item is a running pose, since Hamilton's signature skill is his speed. They pulled this one off pretty well. For the second time this year, they have one with the wider base. These are, no doubt, more expensive to make. This one was sponsored by PNC Bank, and the sponsors seem to be sparing no expense this year.
<![if !vml]>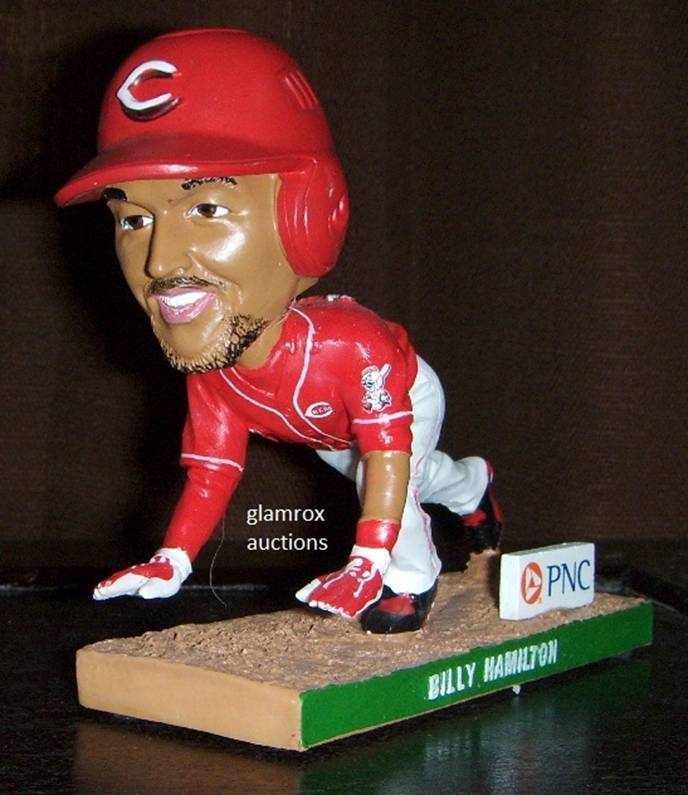 <![endif]>
This was one of the sought-after bobbleheads in quite a while, if Ebay prices are any indication. They were getting prices in the mid-thirties pretty easily, and may have even topped $40 shortly after the game. That's pretty much unheard of these days. Most of them get from the mid-twenties to the low thirties with the seller paying shipping. With cheap Reds tickets becoming almost nonexistent, the business of running for bobbleheads has really become a grind, where sellers are making maybe $5 per doll if they have to pay runners. There was a little extra for them this time.
<![if !vml]>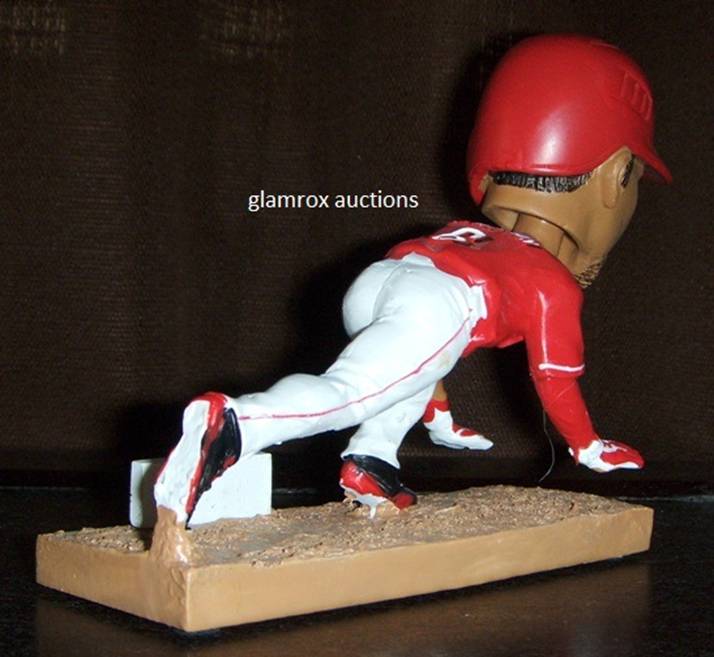 <![endif]>
If there's not a lot of money in running for bobbles, where will collectors get them if they can't come to the game? Well, I've seen a handful of people buying bobbleheads inside the stadium, and usually, they are trying to buy dirt-cheap, perhaps for five bucks. If they really are picking up many of them, there's a ton of money to be made. But in my mind, the Reds wouldn't take too kindly to unauthorized commerce taking place inside the stadium. I would think that such behavior is grounds for being kicked out. Maybe some people do it on the sly, but I've never been tempted to try it. I like to go to Reds games, and I don't want to explain to someone that the Reds have banned me from the stadium.
One source of bobbleheads for sale might be from the casual Ebay seller. With the Ebay mobile app, a person can sell something on the spot. If 2% of the people who get bobbleheads are casual Ebayers who don't feel like they need the item, that's 500 of them out there for sale.
August 6-Jay Bruce Bobblehead
Almost 34,000 people showed up the night of August 6 to see the Reds beat the Indians 8-3. Most of them walked out with the fifth out of six bobbleheads, featuring Jay Bruce. The popularity of this item faces some stiff headwinds, most notably the fact that this is the third time they've honored Bruce and also the fact that he was having a pretty bad year as of the time of the giveaway. But the item itself had some things going for it.
<![if !vml]>
<![endif]>
This is a first, at least for a Reds bobble. As you can see, the figure isn't touching the base. They have him jumping against an outfield fence, robbing a home run from an opposing batter. Like the Griffey one, this one had a problem with breakage. The glove hand proved fragile and was prone to breaking off. It seems that anything with an outstretched arm this year was too delicate to withstand the rigors of a ballpark giveaway, not to mention shipment to an Ebay buyer.
<![if !vml]>

<![endif]>
Above, you can see how they did it. The figure is attached to the fence in two places. This requires some good quality control, at least by the standards of ballpark novelties. After all, the feet are usually what attaches one of these to the base, and not only are the feet normally close together (they might even be one piece), but gravity is also in favor of keeping everything together. Time will tell if any of these will fall prey to the laws of physics, but in the short run, they seem pretty solid.
<![if !vml]>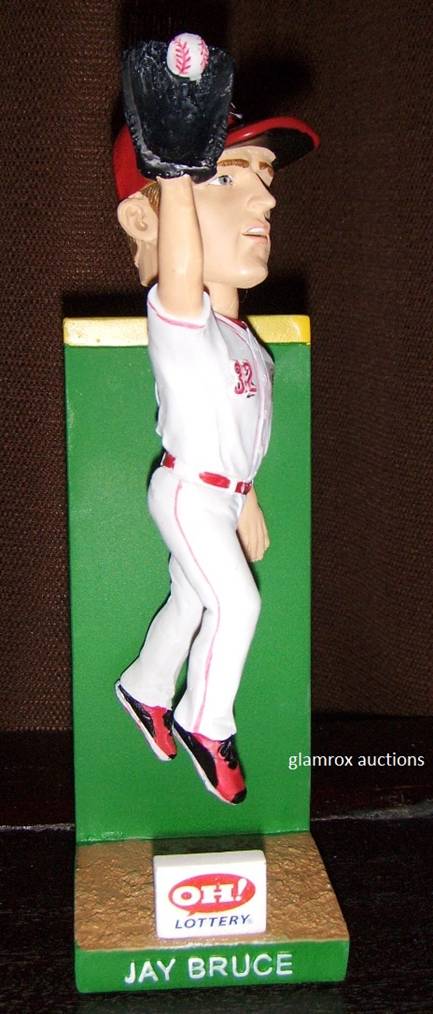 <![endif]> 
It's a pretty good visual effect from the front. I have to say they pulled this off well. It was sponsored by the Ohio Lottery, an entity that seems to sponsor one per year. I guess one question we can think about is whether any other gambling establishments will get to sponsor them, now that legal gambling has been expanded here.
The Reds are drawing well of late. The Chapman game in early June barely drew the 25,000 needed to have a fan for every bobblehead. This game was halfway between the June attendance and a sellout. You can credit the giveaway, and you can credit whatever is left of the inter-league novelty, but in fact they drew similar numbers the prior homestand against a mediocre Arizona team. Good weather helps, and we've had a run of it. But they're farther down in the standings than they have been in a while. They're certainly doing something to bump the attendance, so if you are looking for a hot giveaway on a weeknight, show up early and don't assume a lousy 16,000 attendance figure, at least not in summer.
August 23-Mr. Redlegs 2015 All-Star Game Bobblehead
A full house of 41,500 saw the Reds defeat the Braves 1-0 on good pitching and for this year, a typical amount of offense. Sadly, the win did nothing more than stop the bleeding of a long losing streak, one that put the team well under .500. This game was what I call a weak sellout, where plenty of standing room remained and there was no issue of anyone who wanted in getting turned away. I would say most of the seats were sold before the losing streak. A long rain delay didn't help the experience that night, and when the final out came, only the die-hards were still in the stands. No matter how many leave early, though, they'll never rain a sellout out. Not without the kind of rain that caused Noah to load up the ark.
As if to say "wait 'til next year" with style, the Reds gave the first 25,000 through the gates an outstanding reminder of what's coming in July of 2015.
<![if !vml]>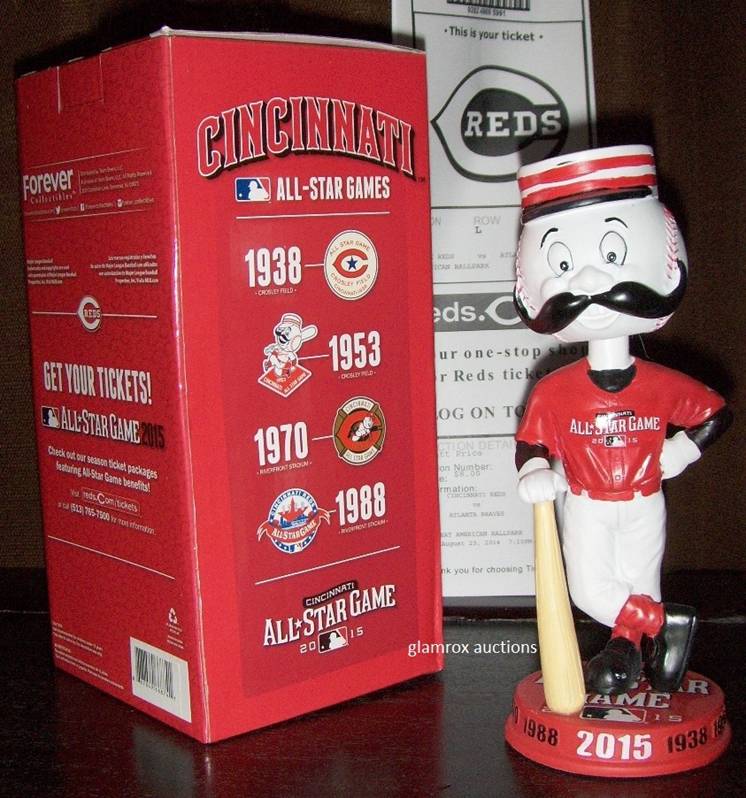 <![endif]>
This was the last of a record six bobbleheads that the team gave out this year. It features the popular Mr. Redlegs mascot wearing an All-Star Game t-shirt, in anticipation of next year's game in Cincinnati. The base lists every year the Reds have hosted an All-Star game.
<![if !vml]>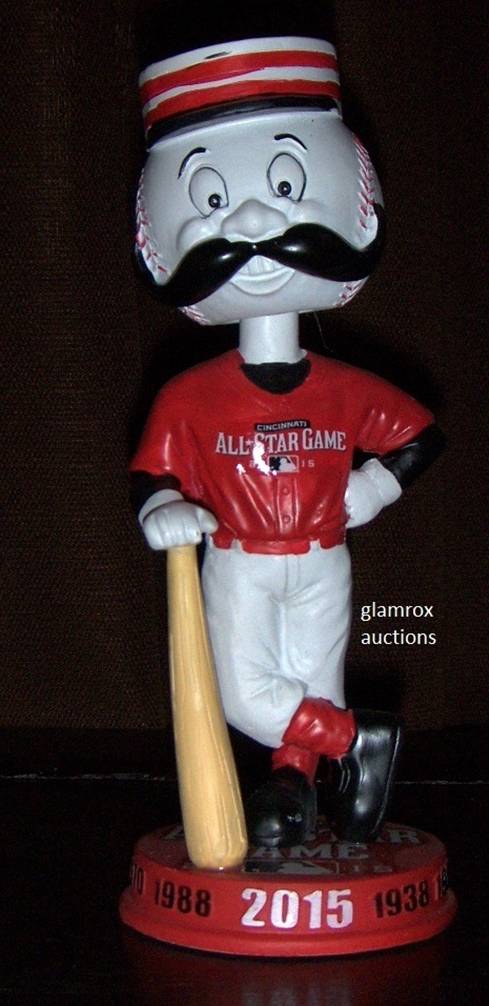 <![endif]>
The official logo for the All-Star game, released some weeks prior to this promotion, is in the style Mr. Redlegs, which shows just how popular this mascot is. The interesting thing about this bobble is that the shirt the figure is wearing does not sport the recently-revealed logo. If I had to guess, I'd say that when they ordered the bobbles, they didn't have the logo finalized yet. They just knew it would involve Mr. Redlegs. Maybe they thought that producing these bobblheads would cause someone to leak the logo and ruin the surprise.
<![if !vml]>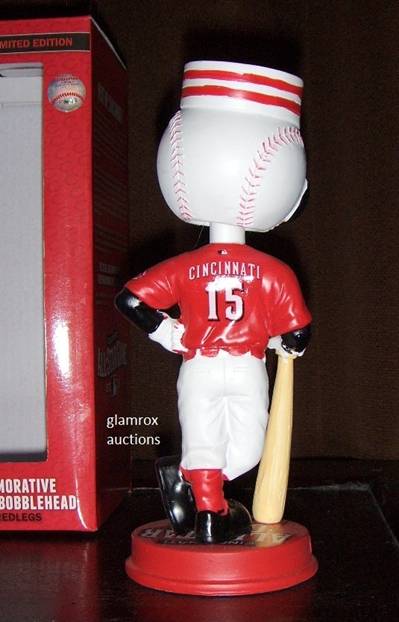 <![endif]> 
As you can see, compared to the player bobbles, with their elaborate poses, this one is a return to a simpler design. Simpler certainly doesn't mean worse, though, as this is an attractive item that may stand the test of time better than the others. The Reds aren't trading Mr. Redlegs, after all, and he isn't going to have a bad year at the plate.
This item was produced by Forever Collectibles, a familiar name to those who have collected bobbleheads of the modern era. They've never done a Reds SGA. They did do the Pete Rose Farewell to Cinergy one in 2002, which was not affiliated with the Reds due to the ban. There's no sponsor, either. The Reds apparently paid for this one themselves. This does leave open the possibility that the Reds may sell a similar or identical item in their gift shop, something known as the retail version among hobbyists. In fact, there appears to be a UPC on the box, although it is covered with some other type of barcode.
In the early days of the SGA bobblehead era, "retail" was a dirty word. Since the SGA version might cost triple digits, a collector who paid for one would want to make sure he wasn't buying something that sold in a retail store for $25 or $30. Usually, a sponsor logo tells you that you have the SGA. SGA's without sponsor logos, like the "Farewell" Rose, were likely to have their value diluted by a retail version that was identical. Thus began the tradition of asking for game-day tickets along with bobbles. But you really can't say for sure that the ticket and the bobble weren't paired up at a later date, could you?
Nowadays, the retail wrinkle isn't quite as important. The SGA's are going to sell in the secondary market for about what a retail version would, so there's no sense of being cheated. If an identical retail version comes out, this item will just have to stand on its own as a souvenir, and it does this quite well. If retail and SGA are identical, then for better or for worse, the retail version is the SGA, and you can complete your set by buying one off the shelf.