Wifasso.com
Henryís Random Thoughts
2015 Cincinnati Reds SGA

Bobbleheads
Nine Bobbleheads Planned in 2015
The Reds have nine scheduled bobblehead giveaways this year, so if you try to get them all, clear off some shelf space. This seems like a lot, but several teams have been giving away numbers like this for years. Apparently, frequent giveaways donít dampen fan enthusiasm much. The giveaways are being deployed strategically this year. All of them are on Saturdays, and there is a five-week stretch from late June through July where none are given away. All-Star Game hype is a sufficient amount of hype for that period. That means that they are tightly-packed into the rest of the yearís schedule. There are two in back-to-back weeks. The announced quantity of each giveaway is 25,000.
The Reds have installed metal detectors this year, part of a league-wide directive. Iím not aware of any type of epidemic of stabbings or shootings at ballparks, but maybe itís out there. Anyway, even if you arenít carrying metal, the lady in front of you is, and this is going to slow down the lines in a major way for these bobblehead giveaways. Be prepared. Getting one bobblehead shouldnít be much tougher than it used to be, but the capitalistic enterprise of burning extra tickets to get multiple bobbles by leaving and getting back in line is going to be tougher. I hope people donít give up, though, because no matter how big a fan someone is, they canít make every game, so they need the eBay sellers.
April 11-Todd Frazier Bobblehead
41,500 people showed up to see the Reds lose their first game of the season after four wins. Crowds arenít typically that large this early, but they did have the bobblehead, and some good weather came along after a week of some typical nasty Cincinnati early-April weather. Also, they were playing the Cardinals and Cardinal fans do travel. The Reds drew really well last year in spite of a down year, so I shouldnít be all that shocked if every Saturday game with decent weather sells out. Phil Castellini, in charge of the non-baseball operations of the Reds, always does a fine job, no matter what you may think of the teamís baseball moves.
They honored Todd Frazier, a guy that they honored just a couple of years ago. However, Frazier became the face of the team with a breakout 2014, and his All-Star game appearance with Jeter was the kind of feel-good story any team would love to have, particularly a team like the 2014 Reds, who werenít really contenders. If he keeps up the good work on the field, expect him to be front-and-center in Reds promotions for a while.
<![if !vml]>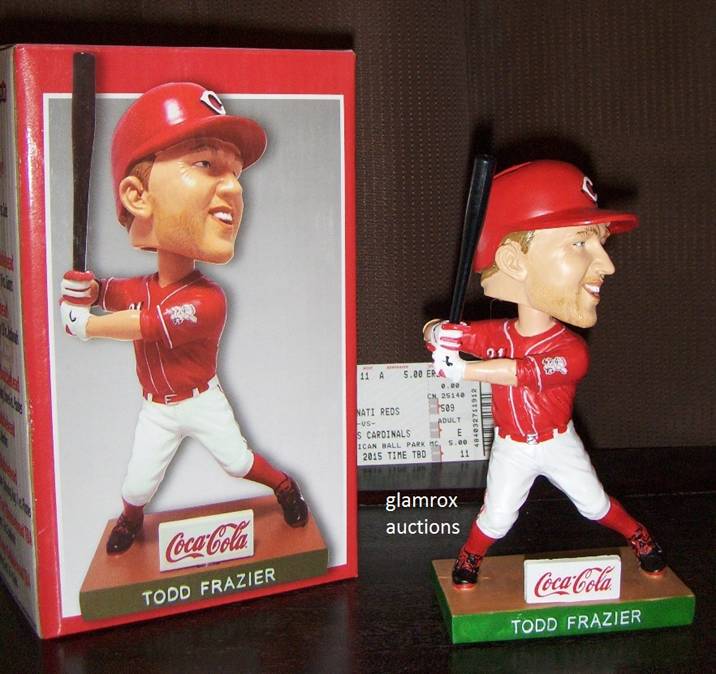 <![endif]>
The sponsor is Coca-Cola, a company thatís always up for sponsoring just about anything. There really is a lot of detail on this one, from the grub beard to the partial logo on the batting glove. Although you occasionally get a defective one, the product being turned out by these factories in China is a lot better than it used to be. Itís definitely not the head stuck on a generic figure like it used to be.
<![if !vml]>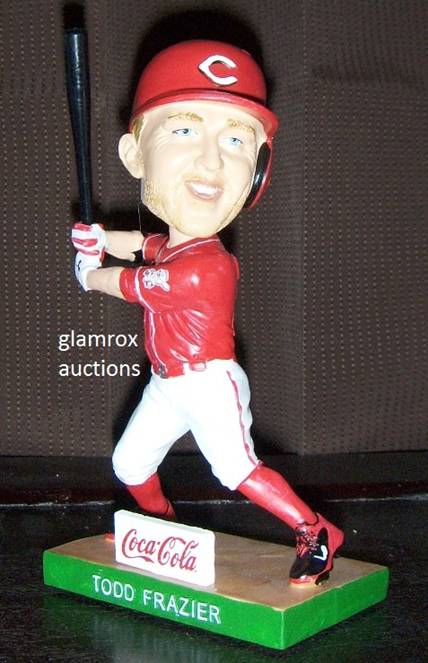 <![endif]>
The basic method of manufacture does seem to be the same as it always has been. Parts are made out of some sort of resin, then the items are hand-painted by workers (cheap labor is a necessity to make so many and distribute them as giveaways). Then they are glued together. One has to wonder, though, when it will be economical to use 3-D printing to make them. If I had to guess, I would say that the custom, ďmake your own bobbleĒ outfits already use 3-D printing, because they get over $100 per item. Itís more of a cost issue when making 25,000 at a time and giving them away.
<![if !vml]>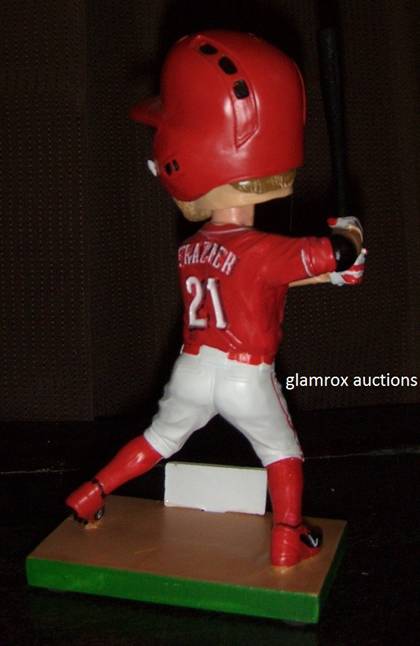 <![endif]>
The possibilities of 3-D printing are fun to think about, though. They could be made here if there was enough automation. You might not need the lead time in planning them. No more guys on them like Jonny Gomes who are clearly on the trading block by the time of the giveaway. You could feature a player on a hot streak a lot faster, and even have fans vote for one. It may never happen, though. The current system is cranking out a product that people like, and doing it cheaply. Maybe 3-D printing is a solution in search of a problem.
April 25-Nasty Boys Triple Bobblehead
April 25 was a virtual sellout, with festivities planned to honor the team from 1990, the last Reds team to win the World Series. It was a splendid idea, but the weather didnít cooperate. The game was rained out. This is the first time that I can recall a bobblehead game being rained out, although several of them have had questionable weather. For those of us who have been going down to watch the Reds for decades, we remember April games (other than Opening Day) as ones where 10,000 people would show up. You had to prepare for bad weather, but you could score a great seat and probably have two empty ones in front of you, one for each foot to rest on. Those days are over. There might be a small crowd or two, but the team has used promotions to get some surprisingly strong gates in April. The downside is that the games have a pretty good chance of being delayed or cancelled. They are very reluctant to call off a game where a big promotion was put together. For example, on their ďOpening NightĒ game, they just delayed the weeknight game for hours and let it wrap up after 2 AM. Enjoy that if you have a day job. This time, the rain just came and came, and they called it off. But not before they handed out the bobbleheads.
<![if !vml]>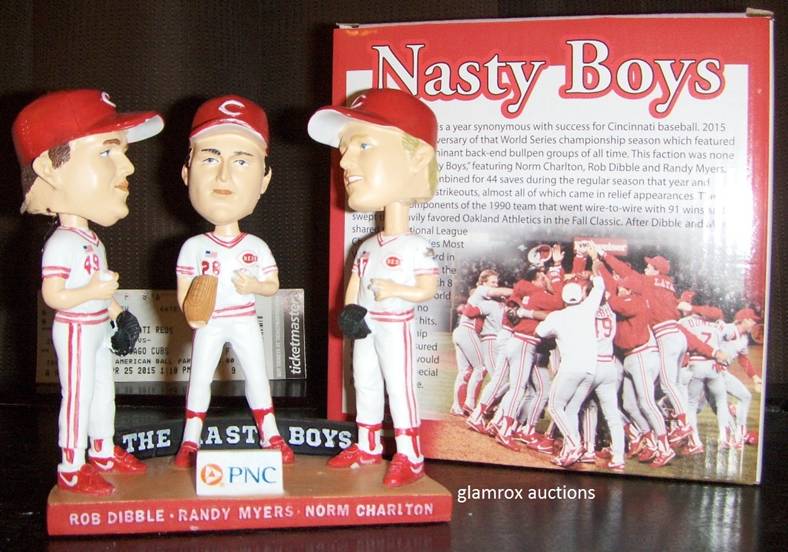 <![endif]>
What we have here is the first triple bobblehead theyíve done, after doing double ones semi-frequently. It is of the Nasty Boys, the nickname of the Redsí bullpen in 1990. The three players featured are Rob Dibble, Randy Myers and Norm Charlton. The rain-soaked festivities included the real life Nasty Boys, in addition to other members of that championship team. Those festivities are the kind of thing they used to have in July, but with this yearís All-Star Game coming, they arenít wasting the big promotions on a time where thereís bound to be plenty of hype. So the ceremonies took place in what was basically a winter storm.
<![if !vml]>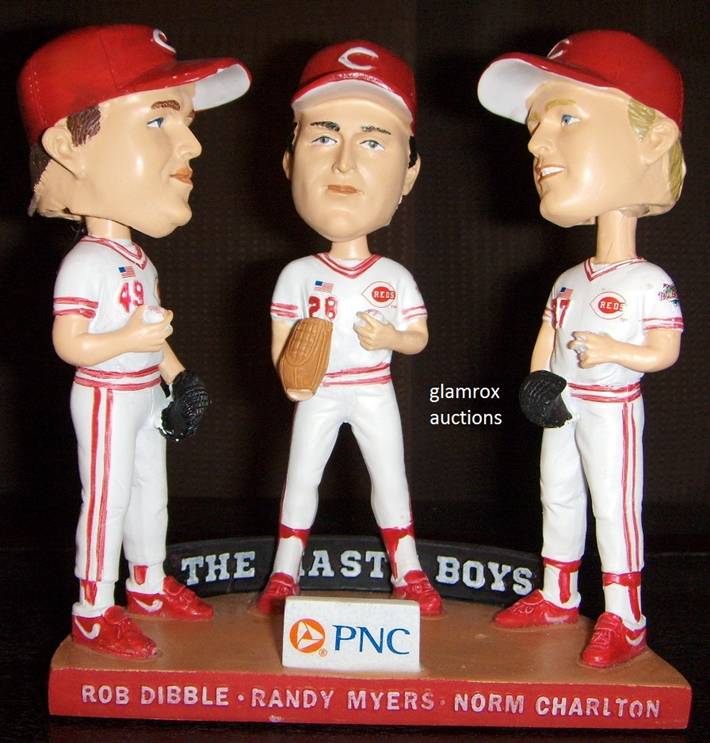 <![endif]>
The 25,000 fans that got these got a really nice item. They shrink the size of each figure vs. the single bobbles, but they still manage a fair bit of detail on them. The flags on the uniforms were in support for our troops in the Middle East for Operation Desert Shield, troops that Marge Schott mistakenly referred to as ďour boys in the Far East.Ē We miss you, Marge.
<![if !vml]>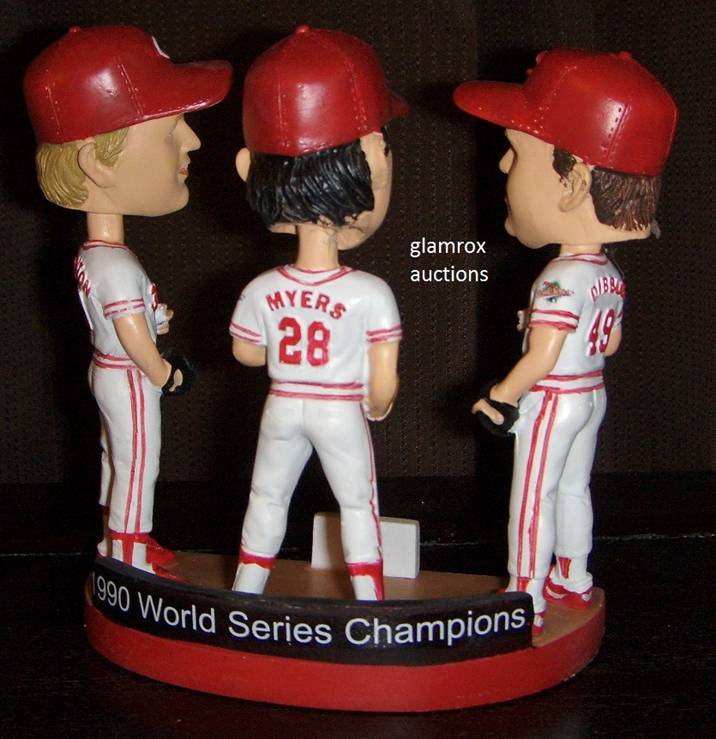 <![endif]>
They even put words on the back of the plaque listing the teamís accomplishment. Someone remarked that a rear view of this bobble makes it look like the three guys are urinating on something, and I have to say that thereís a little bit of truth to this. I guess if you can find an Aís mini-helmet like they used to sell for a quarter in vending machines, you could place it strategically and complete the look.
May 16-Johnny Bench Stars of the Queen City Bobblehead
May 16 was an example of where you bought a ticket to get a bobblehead and attendance at the game was basically the giveaway. The Reds were starting an awful losing streak, and part of the stadium had caught on fire the night before. They took an 11-2 pounding in this particular game. In short, things werenít going well for them. But the beauty of a retired player bobblehead is that the player canít disappoint you by going on the DL or being in the midst of a horrible slump. And the featured player, Johnny Bench, disappointed very few people in his playing days, unless you count fans of the other team.
<![if !vml]>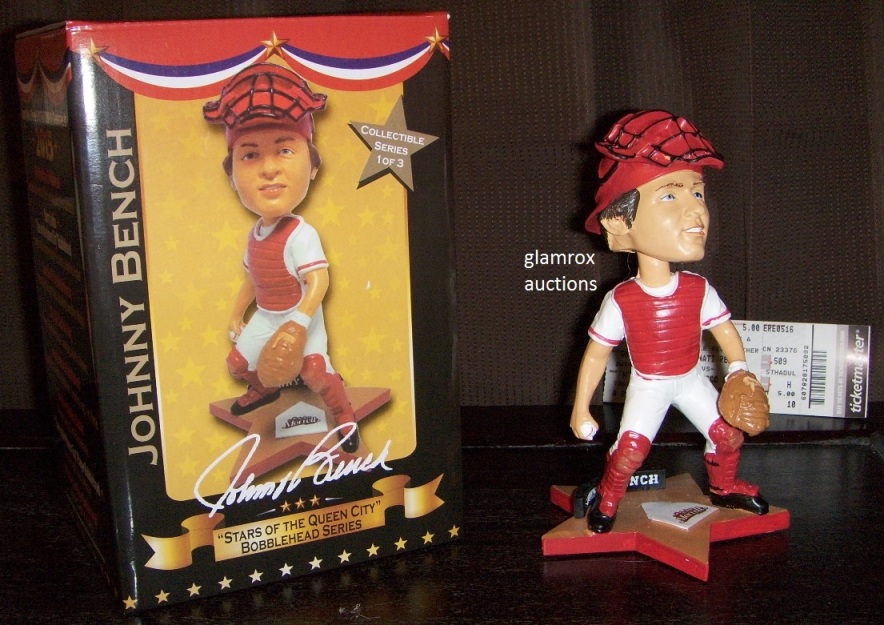 <![endif]>
This is the second Bench giveaway by the Reds themselves, excluding the Reds Hall of Fame. The first time they honored him was in 2002, the second year of the giveaways. That earlier Bench was the one that created some bad feelings, when most of the fans were left without one and the ones who got one were able to flip it for big money on Ebay. No doubt the 2002 Bench giveaway caused the Reds to rethink the number of bobbles given away, as they were never as stingy with the count again like they were with the 10,000 Bench bobbles they gave away. They gave away 25,000 of these.
†<![if !vml]>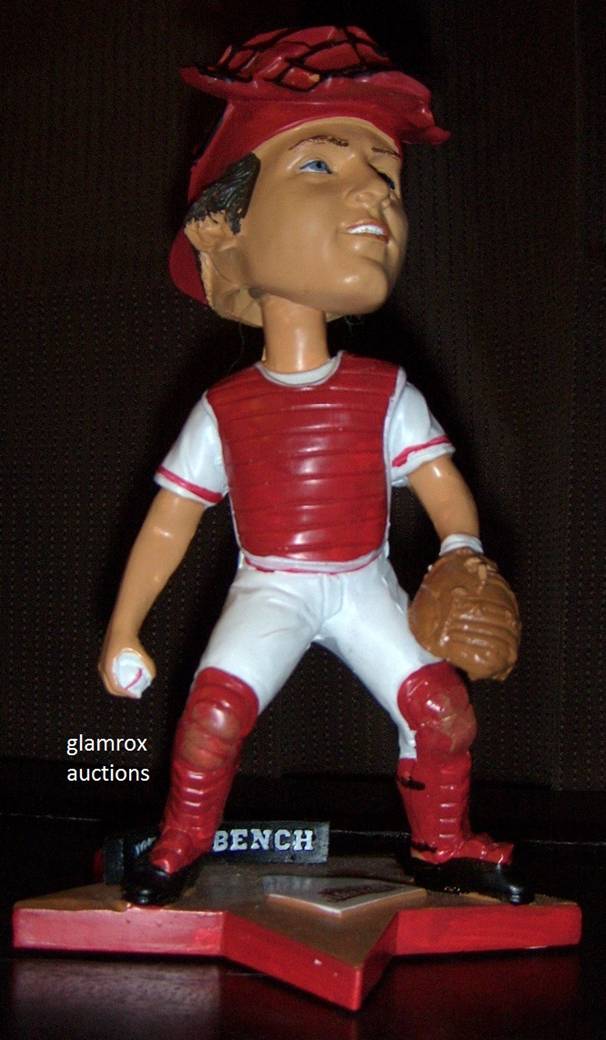 <![endif]>
What we have here is the first in a three-item mini-series called Stars of the Queen City, celebrating past All-Stars. These feature a base in the shape of a star, necessitating a bigger box. The boxes bobbleheads come in are an attraction in themselves, and if you ever plan on selling your bobbleheads, keeping the boxes is a must. Holding this item in the box, you feel like you have something substantial, and the bobble itself is a nice piece.
<![if !vml]>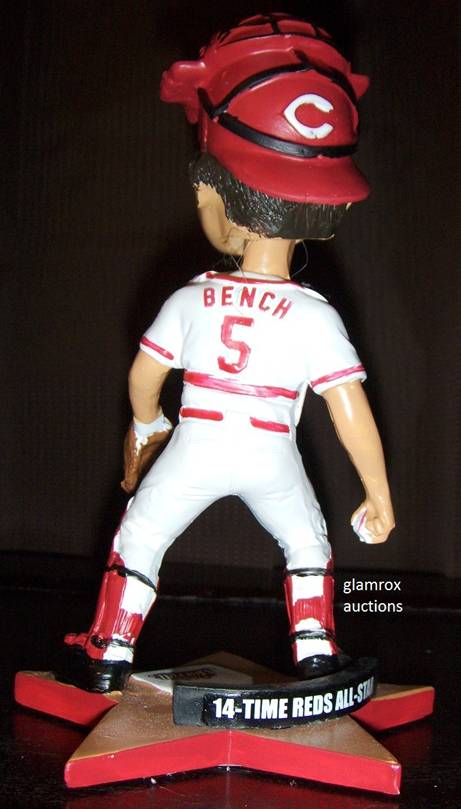 <![endif]>
One side note is that listing an item like this on Ebay was a little harder than I thought it would be. Mentioning the All-Start tie-in, the Stars of the Queen City, and the star-shaped base flagged the listing. Apparently, Ebay doesnít like people begging for five-star ratings inside their listings, so they deal with it by having their software basically ban the word ďstar.Ē The best way around this issue for me is to figure out a way to list without the offending word. The All-Star Game becomes the ďMidsummer Classic,Ē etc. If you try to reach Ebay customer service, you have more determination than me. Itís still my belief that Ebay is run by three guys in a basement full of pizza boxes and empty Diet Coke bottles.
May 31-Billy Hamilton Bobblehead
What a difference a year makes. Last yearís Hamilton bobble came when he looked like the Rookie of the Year, and it was the bobblehead everybody wanted. This year, Hamilton is running into the same issue that has dogged most of the speed demons that came along after Henderson and Raines. Simply put, you canít steal first base. Donít get me wrong. I was all for bringing him up. When a guy has a chance to change the way the game is played, you have to try him out. And he still has time to figure out big-league pitching and become a feared offensive weapon. But for now, he hasnít shown it and watching him bunt, in particular, can be a painful experience.
<![if !vml]>
<![endif]>
Fans who attended this game saw the Reds thrash the Nationals, one of the best teams in baseball, as part of a three-game sweep. Something really got into them that weekend. The Nats came in with quite a bit of swagger, having won almost every game in May, and the Reds dispatched them like champions. I know this yearís team isnít really a contender, but I enjoy the flashes of brilliance when I see them. This was played before a not-quite sellout crowd of 36,000 or so. It was a 4:10 start time. While that time may be good for TV and get team employees out of there for Saturday night, they do seem to have trouble filling the stadium for those games, even with a marquis opponent.
This bobble is a running pose, so just be aware that when you get one and display it, the head is pointed down and the figure isnít exactly ďlookingĒ at you. Thatís a proper running pose, so donít think that yours is defective.
<![if !vml]>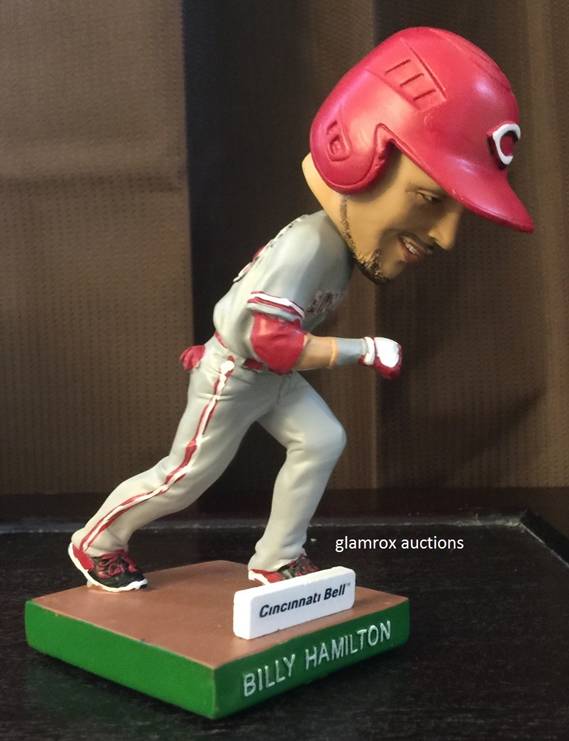 <![endif]>
One thing about this giveaway is that it is the one where they finally stopped allowing the public to exit the way they normally would after a game through the exit in center field. I got turned away at the normal exit and left via a nearby entrance. Next time through, that entrance was hip to it, so I ran one further entrance down, where I got out, but you could practically hear them getting the word not to let people out. As my brother once said after trying to sneak into a Jimmy Buffett concert at Riverbend, ďYou canít outrun a radio.Ē The writing was on the wall at the Bench game. They were trying to stop us from using the center field exit then, but they were unprepared. The entry gates had a lot of space between the gate itself and the metal detector, making it easy just to walk out. For the Hamilton game, they had all those areas roped off with the kind of tape you see in banks to keep lines orderly.
Now to re-enter, you have to use the re-entry gate, a gate intended for people who need to leave the stadium and get back in on the same ticket. As of now, this is somewhat tolerable, as that re-entry line doesnít move terribly slow. But you never know what they will do. If you take advice from this website on how to get through the lines multiple times to get multiple bobbles, be aware that any advice was only good on the day in question, and that the Reds staff just makes up the rules for exit/re-entry as they go along. At some point, they may slow you down so much that you canít even get a second bobble. But as the Good Book says, ďSufficient unto the day is the evil thereof.Ē Iíll worry about that rule change when it comes. If Andy Dufrense could break out of Shawshank Prison, I can find a way out of GABP.
<![if !vml]>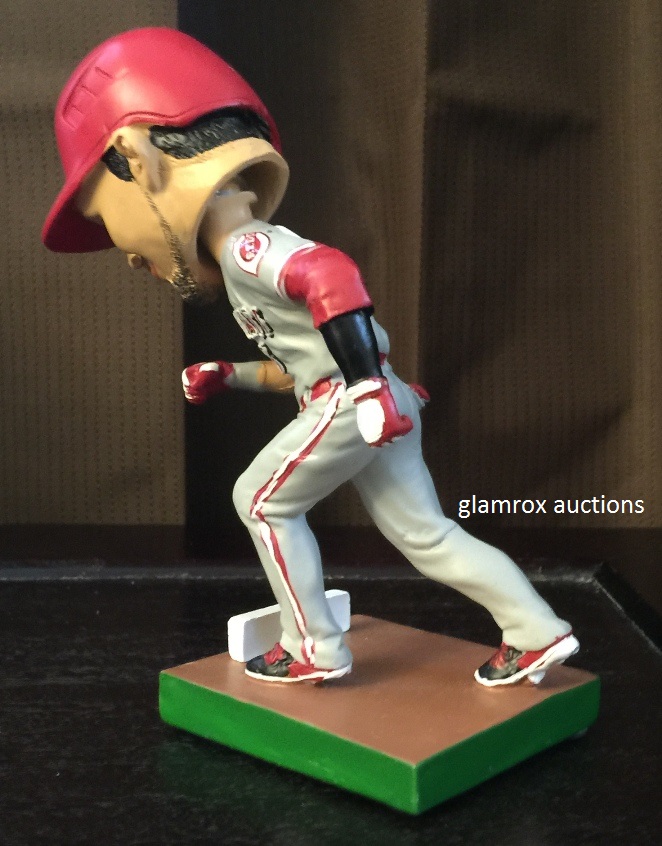 <![endif]>†
June 6-Barry Larkin Stars of the Queen City Bobblehead
Thereís no rest for the wicked, so bobble-chasers had to be down at the stadium a week after getting the Hamilton bobble to snag the next one, featuring Barry Larkin. They managed a virtual sellout, so 41,000 or so fans came to see the Reds fall to the Padres 9-7. As a consolation prize, the first 25,000 fans got the second in a series of all-time greats called the Stars of the Queen City.
<![if !vml]>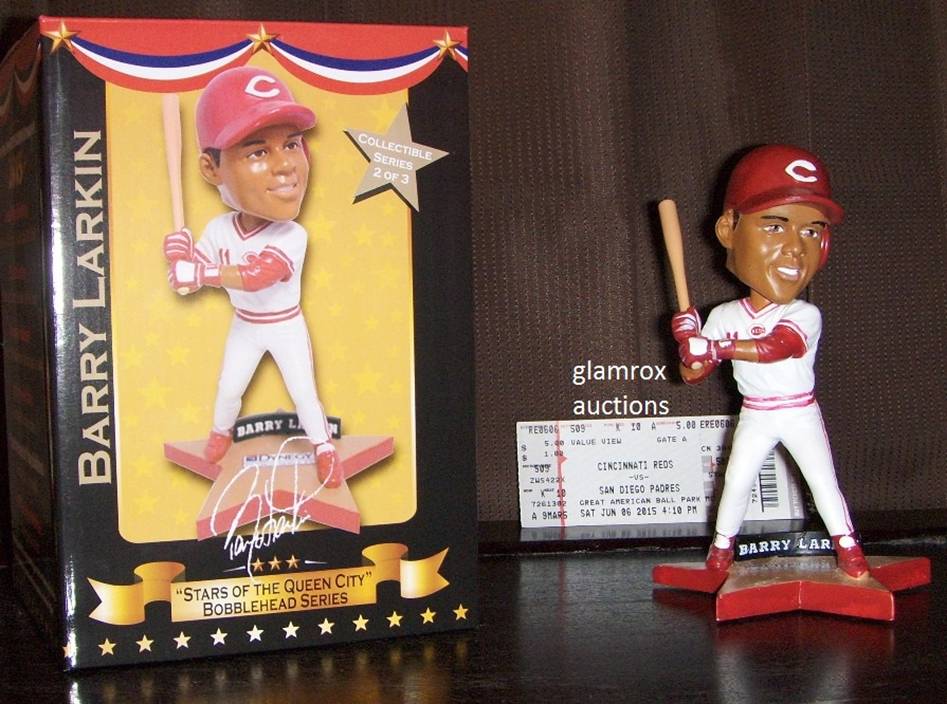 <![endif]>
This one featured Hall of Famer Barry Larkin, one of the best ever to put on the Reds uniform, even if a guy like Johnny Bench still has a little more star power around here. Larkin is back on the Reds payroll, and is rumored to be the leading candidate next time the managerís position is open.
<![if !vml]>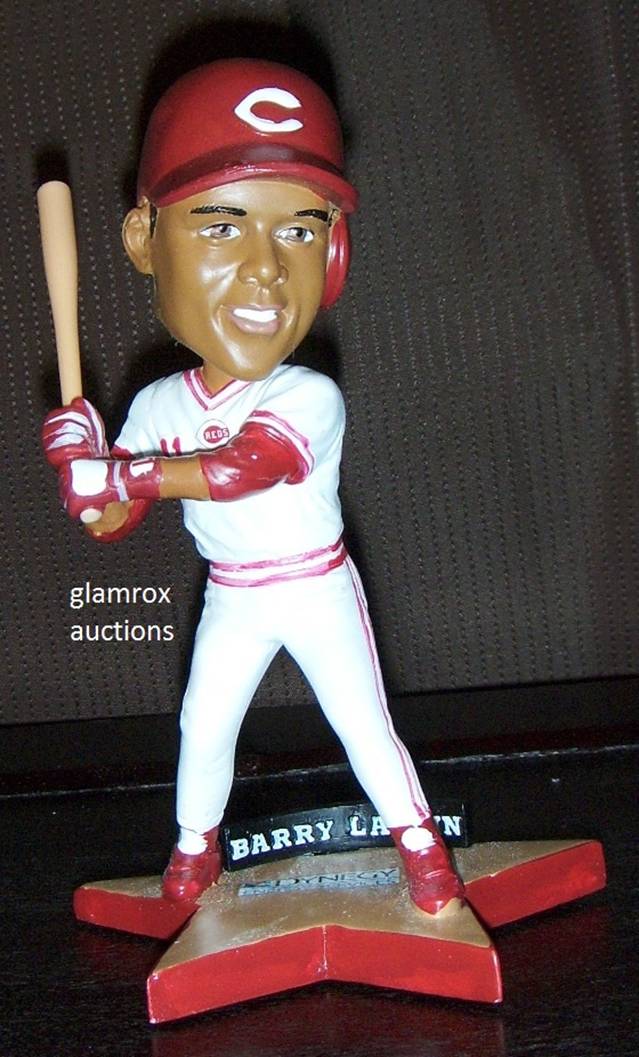 <![endif]>
Larkin was never truly appreciated by Reds fans, in part due to his quiet demeanor. He was a guy who led the team away from the cameras, and was never seen stomping around the dugout or screaming at umps. Some fans mistook this for apathy, even though Larkin did things like learn another language to communicate with teammates. Did Pete Rose ever do that? Also, he got upset at the Marge Schott racial slurs, something that was entirely justified, but not something the fans were ready to understand.
As of the time of this game, the third Stars of the Queen City entry, to be given out in September, has not been announced. Rumors abound that itís going to be Pete. There is a chance that they are waiting for the Commissioner to rule on Peteís reinstatement, and that they havenít even ordered the item yet. I have my doubts about Pete ever getting a full reinstatement, but he could get a partial one that allows him to be honored for past achievements. So we may see a Rose SGA from an official Reds game, 13 years after the Farewell to Cinergy giveaway.
<![if !vml]>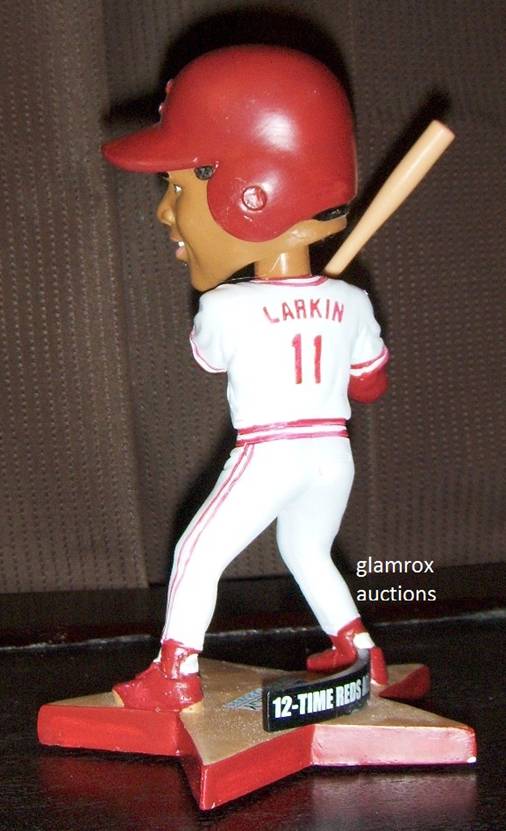 <![endif]>†
June 20-Brandon Phillips Bobblehead
From this point forward, at least for 2015, I wonít be going into much detail about the day they handed them out, who won, etc. Reds fans know how the second half went: The team stunk. But more importantly, for the ones above here, I updated this site in the week or so after I got the item, and Iím updating the rest of these in mid-November of 2015. Everybody has a life, even me, and the sheer number of these giveaways coupled with the poor play on the field got me less motivated to update this site. Itís all good, though. The Bengals are 8-0 as I write this, so Iím in better spirits about Cincinnati sports.
The general trend in the response to these giveaways as the year went on could be expected. The hangover after the wonderful All-Star week was there, the team was further under .500 as the weeks went by, and the shelf was really filling up with bobbleheads. So the demand for the later ones softened as the year went on. They didnít fetch too much on Ebay after the first three of the year got strong prices. The Reds fan is a loyal creature, however, so while demand was diminished, it was certainly still there. Attendance numbers for the games were still decent, and the fans still lined up early. If you had extras to sell on Ebay, it was still good enough to be worth the effort. You just werenít retiring off your Ebay ďriches.Ē How much of the good attendance was loyalty, how much was a fuzzy definition of a sellout, and how much was the fact that tickets were sold well in advance, I donít know.
<![if !vml]>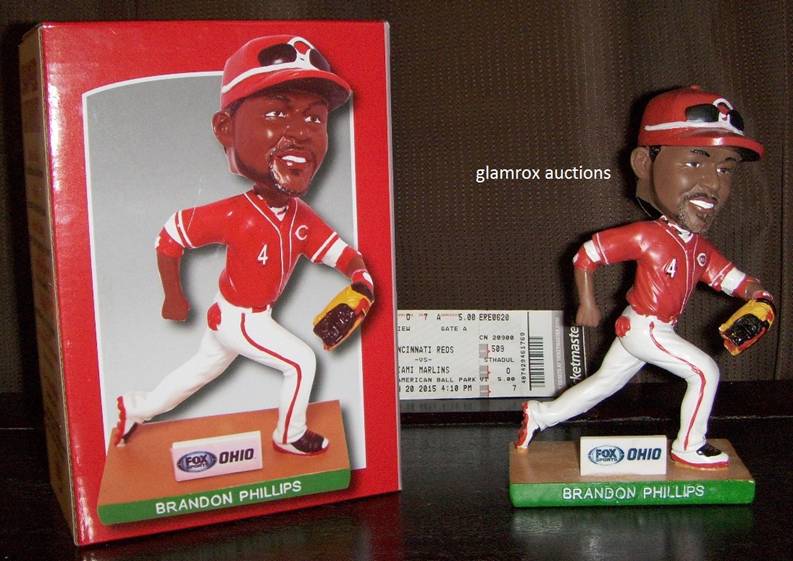 <![endif]>
<![if !vml]>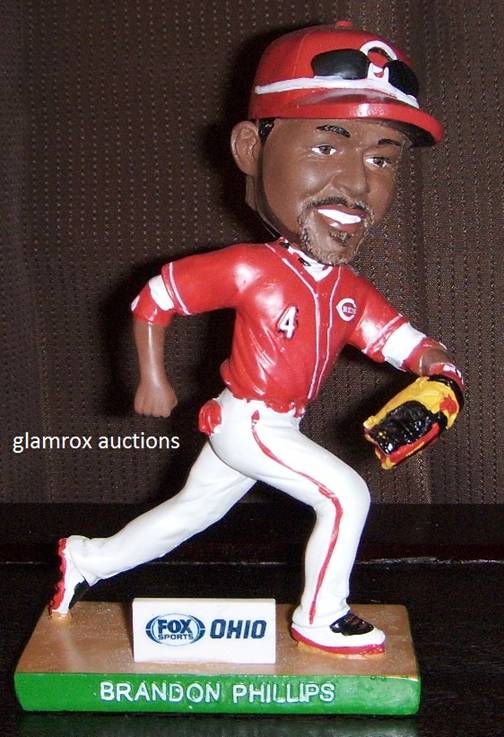 <![endif]>
<![if !vml]>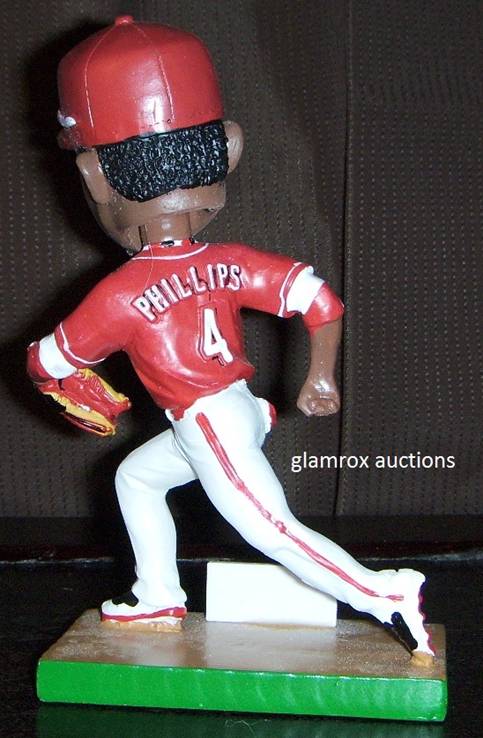 <![endif]>
August 1-Devin Mesoraco Bobblehead
This one sort of summed up the Redsí season. When they announced this one, I was pretty pumped, as it was the first-ever bobble of an up-and-coming player. Then, Mesoraco suffered a season-ending injury early on, and that was that. Assuming he comes back OK, collectors who missed this one may come around scrambling for it, as heís a good player under Reds team control for a while in terms of contract status. No matter what, players in catcherís gear are pretty few and far between. Up until this one, the only way to get honored with a bobble wearing the ďtools of ignoranceĒ was to be the greatest catcher of all time, Johnny Bench.
<![if !vml]>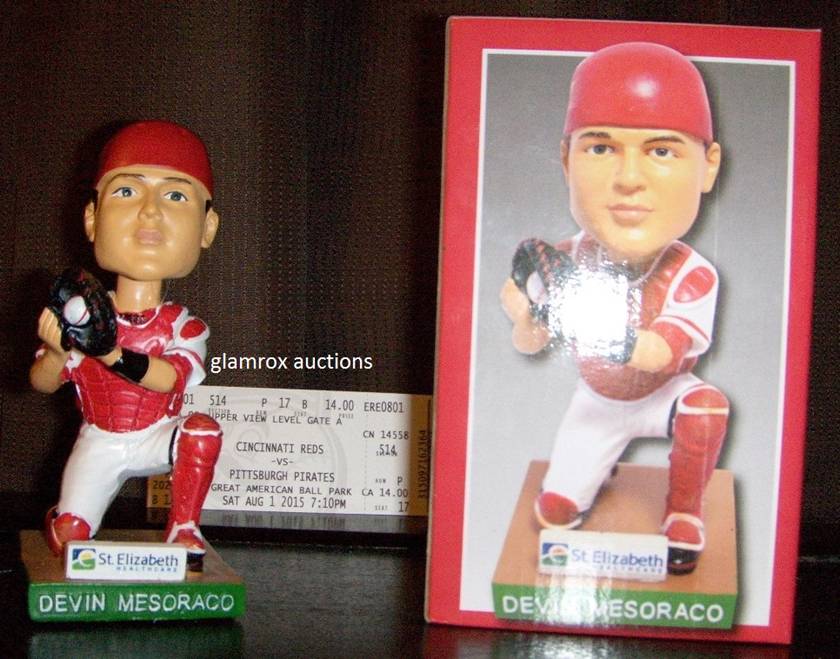 <![endif]>
<![if !vml]>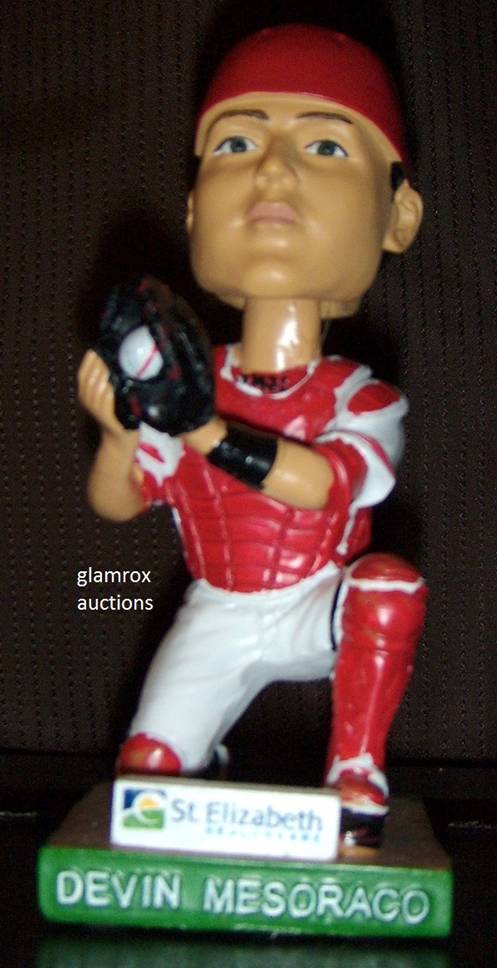 <![endif]>
<![if !vml]>
<![endif]>
August 22-Tony Perez Statue Replica
Like the Joe Nuxhall and Sparky Anderson ones given out some years ago, Tony Perez was honored with this replica along with the formal dedication of his full-sized statue outside the stadium. The replicas arenít actually bronze. They are some sort of resin, but the paint job pulls off the bronze look pretty well.
<![if !vml]>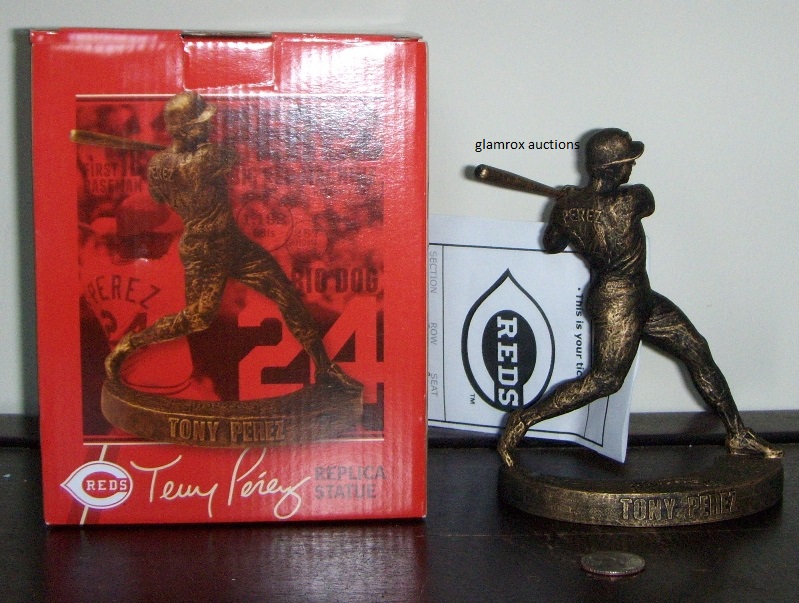 <![endif]>
<![if !vml]>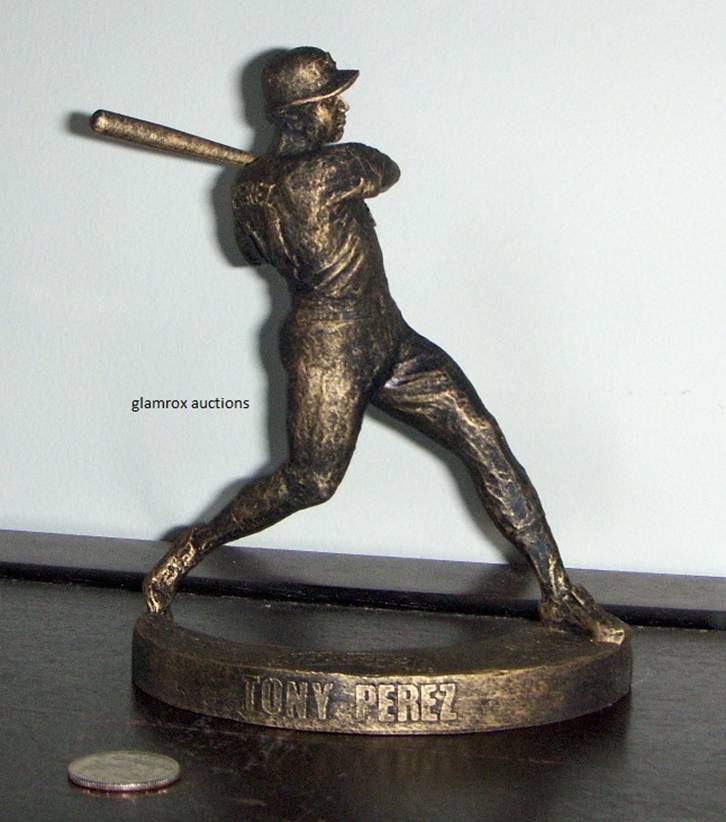 <![endif]>
<![if !vml]>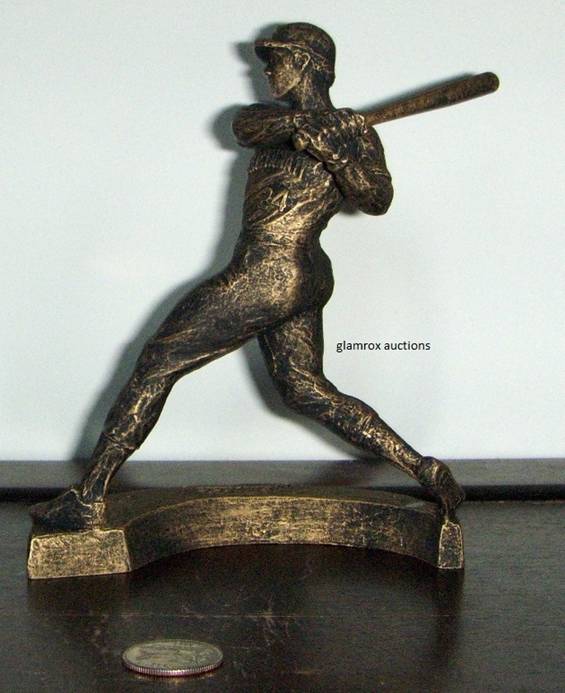 <![endif]>
September 12-Pete Rose Stars of the Queen City Bobblehead
As the losses mounted and the bobbles piled up, the Reds had one trick up their sleeve to freshen things up. We should have seen it coming. This was the day after the 30th anniversary of Pete breaking the hit record, and the league has been a little more lenient in terms of letting Pete make some honorary appearances in spite of the ban. But the team didnít announce who this one was going to depict until a month or so before the game.
Prior to the game, it was announced that instead of the usual 25,000 to be handed out, the sponsor would be springing for enough of these to give one to every ticket-holder. This move took the time pressure off bobble-seekers, since showing up late would not cost you your bobble. But due to the extra supply, it wasnít a really valuable item on Ebay. This is not to say that the price was exceedingly low, it was just average for a Reds SGA.
The game was declared a sellout, but it was the most thinly attended ďselloutĒ Iíve ever seen, and Iíve been to a lot of these bobble games where there were people missing from the seats because they just came for the giveaway.
<![if !vml]>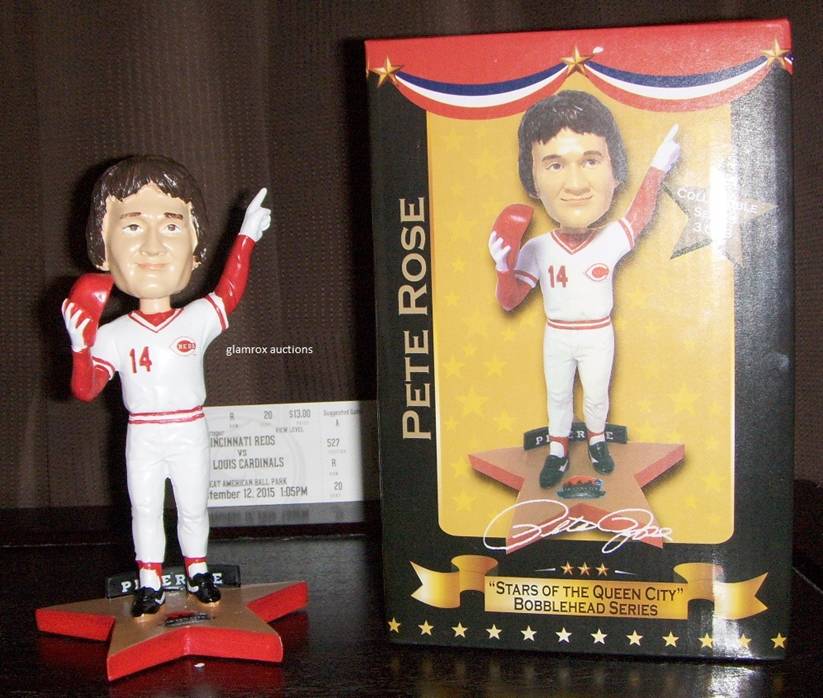 <![endif]>
Below, we have a rarity, an instance where the same player had a bobblehead issued in the exact same pose, 13 years apart. The one on the right is the ďFarewell to Riverfront/CinergyĒ bobble issued in 2002 (not given out by the Reds). Normally, the older bobbleheads had the playerís body a little too thick, sometimes even making the player look fat. The new ones tend to be more realistic in that regard, even if the face bears only a slight resemblance. In this case, however, we have a player who was pretty stocky in real life, so the 2002 version is definitely the better likeness. That skinny guy on the left didnít even exist in 1963.
<![if !vml]>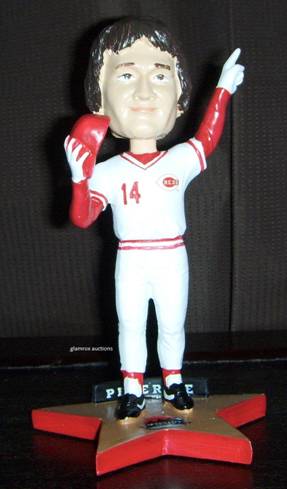 <![endif]>†††††††† <![if !vml]>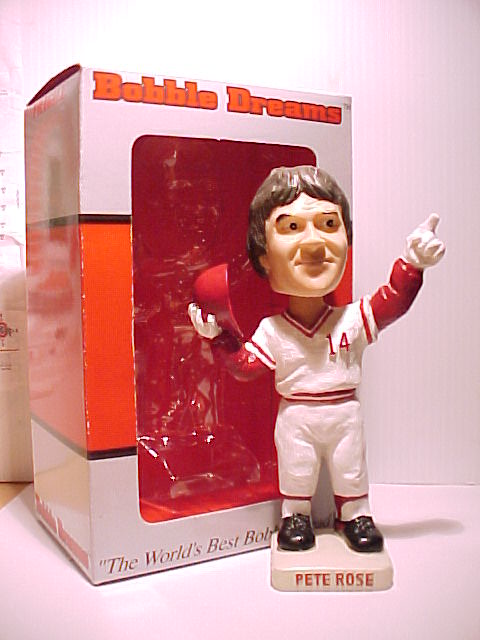 <![endif]>
<![if !vml]>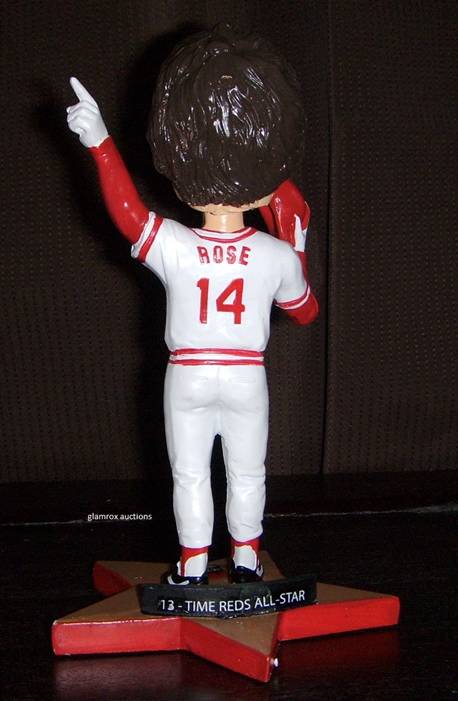 <![endif]>
September 26-All-Star Bobblehead/Figurine Bait & Switch
This game was advertised as the ninth bobblehead giveaway on the Reds promotional schedule for most of the year. It was described as an All-Star bobble, and I wondered who it would be. Only two Reds made the All-Star roster, although they both had a fine showing, even if Frazierís good showing was the day before the game. A Frazier Home Run Derby bobble would have been great, but they had already honored Frazier once earlier in the year. I guess they also felt that Chapman had been honored enough in recent years, or maybe they thought heíd get traded.
Sometime in the middle of the season, they unceremoniously changed the listing on their promotional schedule to ďAll-Star Game Figurine.Ē Letís face it, this was the second-last home game of the year, and the team was mailing it in at that point. There wasnít much fan interest at that point, and there was a general feeling that the season was 2 Ĺ months too long. The giveaway switcheroo was only a minor disappointment, unless you bought a lot of tickets for bobbleheads, tickets you wouldnít have been able to give away by game day.
I have mixed feelings about this giveaway. Personally, I like it, since Iím a sucker for the early history of the game. I wish theyíd give away a 19th Century-themed item every year. A Bid McPhee bare-handed fielding bobblehead would be nice. I can even overlook the fact that that the shirt on this little guy is 1869 Red Stockings gear, but the hat is from a later era. (The 1869 Red Stockings wore hats without the stripes.) But it does bother me that they promised a bobblehead and didnít deliver, and it was for a game where the promised bobblehead no doubt sold a lot of tickets that would have gone unsold.
The quality of the figurine was about on par with the bobbleheads, where a little roughness in the paint job is expected. If you want your figurines well-done, like the girly figurines Grandma keeps in her curio cabinet, this one is going to come up well short of that standard. Itís pretty typical Chinese quality.
<![if !vml]>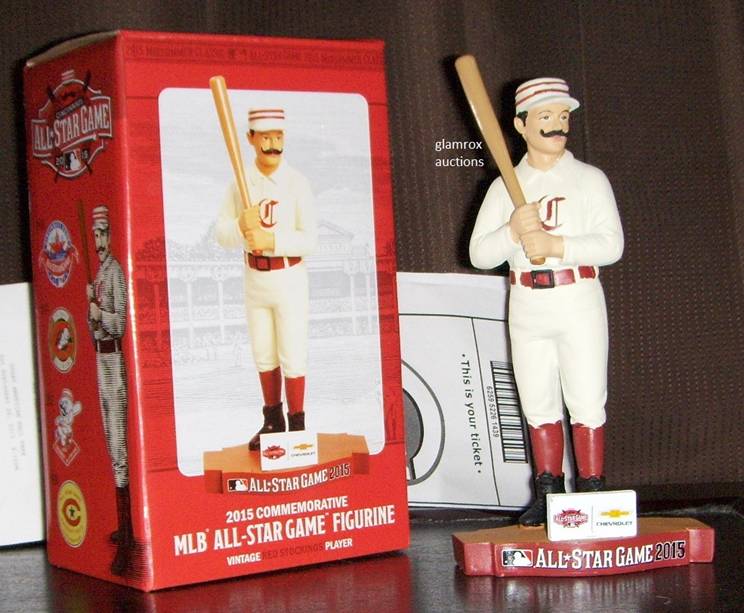 <![endif]>
<![if !vml]>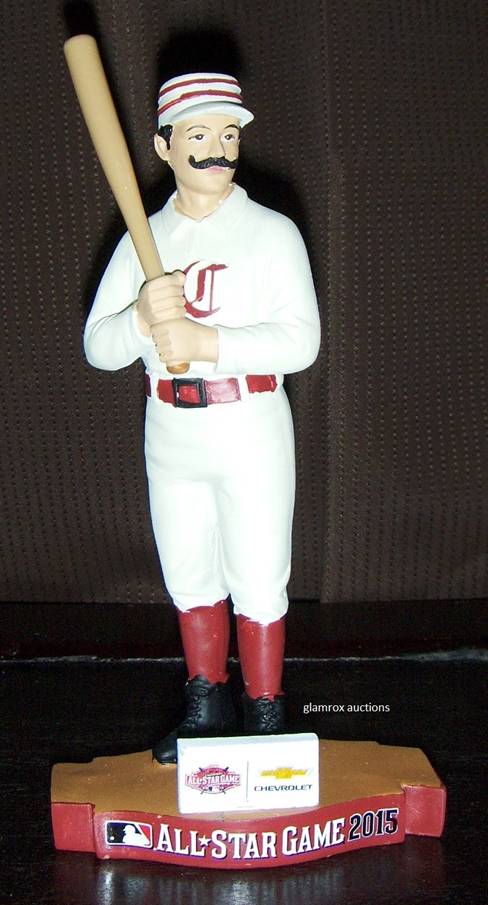 <![endif]>
<![if !vml]>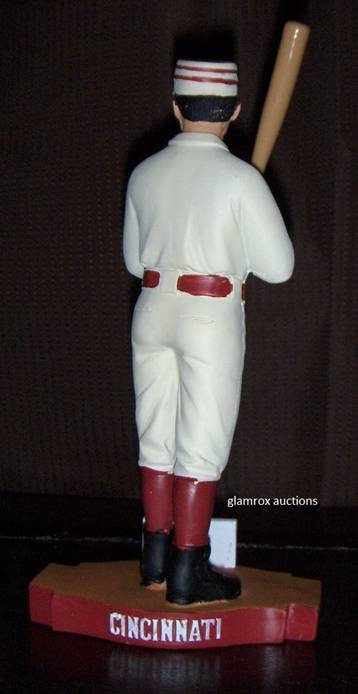 <![endif]>
Bonus Item-September 4-Reds Grateful Dead Night Dancing Bears
This item was part of a new trend in giveaways, a trend that stretches the definition of the term ďgiveawayĒ somewhat. The Reds are now selling theme packages to certain games, where you pay a significant surcharge to score some swag related to the theme, as well as admission to the game. The theme packages start at $25, as opposed to regular tickets that start at $5. So itís a significant surcharge for those looking to get the item as cheaply as possible, but for those who might typically buy better seats, the charge probably isnít too oppressive. You just get your items without worrying about showing up early. There were a few theme nights in 2015, including one for Star Wars, one with a replica World Series ring, and this one, for the Grateful Dead.
<![if !vml]>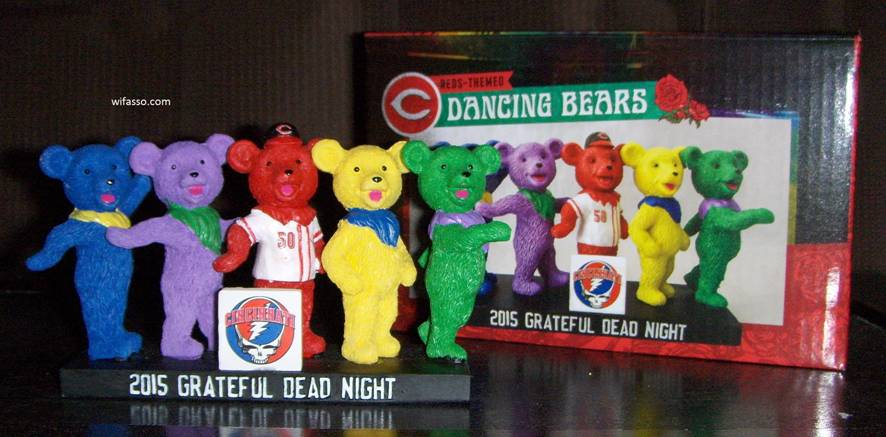 <![endif]>
I knew some ticket scalpers back in the day who worked Dead concerts, and in spite of, or perhaps because of, Deadhead animosity towards scalpers, they adorned their cars with some Deadhead stickers, including the dancing bears. They were pretty cool stickers, as long as you didnít mind the possible extra suspicion of drug possession that Deadhead stickers might bring. So the dancing bears have been on my mind all those years, and when I saw this item on Ebay, I bought it, even though the price was on the high side.
<![if !vml]>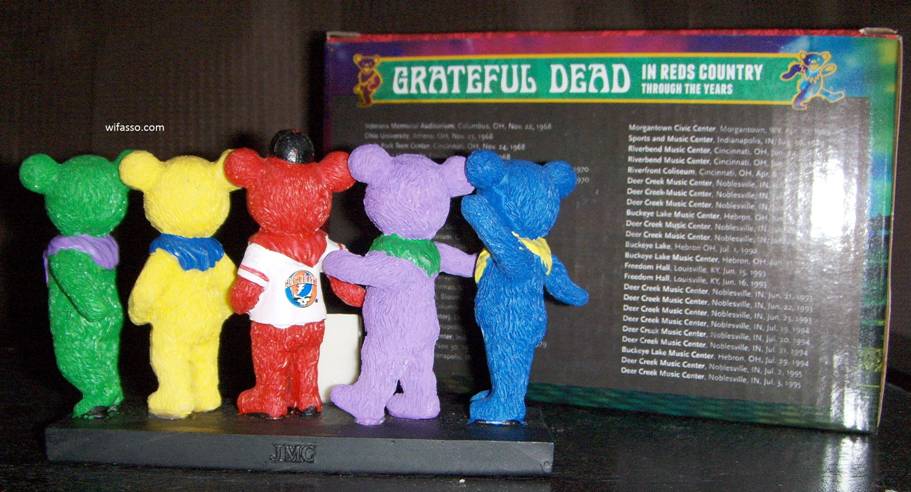 <![endif]>
I donít have plans to collect all of these items in the future. Itís not so much the cost as the volume of overall Reds promos. Unless you have a warehouse, itís tough to store them all, much less display them. So buy what you like, ignore everything else, and donít feel the need to have everything. Iím sticking to the conventional giveaways where there is no surcharge. Besides being cheaper to get, thereís more continuity with the prior 15 years of promotions.