Wifasso.com
Henryís Random Thoughts
2016 Cincinnati Reds SGA

Bobbleheads
Five Bobbleheads Planned in 2016
The Reds have five bobblehead giveaways planned for 2016. These are the conventional giveaways, where the first xx,000 fans get one with a regular ticket. The Reds also have several theme nights, where you can get some items related to the theme by paying a surcharge over the ticket cost. At least one of these is a bobblehead. There are some cool items in these package deals, so buy them if you like them, but these donít fit the definition of ďgiveaway,Ē so this page will not include them.
The 2016 Reds are basically built to lose, and nobody in the organization pitched this team as a contender in the offseason. As I write this on May 1, there are also a startling number of whatís left of the players missing time with injuries. Before the season, they were projected in Vegas to lose 100 games or more, and I didnít think it would be that bad. Watching the first month, though, it looks like Vegas over/unders may again prove a lot better than a fanís gut instinct. But letís face it, we still find ways to connect with our teams through the bad years. I found fantasy football to stay engaged with the NFL while the Bengals were a laughingstock for over a decade. And collecting may get me through something similar with the Reds. The only real issue is for the Reds to find enough noteworthy players to feature, guys with some fan interest who are not likely to be traded by the time the bobbles are made. This yearís crop is kind of weak so far. You have Votto (featured a million times already) and Cozart (one of the guys with injury issues). In addition to that, thereís a Ken Griffey Jr. one planned, and also a Star Wars-themed Mr. Red. Thereís also an unspecified one in September, but last year, they substituted a figurine for a promised bobblehead in September, so donít be surprised if they do it again.
The popular garden gnome promotion is being done again this year.
April 23-Joey Votto Superhero Bobblehead
A virtual sellout crowd witnessed the Reds defeat the Cubs on April 23, but a suspiciously high number of the fans were wearing blue. The Cubs are everybodyís favorites to win the division, and anybody who remembers the last time the Cubs were contenders knows that a good Cubs team draws a lot of fans to opposing stadiums, whether they come down from Chicago or are local bandwagon fans.
Reds fans and Cubs fans alike were given the first bobblehead of the year, assuming their tickets were among the first 25,000 scanned.
<![if !vml]>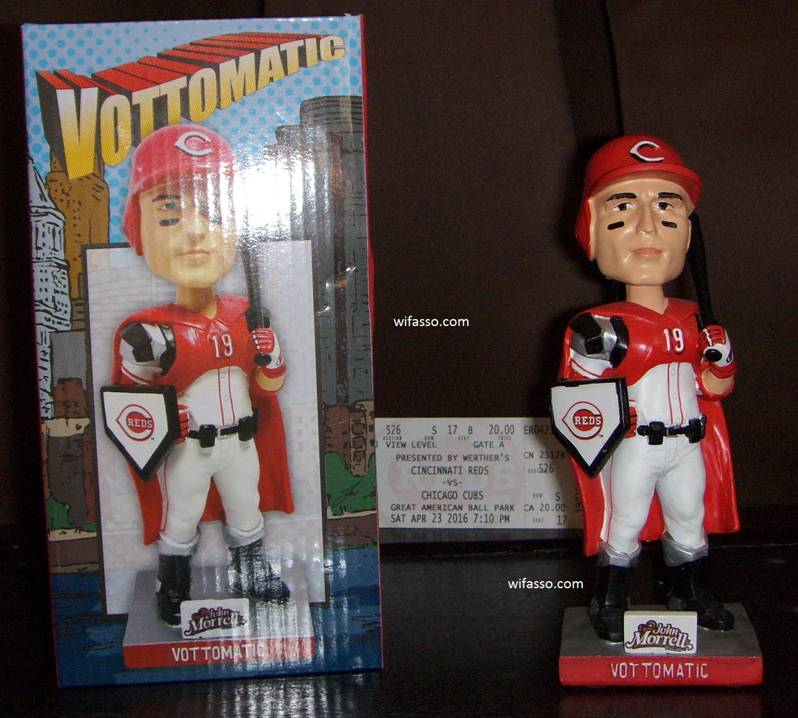 <![endif]>
Joey Votto had what was by far the best season of any Red last year. His 7.6 wins above replacement were far better than any of the next five best players, and four of that five were traded before the beginning of 2016. So the choice of who would be on this one was pretty obvious, even if quite a few Votto bobbles have already been done. This one was done with a superhero theme.
<![if !vml]>
<![endif]>
Being that one of Vottoís superpowers is drawing walks (not exactly the most thrilling power), it takes a real fan to appreciate him. But his second half last year was downright unbelievable, during a time when Reds fans didnít have a whole lot else to enjoy. I donít think it will be forgotten soon.
<![if !vml]>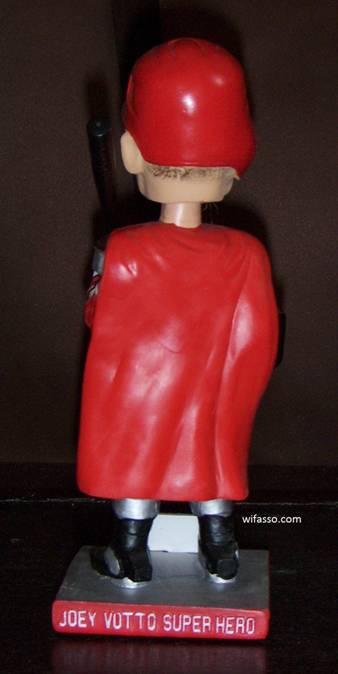 <![endif]>
They pulled off the superhero look pretty well if you ask me. It wasnít too far out, but it is different enough to stand out in a crowd of bobbleheads.
May 7-Mr. Redlegs Star Wars Bobblehead
27,600 fans saw the Reds fall to the Brewers on this Saturday night, and the first 25,000, in other words almost all of them, were handed a Star Wars-themed Mr. Redlegs bobblehead. Why the retro-styled Mr. Redlegs was paired with a sci-fi movie, I donít know, but Star Wars theme nights and weekends go on all over the league, helping bolster attendance for losing teams in particular.
<![if !vml]>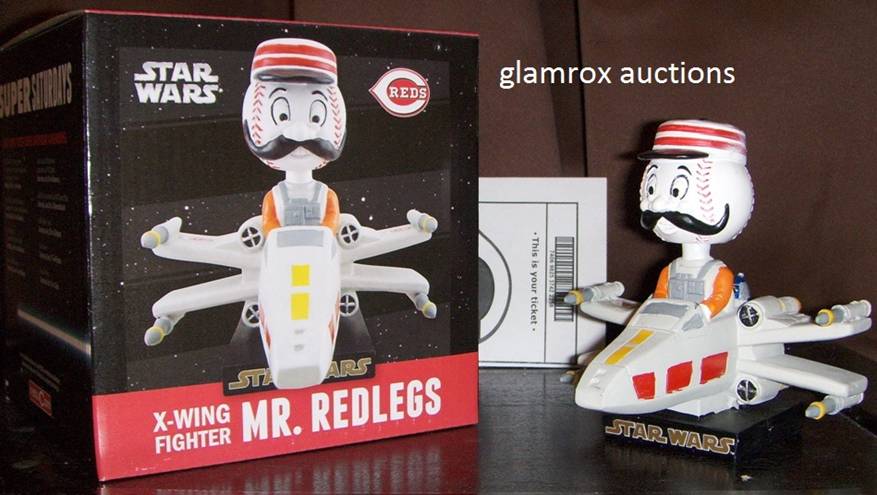 <![endif]>
The first thing I noticed about this one is that it is a very heavy, substantial-feeling piece. They didnít skimp on whatever they made the spacecraft out of. It certainly wasnít hollow. However, the paint job on the front of the thing left something to be desired. The red and yellow areas on the front are supposed to be rectangles, but you really just get splotches, particularly on the red ones. I opened a few of these and they all had that problem. Itís Chinese quality control. There isnít much you can do about it, especially when you got one free for walking through the gate.
<![if !vml]>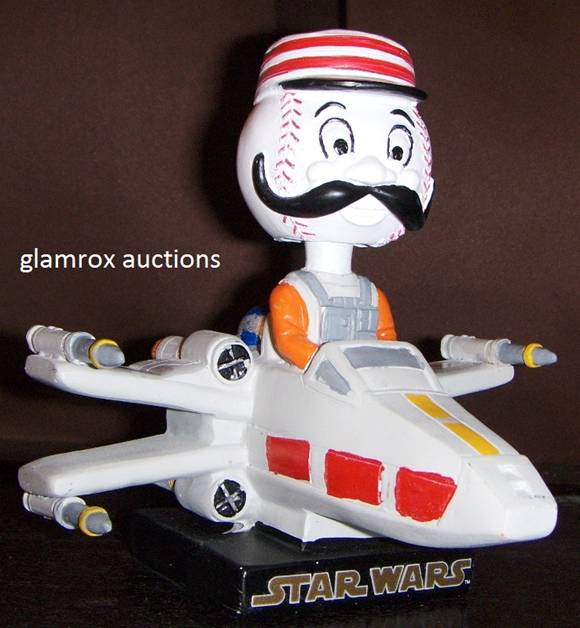 <![endif]>
This was one of the more oddly-shaped ones theyíve ever given out, as it came in one solid piece. Mr. Redlegs does not come out. The box it came in was a perfect cube, rather than being the typical tall, skinny box. It was sponsored by Dynegy, which had reps handing out advertising at the gates.
<![if !vml]>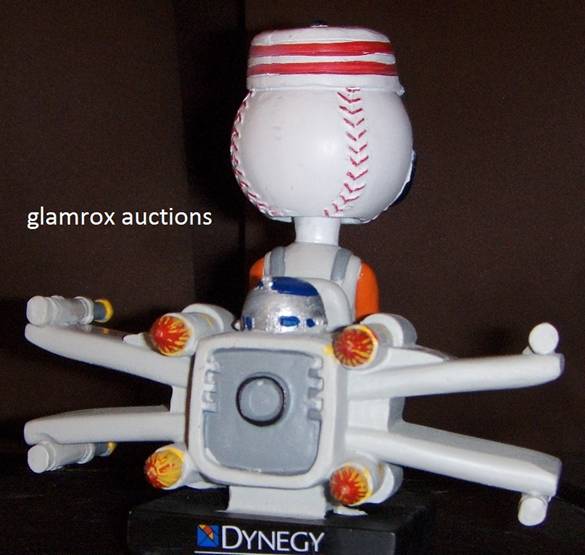 <![endif]>
As you can see, they didnít do quite as badly on the the rear paint job, although there is some yellow overrun near the tail lights. R2D2 is in the back, painted a little inconsistently himself.
May 21-Ken Griffey Jr. Dual Bobblehead
Something resembling a sellout crowd (or as close as you will see this year) came through the gates to pick this bobble up and watch the Reds fall to the Mariners, in a rare chance to watch Felix Hernandez pitch in Cincinnati. The featured bobble is an oddity in that one of the two depictions of Junior is not in a Reds uniform. But letís face it, his best years were with the Mariners, even if many milestone home runs were with the Reds. Junior was a fan favorite in spite of injury struggles with the Reds, the rare slugger of his time who didnít cheat.
<![if !vml]>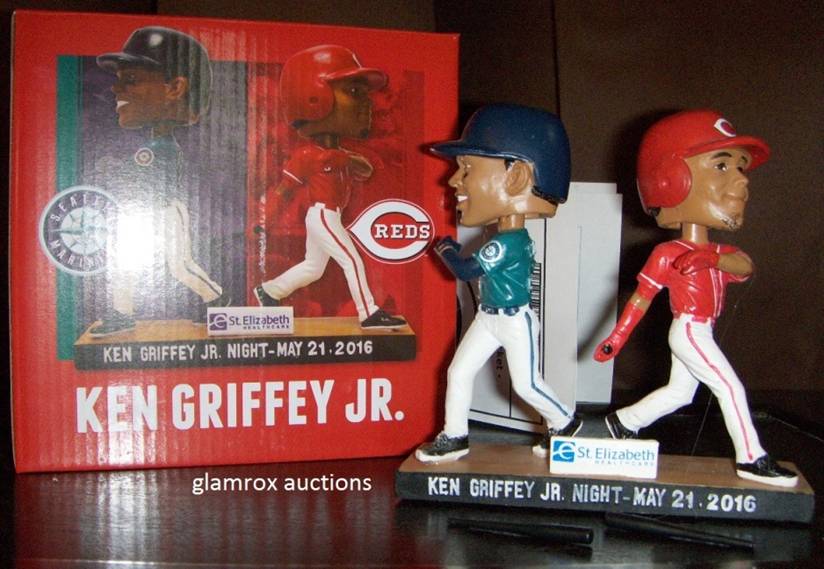 <![endif]>
What we have here is a very nice piece, with lettering on all sides of the base. My only problem with the design is that each figure is supposed to be holding a bat, separate pieces that came in the box. The bats didnít screw in, so they were meant to be held in by gravity (or possibly glued in, but theyíve never asked us to glue our bobbles together before). If a figure has a bat over his shoulder, gravity does the trick in holding the bat in place. But in this pose, the bats are pointed down after a swing. You have to put them into the tiny hands and let them dangle, barely held in place. I think it was possible to get them set without glue, but the figure is going to drop the bat at the slightest vibration. Donít try to bobble these heads. As you can see from the pictures, I left the bats on the table and gave up. Fortunately, this piece still looks good without the bats.
<![if !vml]>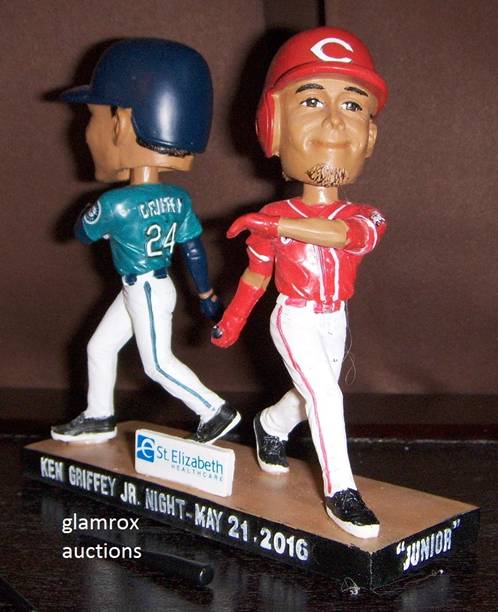 <![endif]>
They didnít do crowd control well at all this game. They forced those who were re-entering to go through a single exit point. The first game it wasnít a problem, as all the Cubs fans were staying for the game. The second game, attendance wasnít that great, so it didnít matter then, either. This game, however, drew 38,200, over 10,000 more than the Star Wars game. Essentially, 10,000 extra people were added to the exit line, which was already busy enough before. The result was a line to leave that went about ľ of the way around the stadium, possibly more. Although it moved steadily, this was awful customer service, and it drew a lot of complaints.
<![if !vml]>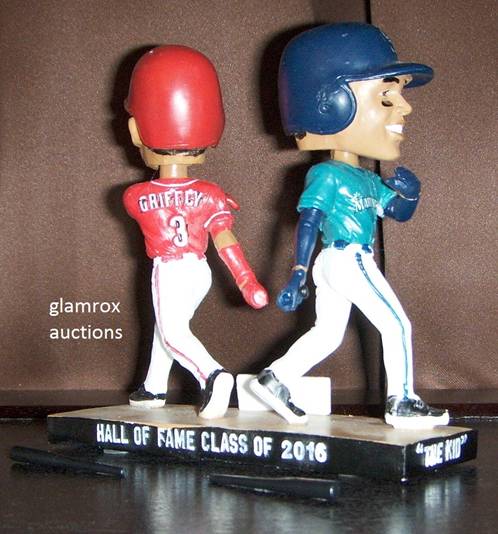 <![endif]>
This one was sponsored by St. Elizabeth Hospital. Reds fans will get the joke in terms of having a hospital sponsor the Griffey bobble, but Mariners fans might not. This one was a hit on Ebay, getting over $40 in listings shortly after the game.
June 11-Reds Garden Gnome
†
A respectable 32,000 or so turned out for a Saturday day game to see the Reds beat the Aís 2-1 and snag a popular promotion that they have not done in five years or so, the garden gnome.
<![if !vml]>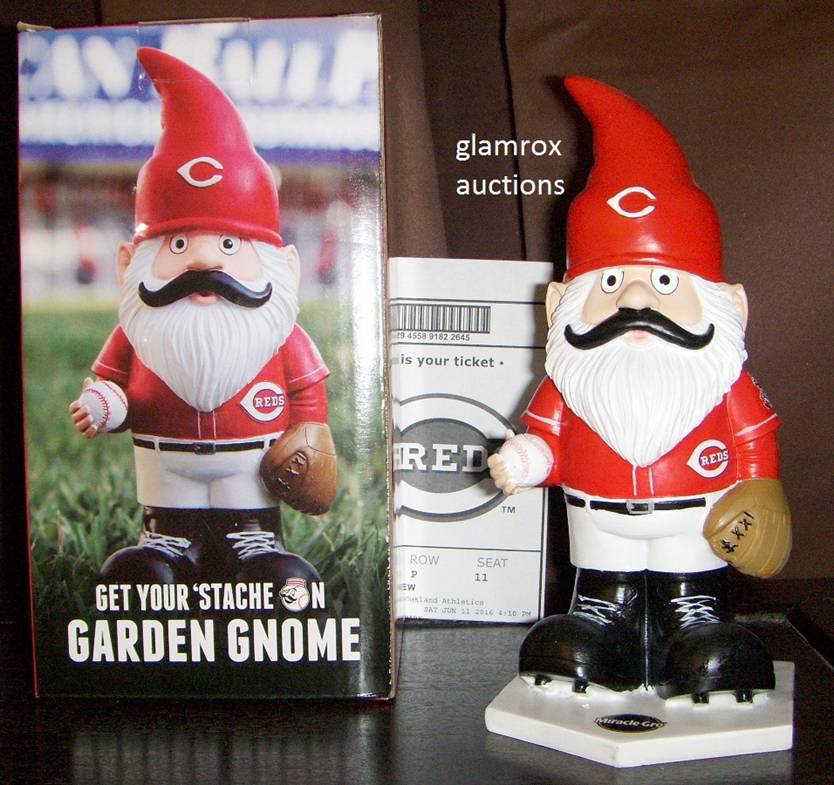 <![endif]>
This gnome was not modeled on any particular player, but was instead given the ďGet your Ďstache onĒ theme. The item is plastic and the figure itself is hollow, but it is weighted a little bit towards the bottom, making it something that could serve its stated purpose of sitting on uneven ground outdoors and not tipping over.
<![if !vml]>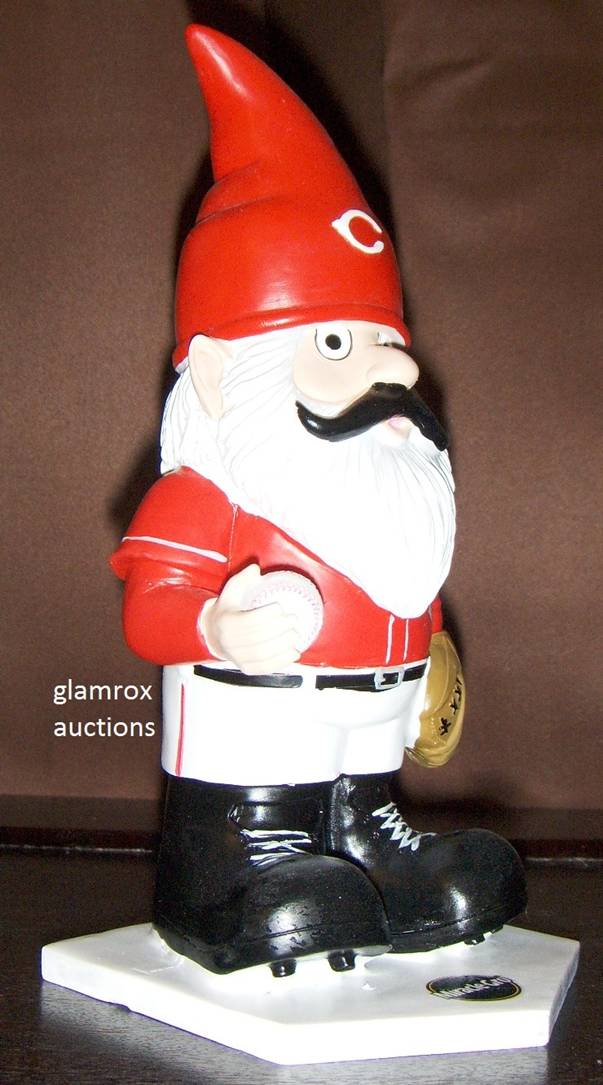 <![endif]>
<![if !vml]>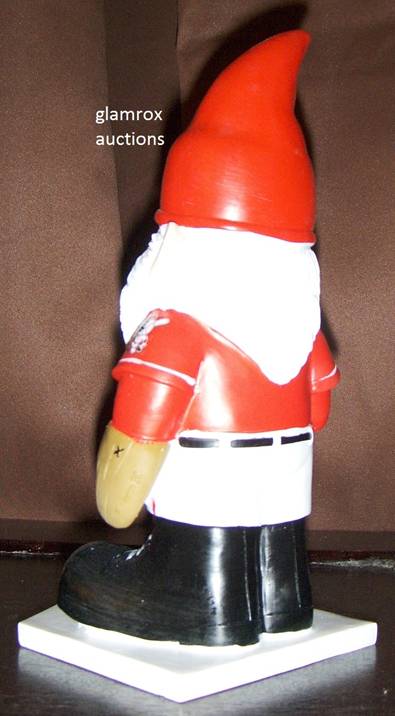 <![endif]>
July 16-Zack Cozart Bobblehead
†
A crowd of 31,000 turned up to see the Reds fall hard to the Brewers, 9-1. Thatís a pretty lousy crowd for a Saturday night game, but they were 25 games under .500 at that point, so it was understandable. They finished 26 games under .500, so they played basically .500 ball after this date, a vast improvement over their start. Never mind that the Cubs had run away with the division by mid-July, Iíd rather see average than below average play out there.
<![if !vml]>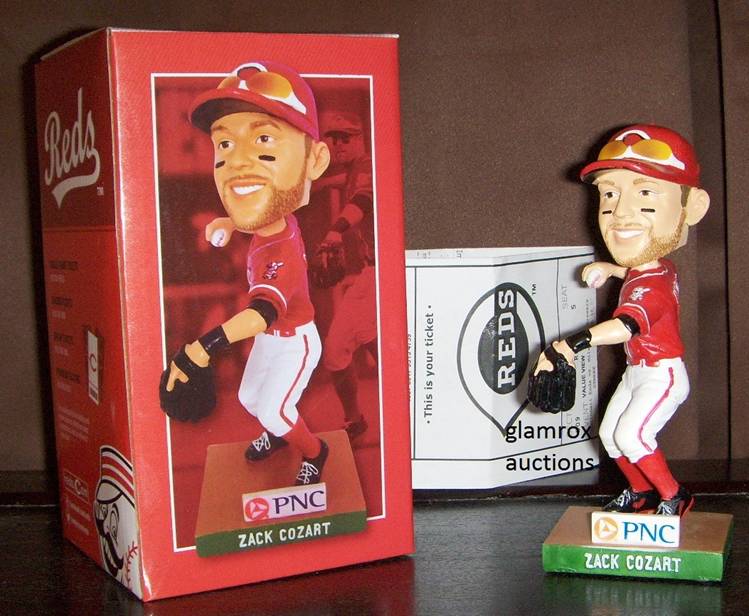 <![endif]>
The first 25,000, or in other words, almost everyone, got one of these Zack Cozart bobbleheads. It was a nice bobblehead in a fielding pose, showing the skill Cozart is known for. But after having a weak bat early in his career, he has improved on the hitting front the last two years. But the situation has been marred by the bottom-dwelling nature of the team and a few injuries. They have some younger talent at the shortstop position, so if thereís a win-now team in need of a shortstop in 2017, look for Cozart to be shipped off for the last year of his contract. Reds fans may not get to see a full season of the improved Cozart.
<![if !vml]>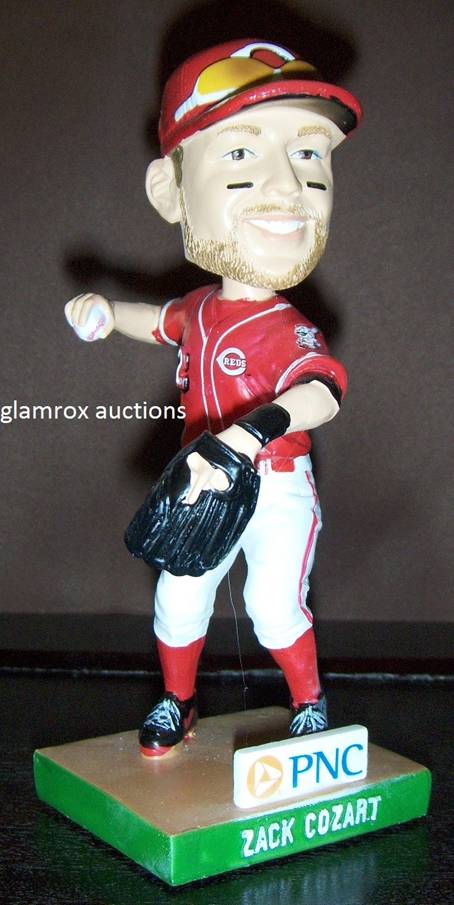 <![endif]>
<![if !vml]>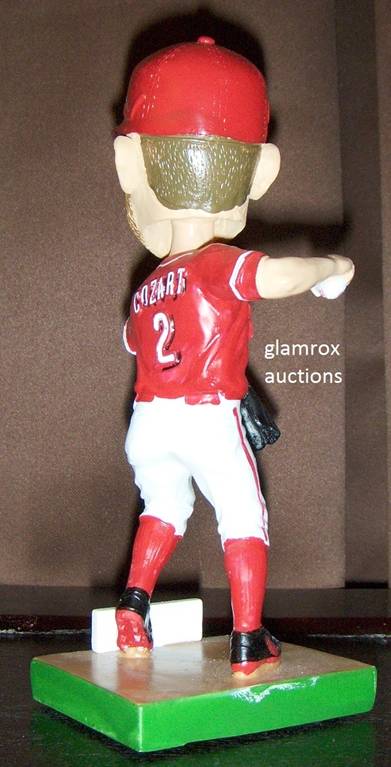 <![endif]>
September 3-Eugenio Suarez Bobblehead
†
Another crowd of 31,000 turned out for this afternoon game, not bad for a last place team in September. Just remember, the Reds, who have been in the tank for two years, outdrew the pennant-winning Indians, who were in first place for almost the whole season. And it wasnít really close. Unlike last year, when the All-Star Game goosed season ticket sales, there was nothing artificial about the attendance in 2016. Every ticket was bought on purpose, and knowledgeable fans knew how the team would finish. So it can be said that Reds fans support the team pretty well, even if there were a lot of promotions offering cheap tickets to their email list. Even if you get in cheap, youíre still going down there.
<![if !vml]>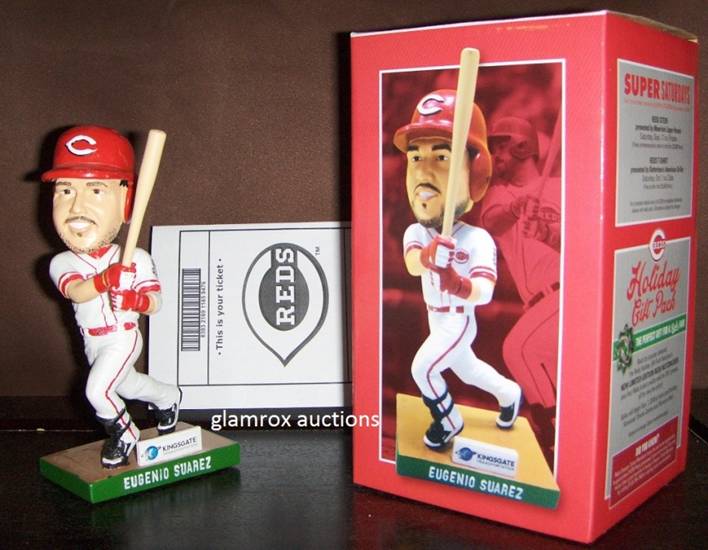 <![endif]>
All of those fans except for the late arrivals got one of these bobbles, featuring Eugenio Suarez. Suarez came over from the Tigers a couple of years ago, and took the third base job when Todd Frazier got shipped off. He played in all but three games in 2016, showed a little power, and got his average up a bit late in the year, even if he struck out a lot. Hereís a guy whoís pretty low-risk for the Reds. They can keep him at third with a low salary as the ďrebuildingĒ progresses, and if they do get back to winning, they will have had a chance to see if he gets better by then. Heís under team control for the rest of the decade, so even if he improves, itís going to be a while before he gets expensive. So donít expect him to go away unless his play gets really bad.
<![if !vml]>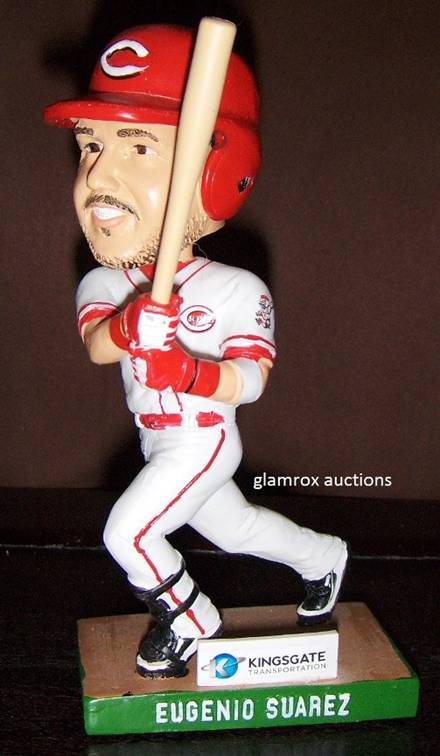 <![endif]>
The Reds did beat the Cardinals that day, by a score of 9-1. So for the true fan, thereís always a chance to see something good happen, even when your team is out of the running. The Reds certainly didnít roll over in the second half, and some wins against the Cards helped keep the Cards out of the playoffs.
<![if !vml]>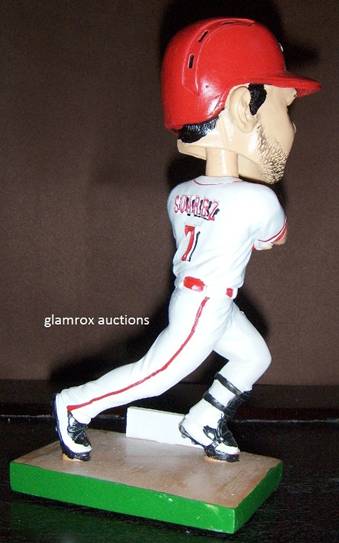 <![endif]>†
Until next yearÖÖÖ