Wifasso.com
Henryís Random Thoughts
2017 Cincinnati Reds SGA

Bobbleheads
Seven Bobbleheads Given Away in 2017
The Reds gave away seven bobbleheads in 2017, one of which was a triple bobblehead featuring two all-time greats. This does not include the theme night bobbleheads, which require you to pay a surcharge to get one. To be honest, seven items that at least partially feature the current team is a lot, considering that the team had finished last the previous two seasons, and would do so again in 2017. But these games do boost attendance, so here we are with the seven. Part of the all-time great trio was Joey Votto, who had another killer season and could probably be honored with one again next year. Raisel Iglesias was also a good choice, as the up-and-coming closer performed well, even if a losing team has limited opportunities for a closer to show his stuff. Tucker Barnhardt is a fan favorite, and his was well-received. Adam Duvall earned his the prior year with a breakout season. But another Billy Hamilton after two prior ones in his short career was probably too soon. Homer Bailey got one in spite of falling out of favor with fans. And Anthony DeSclafani got one after one decent year in 2016, in a 2017 season where he didnít pitch an inning for the Reds. What will stick with me when I look at this seasonís selection is that they honored three current pitchers in a year when their pitching staff was bad, as in historically bad. Sure, the bobble ďPowers That BeĒ donít have a crystal ball, but even casual fans saw the bad pitching year coming.
The Reds also gave away a Pete Rose statue replica in conjunction with the full-size statue unveiled in front of the stadium. That item was a smash hit, as Pete items usually are, but even it was probably missed being an embarrassment to the team by month.
So it was a tough year all-around, but the Reds will survive, because the people keep supporting the team, even if attendance does drop a little with each bad season. You canít lose forever, but the Cleveland Browns continue to draw some sort of crowd to their games, so maybe you can.
For each bobblehead giveaway, there was a published figure of 20,000 to be passed out.
Adam Duvall Bobblehead 5/20/17
About 25,000 fans showed up to watch the Reds beat the Rockies on a Saturday afternoon in late May, and to collect the first Bobblehead of 2017. This one was a fairly easy choice, as Duvall was the breakout star of 2016, getting off to a fast start after being acquired for almost nothing, making the All-Star team and getting a slot in the Home Run Derby, where he did pretty well. The only criticism you could have had about this one was that maybe they could have done it at the end of 2016.
This was a late start to the bobblehead giveaway season, theyíve usually given away a couple of them before May 20.
<![if !vml]>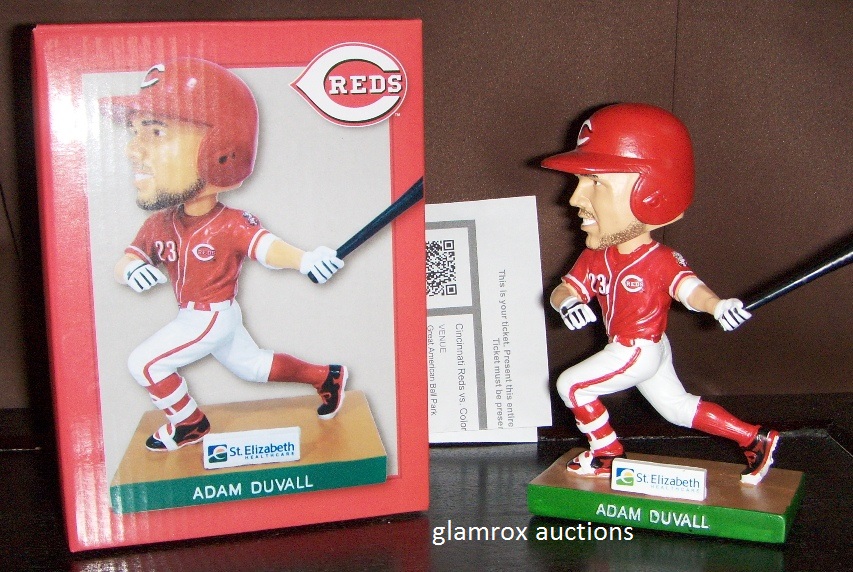 <![endif]>
<![if !vml]>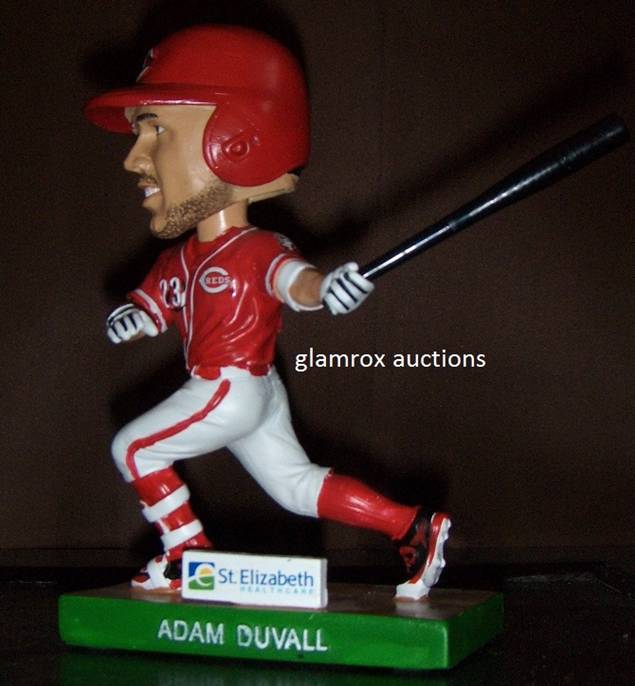 <![endif]>
<![if !vml]>
<![endif]>
Anthony DeSclafani Bobblehead 6/3/17
This one was, honestly, an odd choice. While DeSclafani was another breakout success story of 2016, he was injured going into 2017, and he stayed injured all year. While the people choosing who gets honored had know way of knowing how badly he was hurt, they knew he was hurt, so the only logic I can think of behind the decision was that they wanted to do a lot of bobble giveaways, and there werenít too many alternatives.
The Reds lost to the Braves in 12 innings in this extra-inning game, in front of a slightly larger crowd than for the Duvall giveaway. There wasnít much demand for the bobble on Ebay, probably due to the aforementioned injury.
<![if !vml]>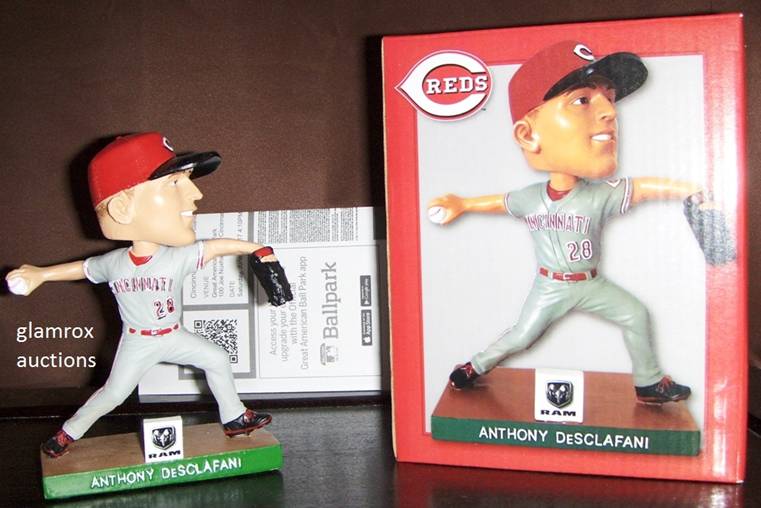 <![endif]>
<![if !vml]>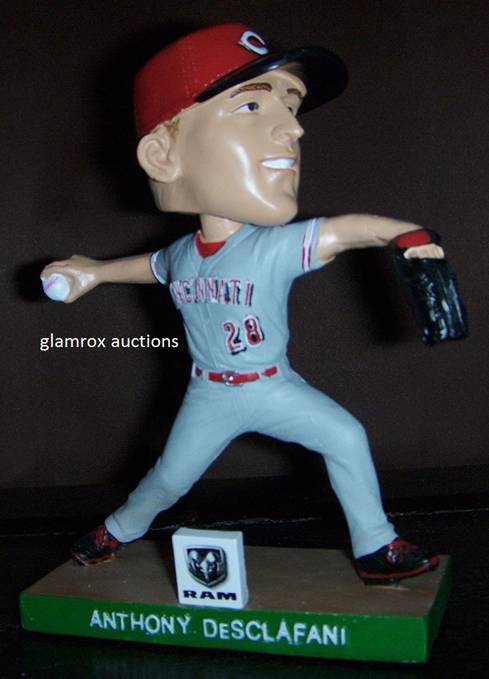 <![endif]>
<![if !vml]>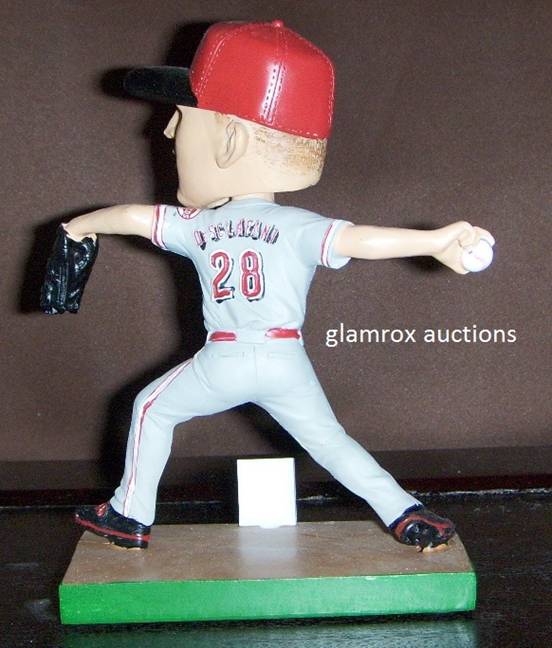 <![endif]>
Pete Rose Bronze Statue Replica 6/17/17
A sellout crowd watched the Reds get whooped by the Dodgers in this afternoon game, but the game was beside the point this time. The fans were out to watch the unveiling of the Pete Rose statue in front of the stadium and if they got through the gates early enough, get a replica of it. Iíve been going to these giveaways for over a decade now, and I can honestly say Iíve never seen one like this in terms of how big the early turnout was. We got there 2 hours early and there were an easy 20,000 fans outside the stadium at that point. I loved seeing the support for Pete, but it did make my job in getting the giveaways harder. For the first time I can remember, the Reds ran out of giveaways before my friends and I could use all our tickets. We unloaded our unused tickets to a street scalper outside the stadium for a few bucks each. And thatís in spite of the fact that they gave away 30,000 of these as opposed to 20,000 bobbles. As one might expect, this item was a strong Ebay seller, and remains so almost a year later. There are a couple of side notes on this that are worth mentioning.
First of all, the artist who made the statue, Tom Tsuchiya, autographed 300 of them, which were given away at random and packed with a certificate. We were lucky enough to get one of these in our haul, and I kept that one.
Secondly, a few weeks after this game, a sex scandal broke from decades ago involving Rose. Basically, Pete filed a slander suit against John Dowd, and in the Dowd legal teamís discovery process, they took some statements from women who had relations with Pete back in the seventies when they were under 18. The lawsuit was a typical Pete move, as he tends to screw up every decision outside of baseball. Had he not filed suit, this never would have come out. Thereís a chance that had the allegations come out before June 17, the Reds might have called off this giveaway. Why do I say this? Because the Phillies planned to honor him with a bobblehead giveaway later in the year, and they called the whole thing off. There were even calls to remove the statue, but almost a year has passed, itís still there, and there isnít much talk about the scandal anymore. However, future events honoring Pete seem to be off the table. Personally, I donít think Peteís personal life is something to emulate, but we do have to realize that the morals and taboos of the early seventies were different than todayís. Iím glad the statue stayed. If you want to boycott it, fine, just donít listen to classic rock anymore. Those guys didnít check IDís on their groupies, thatís for sure.
<![if !vml]>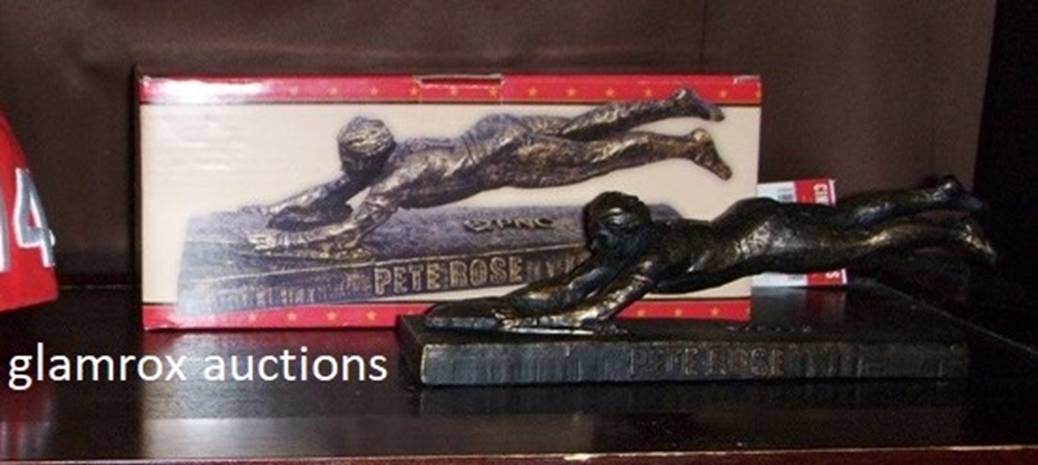 <![endif]>
<![if !vml]>

<![endif]>
<![if !vml]>

<![endif]>
Billy Hamilton Bobblehead 7/15/17
This was the first night game bobble giveaway, and the Reds drew over 36,000 to watch them fall to the Nationals. Thatís a very good crowd for yet another ďrebuildingĒ season. Saturday night games in midsummer fill the place most of the way, and are probably good for 10,000 more fans than afternoon ones. They gave away this bobblehead of Billy Hamilton. This is the third Billy giveaway in a fairly short career, but Hamilton is a fan favorite, and with Phillips, Frazier and Chapman gone, yes, they are going to dip into this well another time. He has had one baserunning pose and one batting pose earlier, so at least they mixed it up with a fielding pose.
†
<![if !vml]>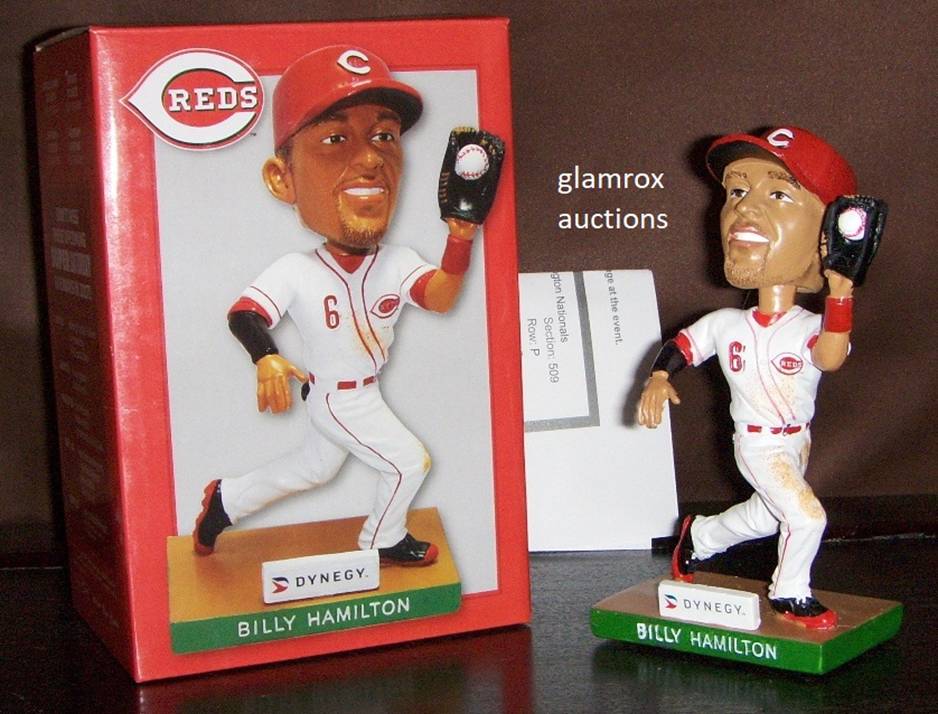 <![endif]>
<![if !vml]>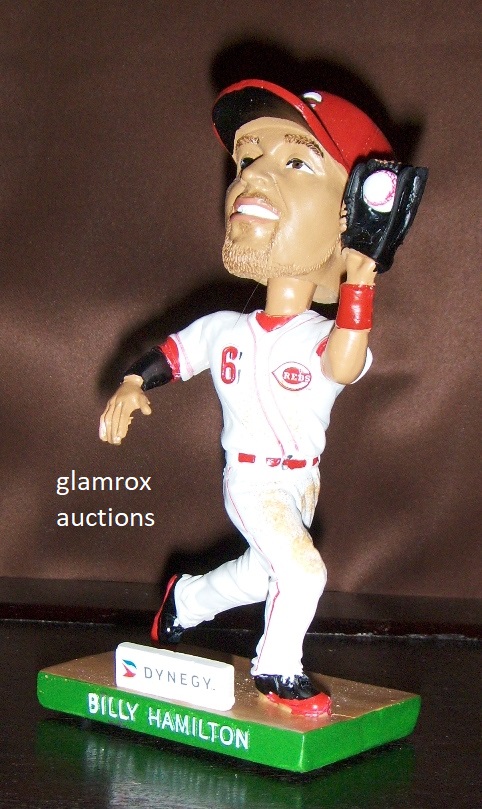 <![endif]>
<![if !vml]>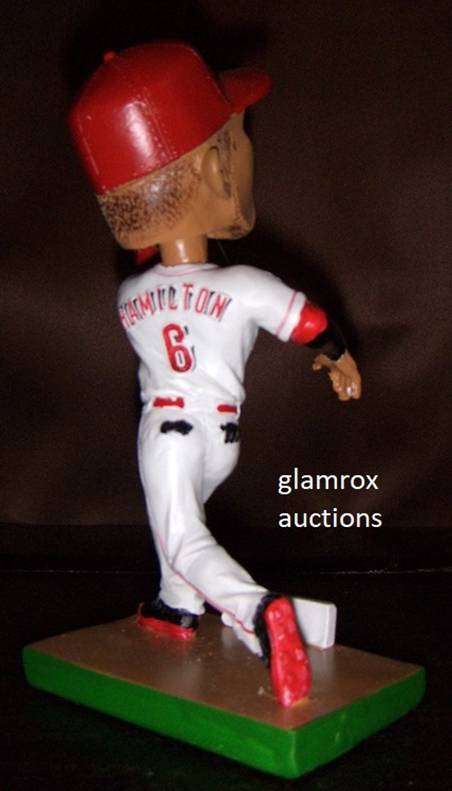 <![endif]>
Raisel Iglesias Bobblehead 8/5/17
†
The Reds drew almost 36,000 for this night game, another good crowd considering the situation. The crowd saw them lost to the Cardinals, as they werenít having much luck on bobblehead Saturdays in 2017. They gave away bobbleheads of Raisel Iglesias, a closer who stepped in when Aroldis Chapman was dealt. He really took up the role well. He may not generate the excitement that Chapman did, but he gets the job done. The only problem is that a team that loses 90+ games a year is pretty short on save situations. You may not see a save situation in a week with a team like this, so the manager must put him in for mop-up duty to avoid rust.
<![if !vml]>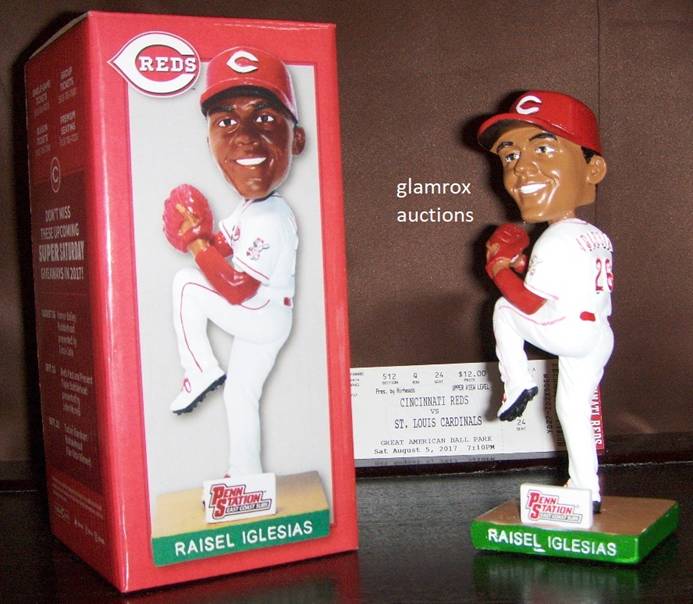 <![endif]>
<![if !vml]>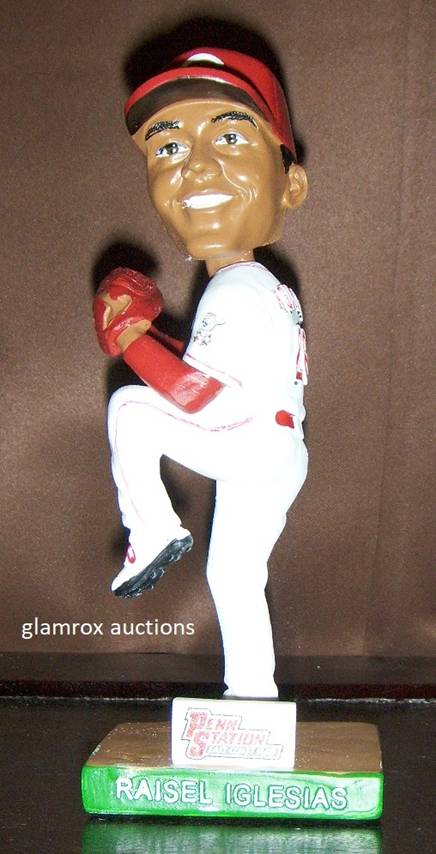 <![endif]>
<![if !vml]>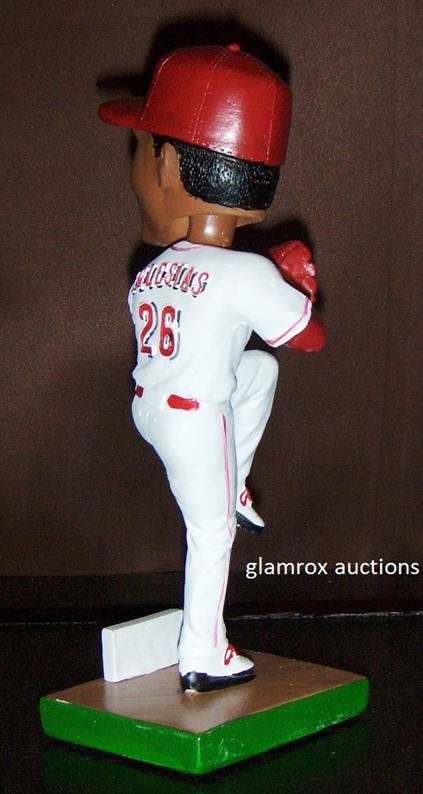 <![endif]>
Homer Bailey Bobblehead 8/26/17
†
The Reds got another good crowd for this one, over 35,000, as the Reds fell to the Pirates. It was another night game, which explains the attendance. It was a 6:40 start rather than 7:10, because while Cincinnatians prefer night games on Saturdays, they most definitely want to get to bed before it gets too late.
The choice of bobblehead was another sore-armed pitcher, although this one at least get back on the active roster before the end of the year. Homer Bailey was a peculiar choice, since the fans have turned on him due to the large contract extension he signed before getting hurt. Personally, I donít see the point of this hatred. I would have signed that extension, as would every critic of Homer. Who would turn down $110 million that might never come along again? And the better question is: Why doesnít the fan base ever get mad at the front office for these lousy signings? Itís not the playersí jobs to keep payroll down.
Itís a shame Homer wasnít popular at the time of this giveaway, as the alternate uniform would have made it popular otherwise.
<![if !vml]>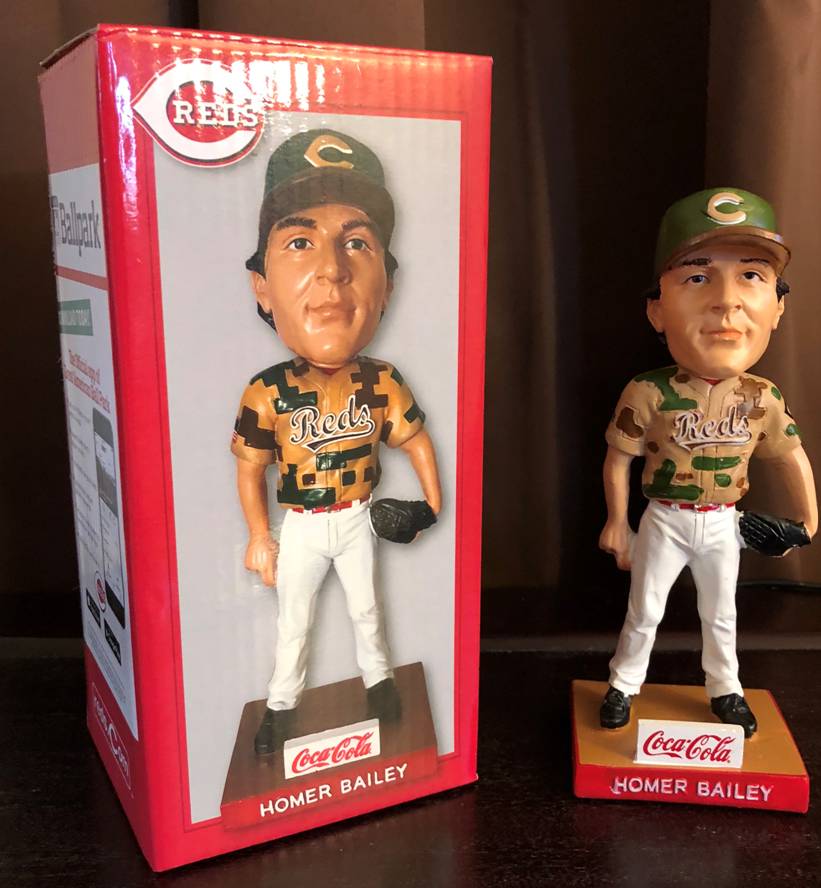 <![endif]>
<![if !vml]>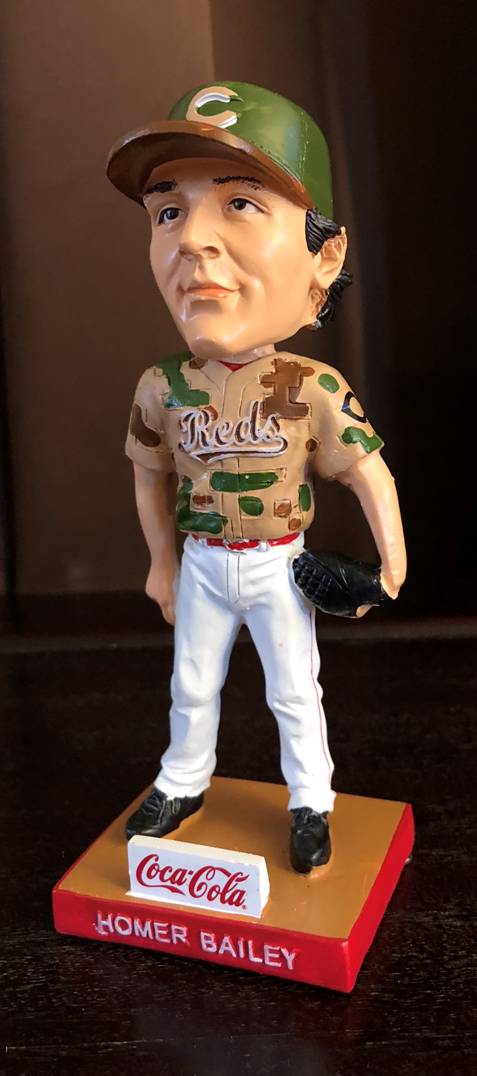 <![endif]>
<![if !vml]>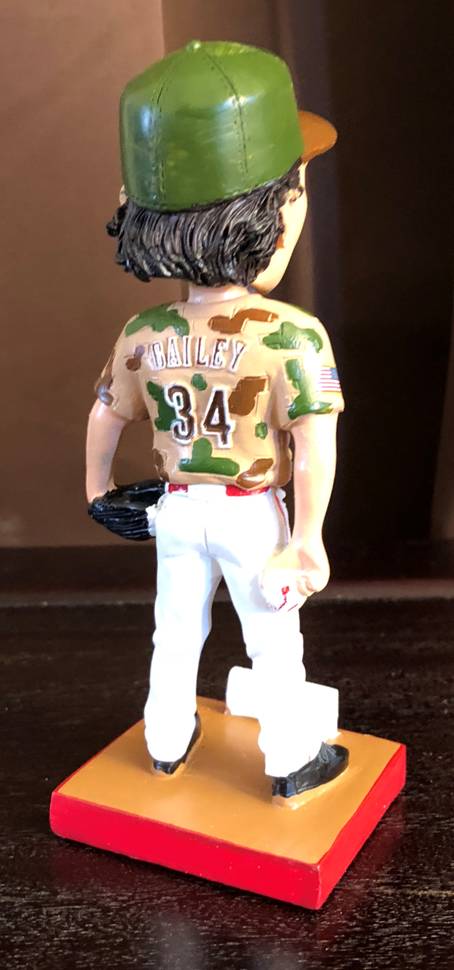 <![endif]>
Perez/Casey/Votto Triple Bobblehead
September 16 was another game against the Pirates, except they finally won one on this day. Attendance was just over 25,000, back down because it was another afternoon game. The bobble was a hybrid of all-time greats and current players, as they honored first basemen Tony Perez, Sean Casey and Joey Votto. This was the most popular bobble they gave out all year if Ebay prices were any indication, so thereís a good chance a lot of the paid crowd was primarily interested in the giveaway.
<![if !vml]>
<![endif]>
<![if !vml]>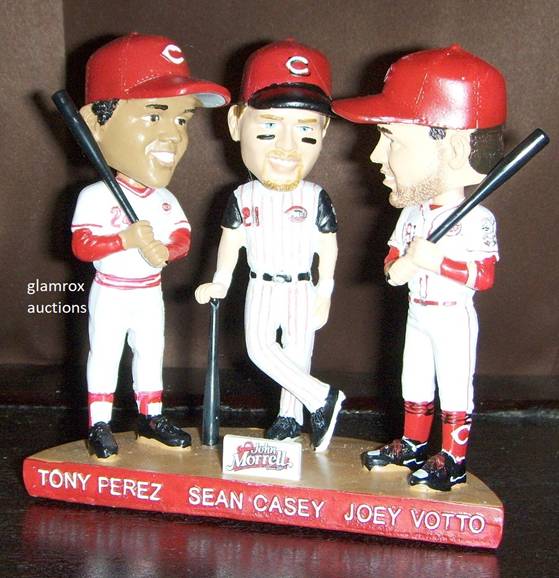 <![endif]>
<![if !vml]>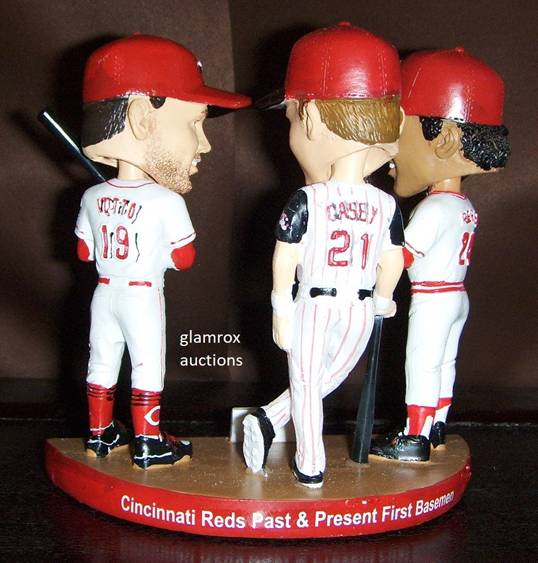 <![endif]>
Tucker Barnhardt Bobblehead 9/23/17
September 23 was one of the last home games of the season. Normally, an afternoon game in late September wouldnít draw well at all, but this time, the Red Sox were in town with local product Andrew Benintendi in tow, and this brought out over 36,000. The Sox skunked the Reds 5-0. The final honoree was Tucker Barnhart, the popular catcher who won the fan vote. Bobbleheads in catching gear are something different, and this one turned out well. But interest in these things is always a little softer at the end of the season, so there wasnít much of a scramble for this one. I was down there, it was fairly obvious that most of the crowd was down there for Benintendi and the Sox, not for the giveaway.
<![if !vml]>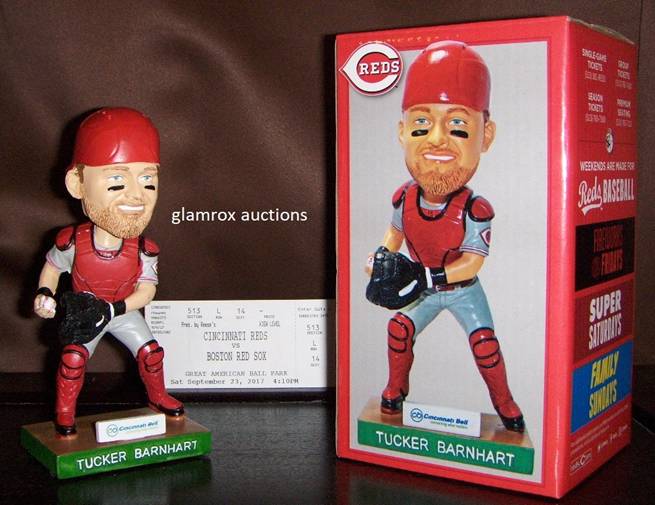 <![endif]>
<![if !vml]>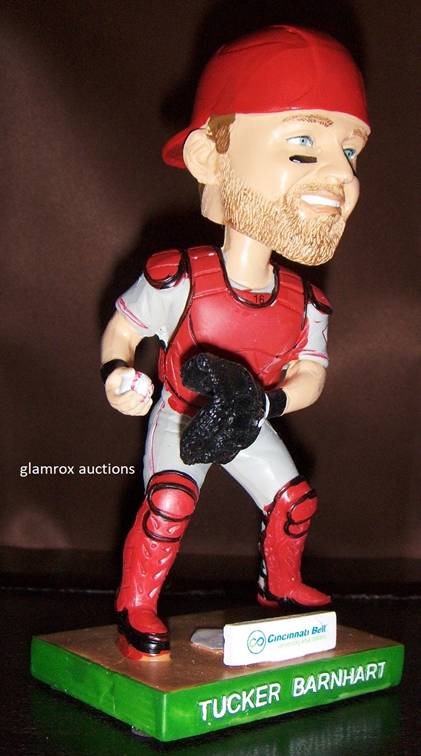 <![endif]>
<![if !vml]>
<![endif]>
Until next yearÖÖÖ