Wifasso.com
Henryís Random Thoughts
2019 Cincinnati Reds SGA

Bobbleheads
Eight Bobbleheads Given Away in 2019
Fans went into the 2019 season with a bit more optimism than they had in the previous few years, as there was an attempt in the offseason to improve the team. They unloaded the unpopular Homer Bailey and the last year of his contract, and they picked up some veterans in the process. While some of the veterans didnít work out, they wound up with Sonny Gray and the fan favorite Yasiel Puig. When it came to the bobbles, though, they are leaning heavily on their past this year, with six former players, a mascot, and only one current player, the aforementioned Puig. The all-time great bobbles are in recognition of the 150th anniversary of the 1869 Red Stockings, although you will have to go to the Reds Hall of Fame to get a bobblehead of anyone actually on the Red Stockings. The past player bobbles will line up to form a common background. All in all, this is the best selection of bobbles since 2015, when they did the Stars of the Queen City series. 2016 to 2018 were lukewarm years to put it kindly, but on the field and in the promotions department, a comeback seems to be in the offing.
The giveaways are packed into May and June, then another burst of them in late July, followed by one each in August and September.
May 4-Mr. Redlegs Bobblehead
The first bobblehead os of Mr. Redlegs decked out in 1969 style, or at least he is in terms of shirt and pants. The hat isnít quite a match, but I canít quibble too much. The 1869 hat would have probably looked kind of plain on Mr. Redlegs. This one was sponsored by Skyline and was quite popular, drawing more interest other mascot bobbles have.
<![if !vml]>
<![endif]>
<![if !vml]>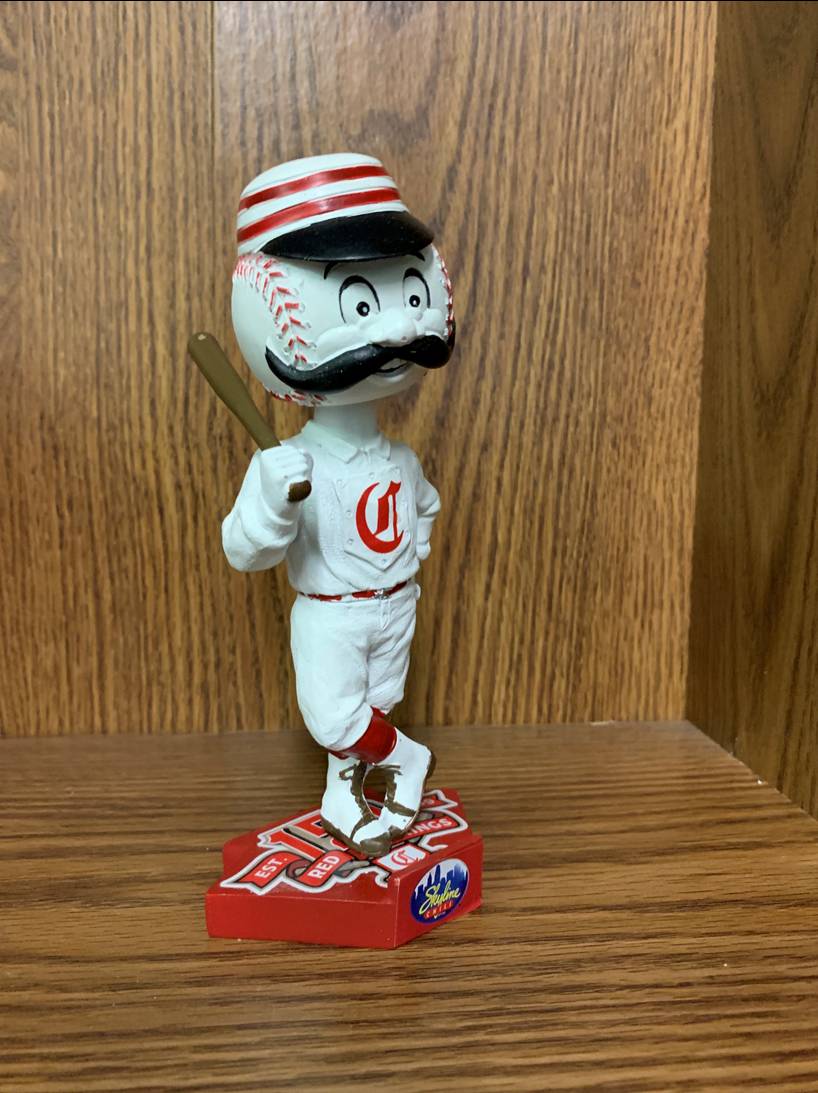 <![endif]>
<![if !vml]>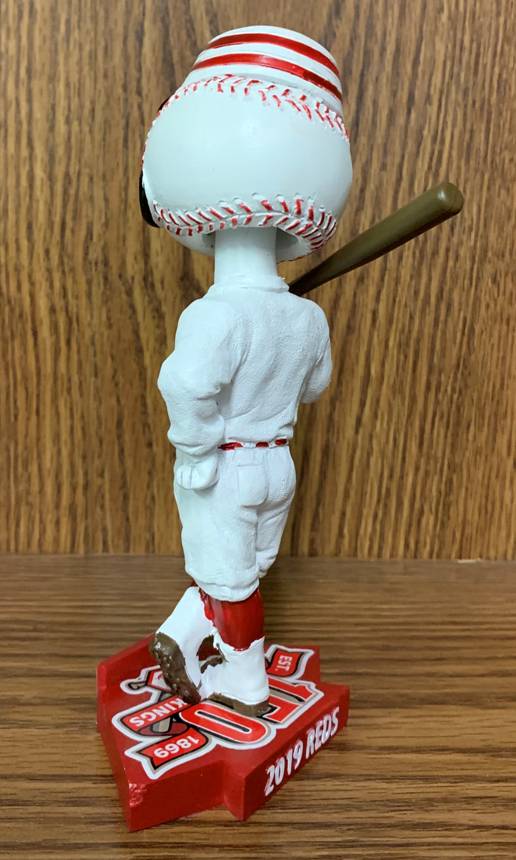 <![endif]>
May 18-Ernie Lombardi Bobblehead
The first bobble of an actual player was given out two weeks later, and was of the Redsí only Hall of Famer from the thirties and forties, Ernie Lombardi. Itís nice to see them reach back in time to find someone from before the Machine days, as they have seldom done so. The number of people alive today who saw Lombardi play is small and getting smaller by the day, but Reds fans have been told about his exploits by our grandparents. My personal favorite story is that when he was upset with what some pitcher was doing, heíd catch a pitch bare-handed to show his disgust.
<![if !vml]>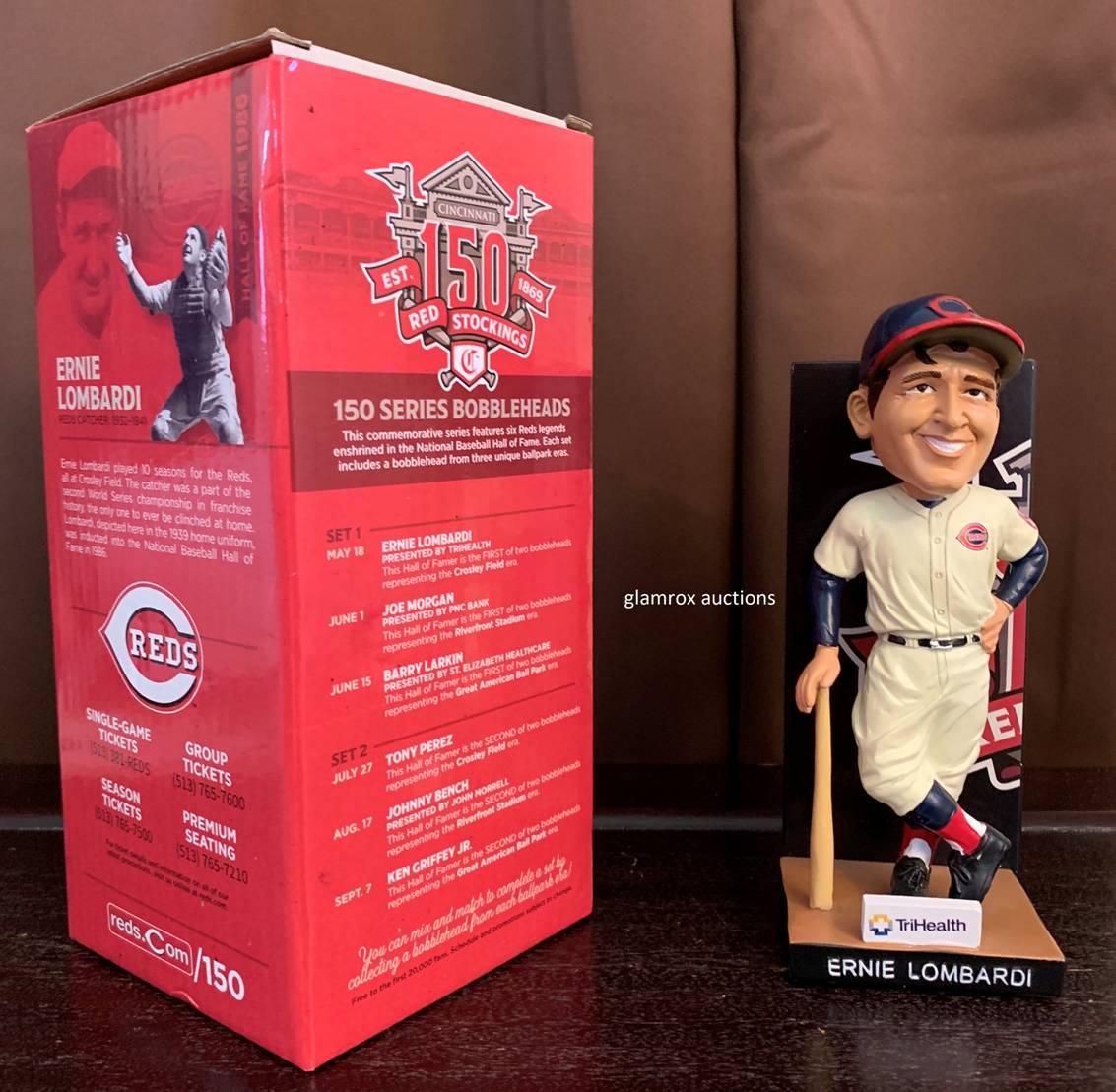 <![endif]>
<![if !vml]>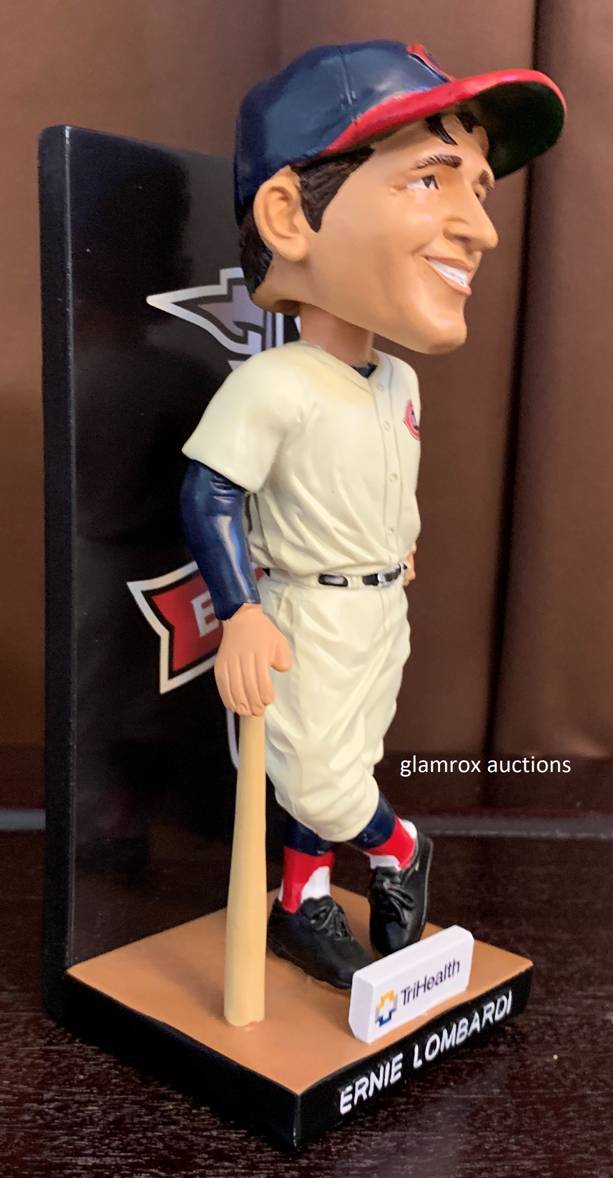 <![endif]>
<![if !vml]>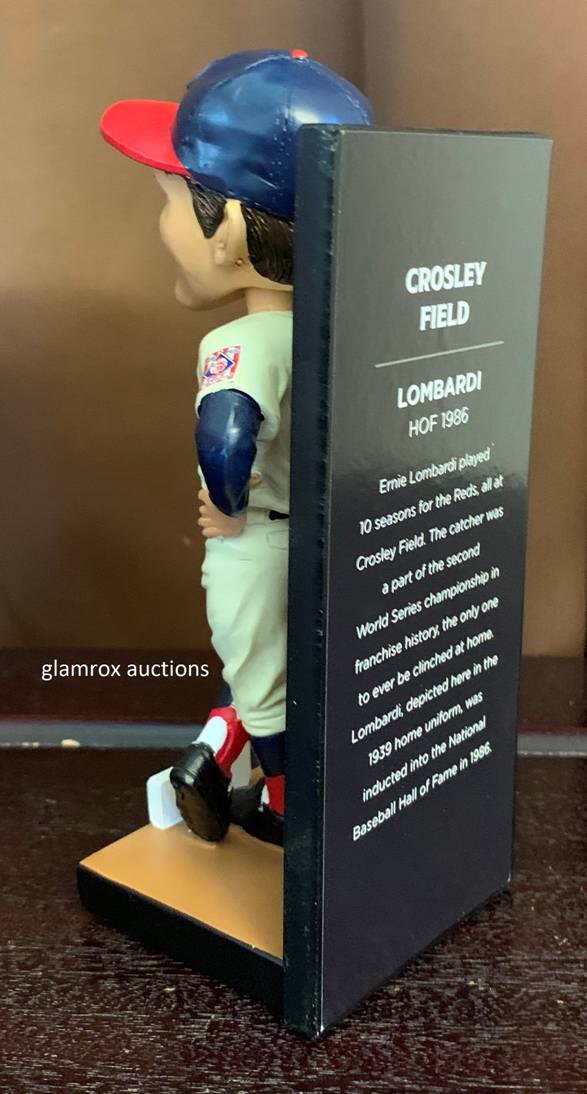 <![endif]>
June 1-Joe Morgan Bobblehead
The second player bobble was the ever-popular Joe Morgan in a fielding pose. You can begin to see how the backgrounds come together, looking at this one and the previous one. You can also see that thereís a brief summary of the playerís career with the Reds on the back.
<![if !vml]>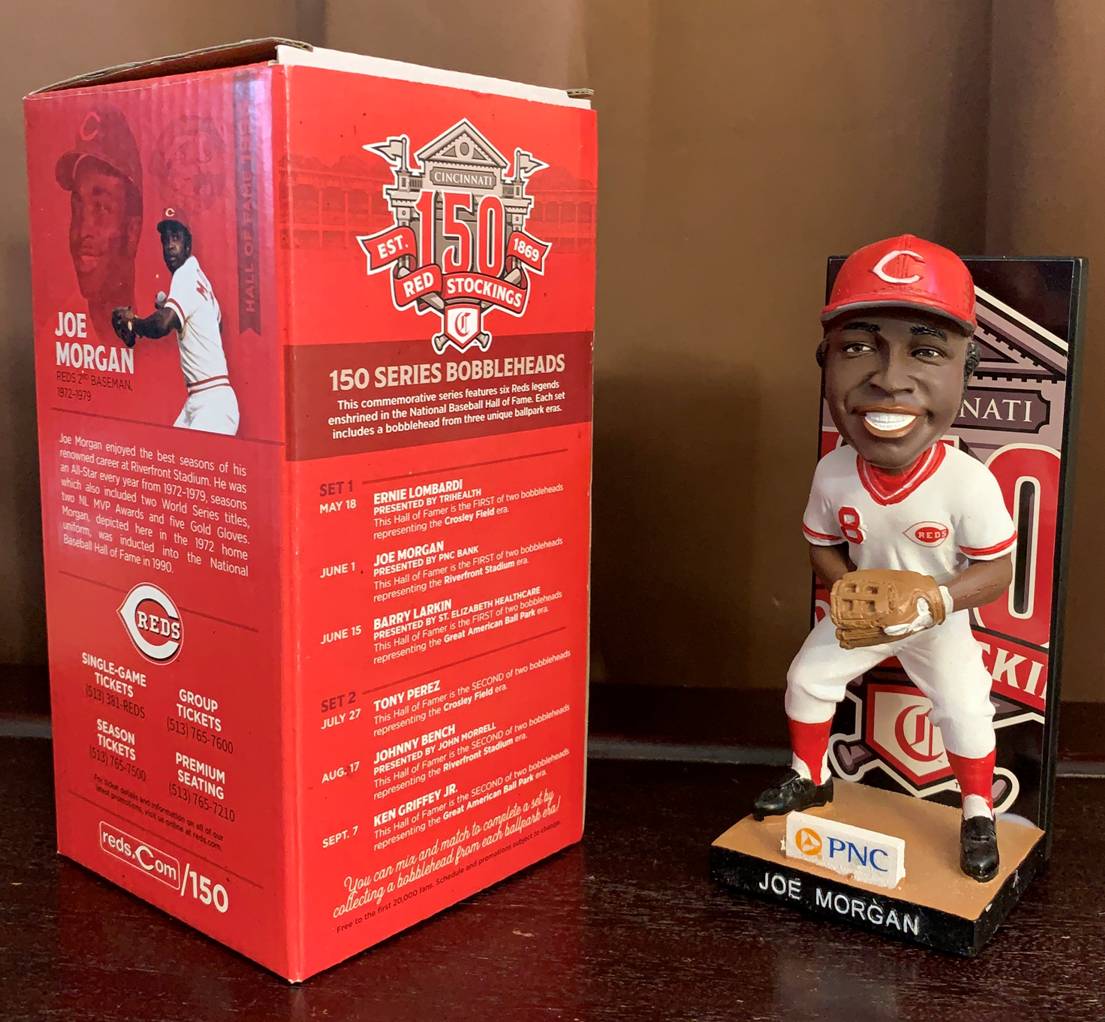 <![endif]>
<![if !vml]>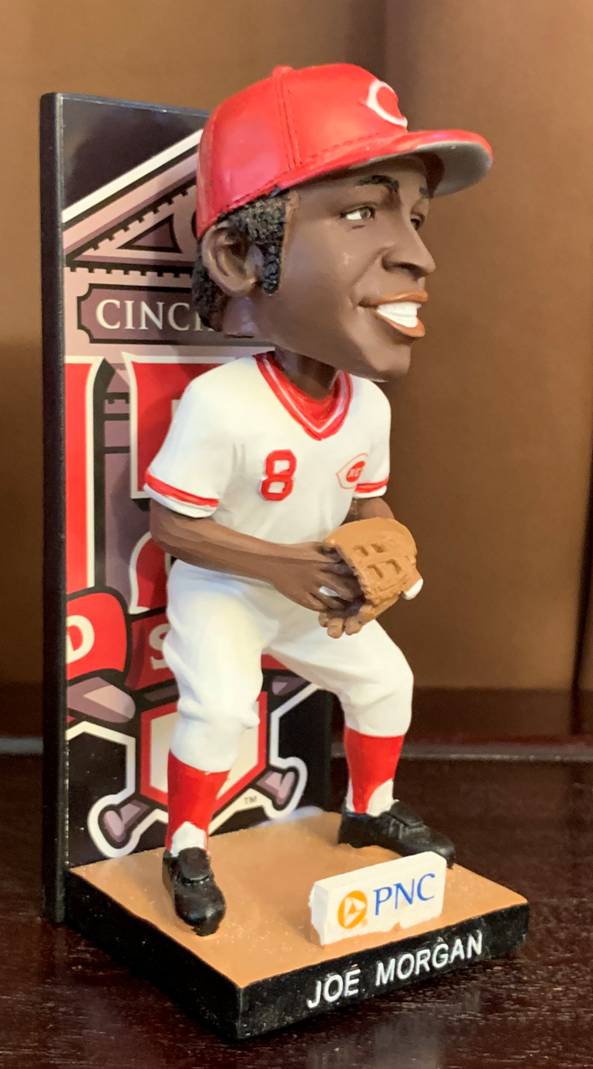 <![endif]>
<![if !vml]>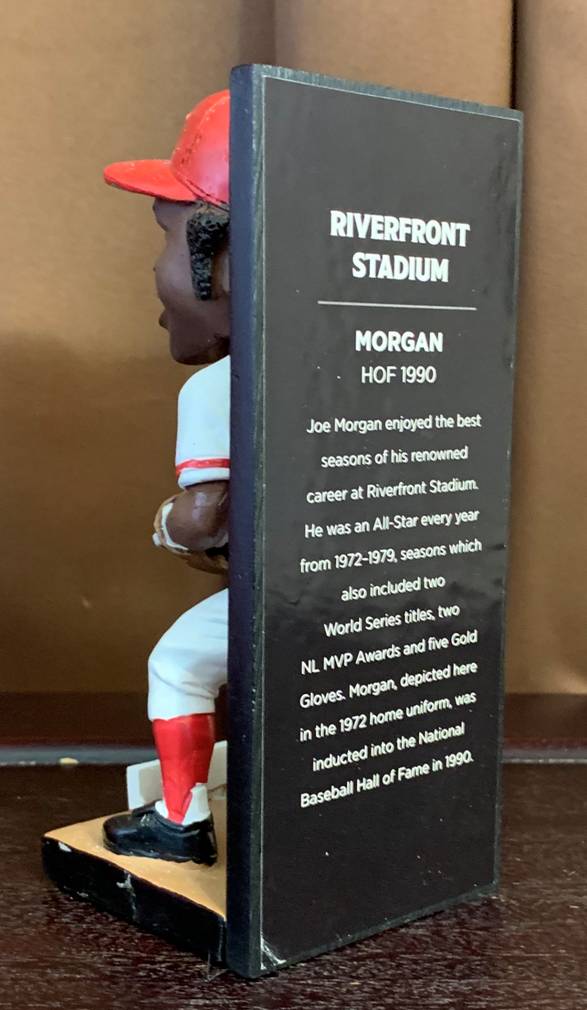 <![endif]>
June 15-Barry Larkin Bobblehead
<![if !vml]>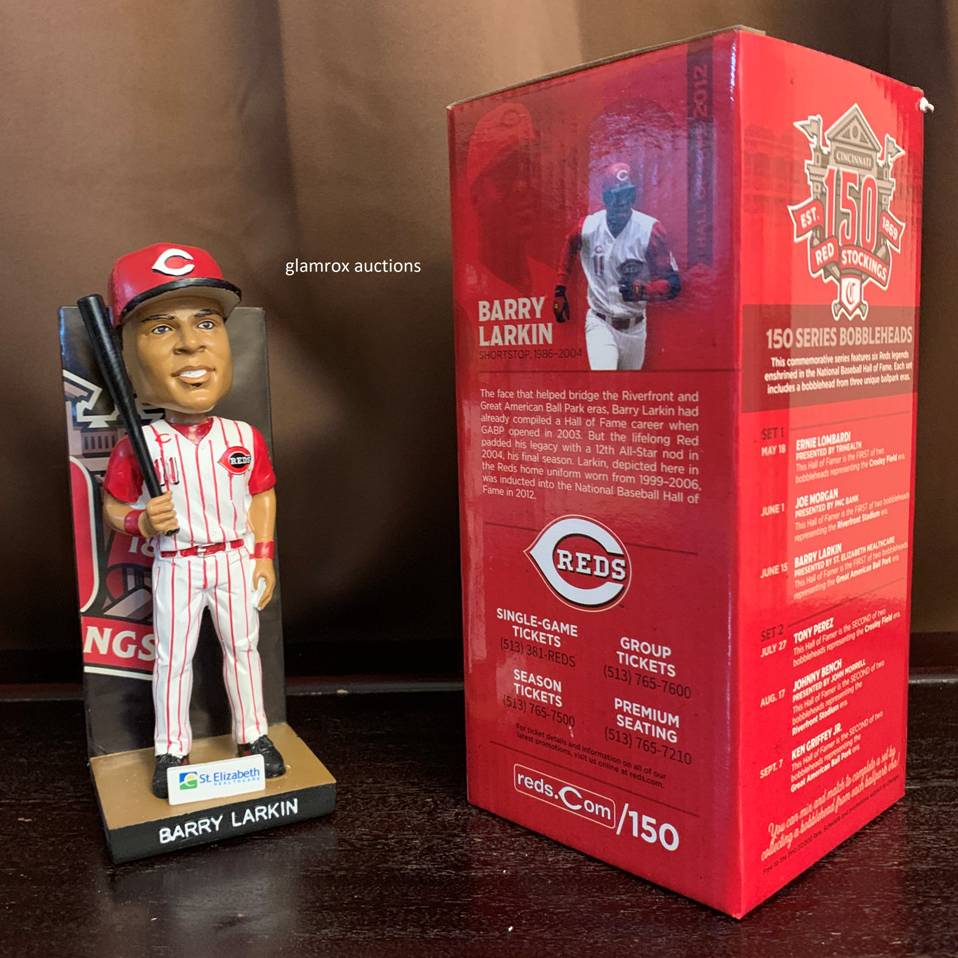 <![endif]>
<![if !vml]>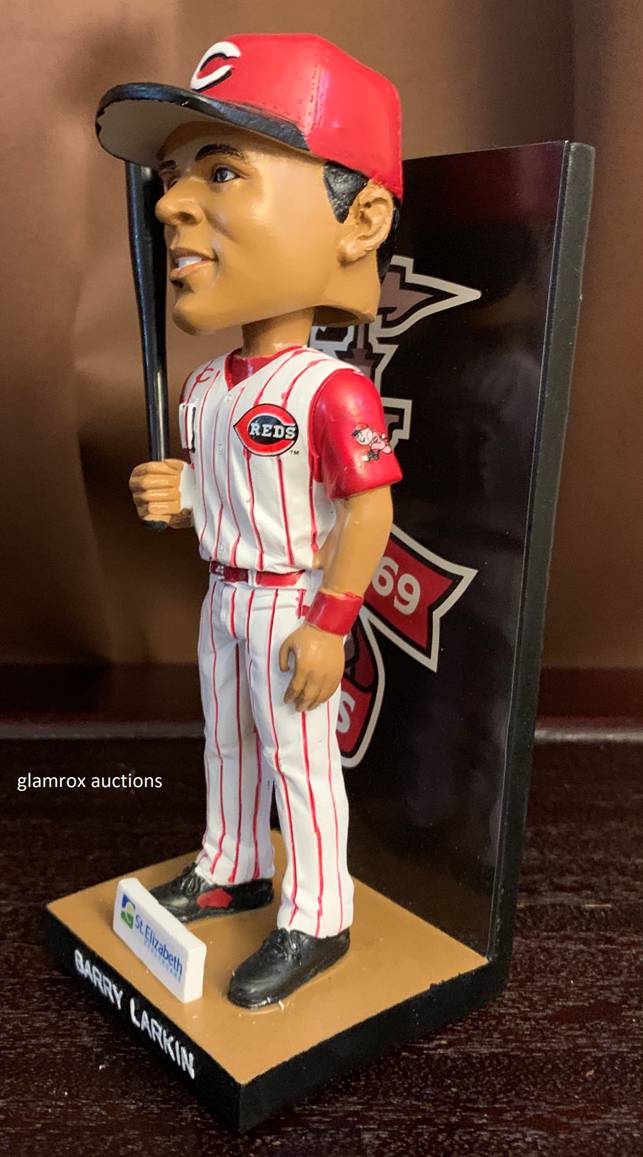 <![endif]>
<![if !vml]>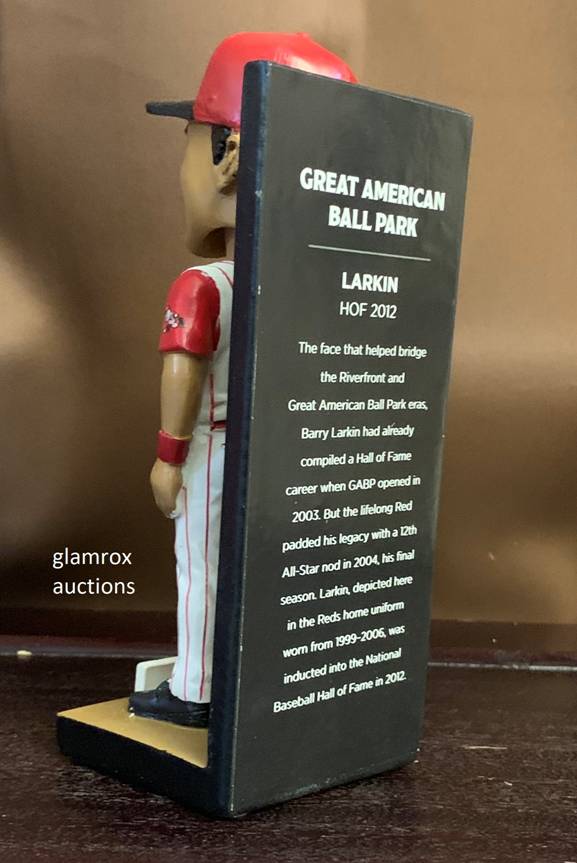 <![endif]>
June 18-Yasiel Puig Bobblehead
The photos here are ones that a friend sent me. I was on vacation when this one came out and had to rely on some other friends to get some of them. These were very strong sellers on eBay. Generally speaking, itís the weirder the better when it comes to bobbles, so a guy sitting on a horse and flexing is going to be a winner, especially when most of the others this year are bland standing poses that might as well be statues of saints in church. Puig was traded July 31 after less than a season with the Reds, but this bobble was still quite popular afterwards. Heís sure to get a few cheers if he comes back to the stadium in a new uniform.
<![if !vml]>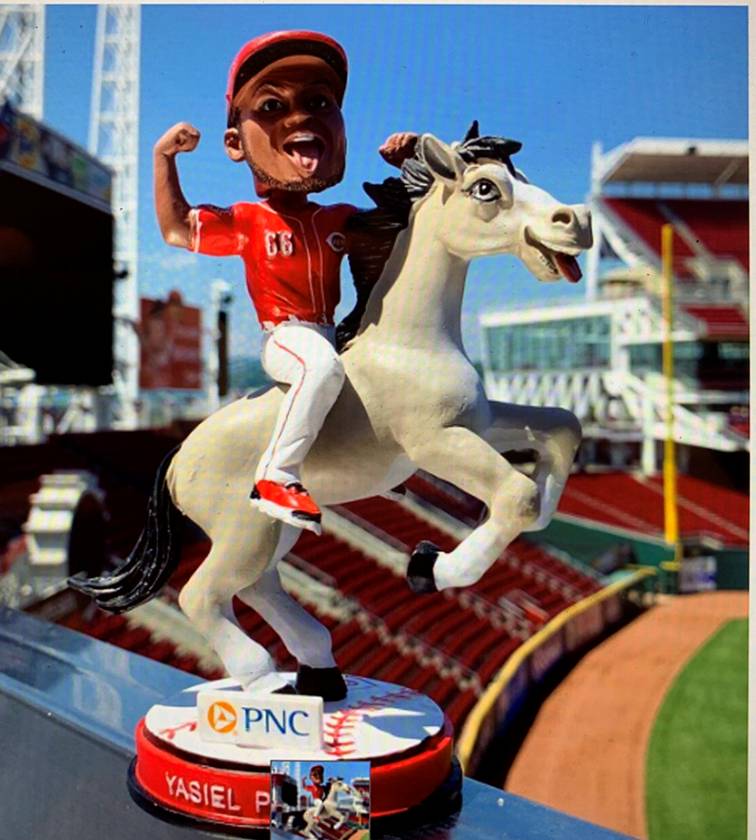 <![endif]>
<![if !vml]>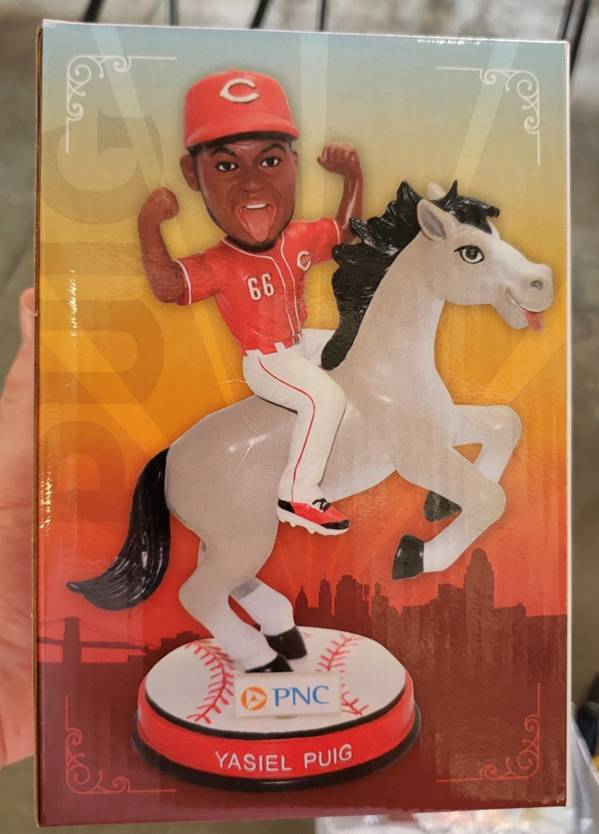 <![endif]>
July 20-Eugenio Suarez Funko Pop
Sorry for the stock-type photo here, I lost the photo I took originally and didnít keep one of these for myself. Nothing against these things, but everything takes up some space, so you canít keep Ďem all. These are interesting because they passed one of these out in 2018 and one in 2019, and they had two planned for 2020. These may not replace bobbleheads as giveaways, but they might stand side-by-side with them at the top of the heap of most popular giveaways someday. One gimmick with these is that they produce several hundred gold versions of them and randomly insert them. The gold ones draw pretty solid money on eBay, so thereís a dedicated collecting base out there somewhere. Your odds of getting a gold one are something like 1 in 40 or 1 in 50, but there are plenty of bad gamblers out there who will be drawn to this promo by the idea that it is surely they who will beat the odds.
<![if !vml]>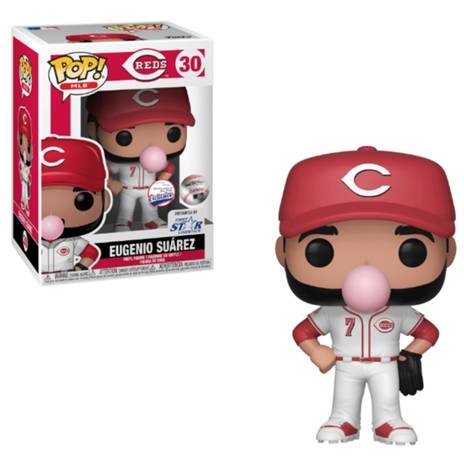 <![endif]>
July 27-Tony Perez Bobblehead
<![if !vml]>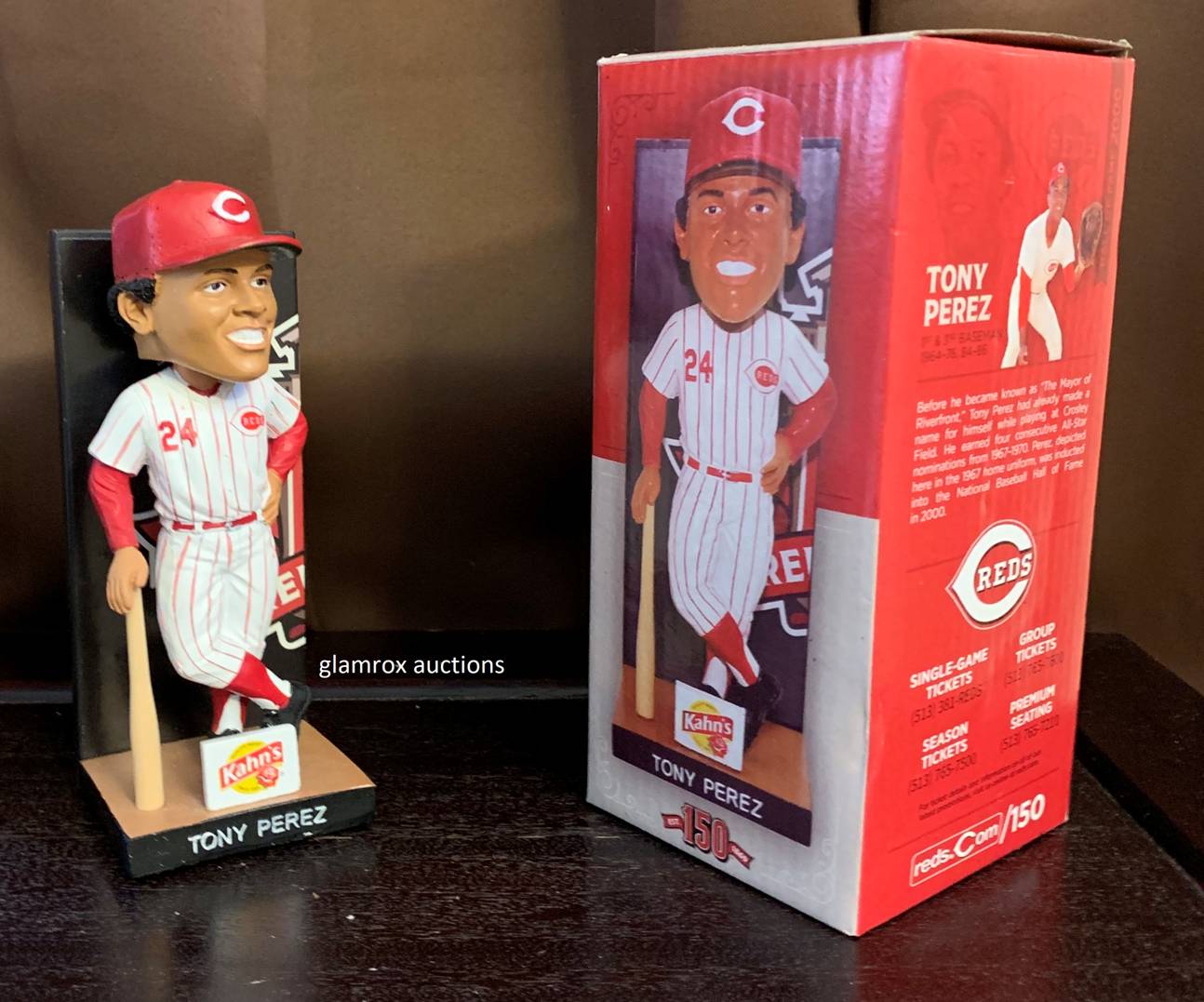 <![endif]>
<![if !vml]>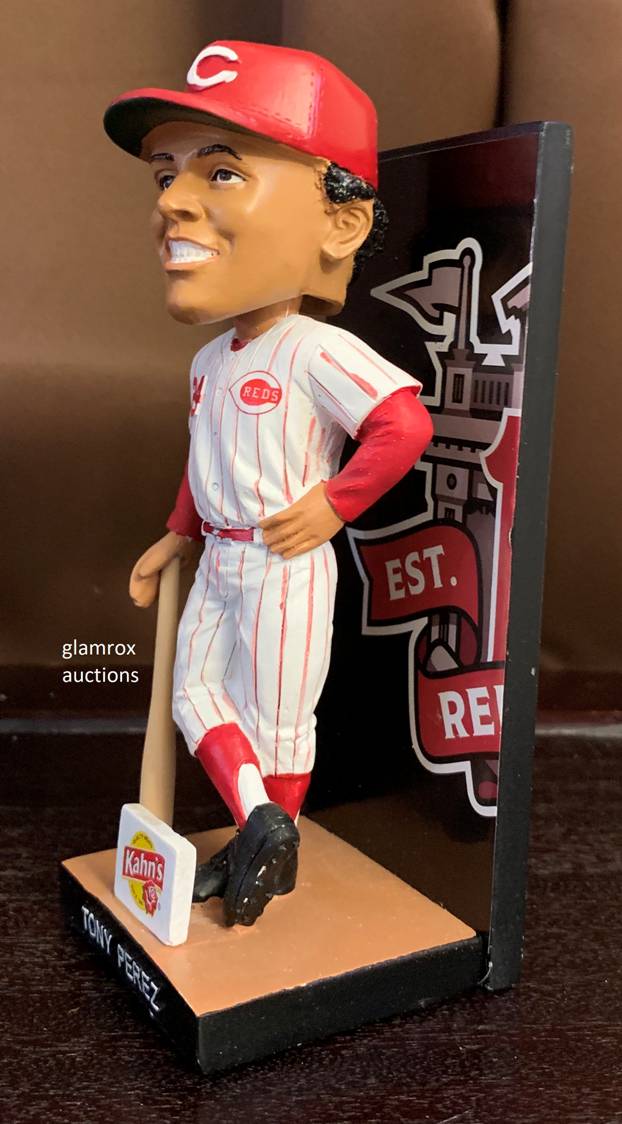 <![endif]>
<![if !vml]>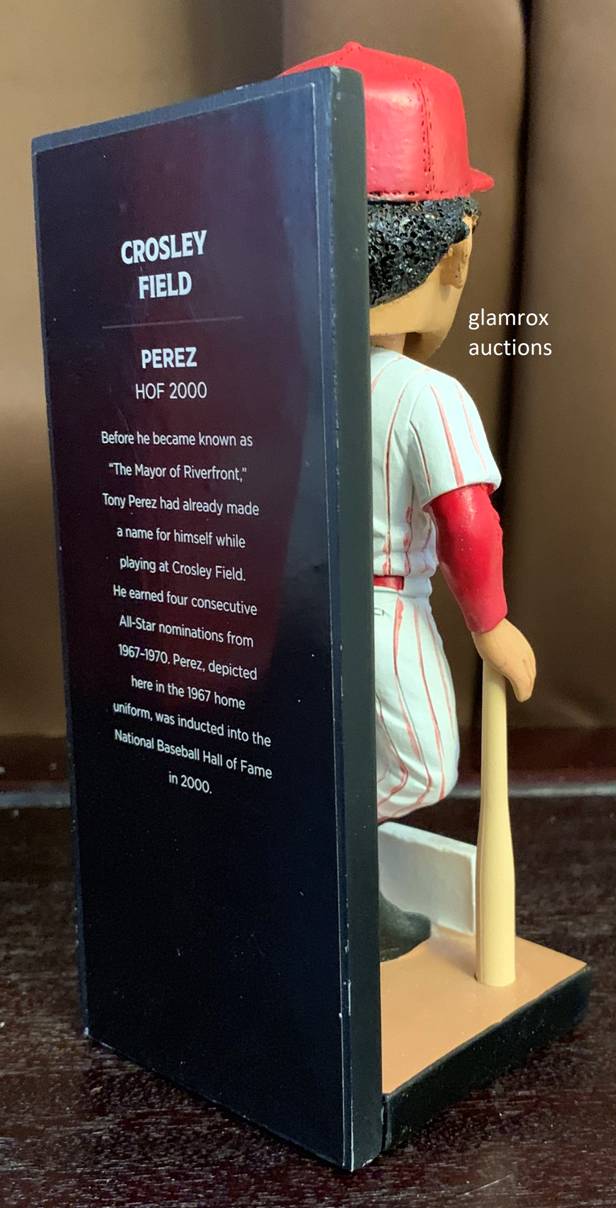 <![endif]>
August 17-Johnny Bench Bobblehead
<![if !vml]>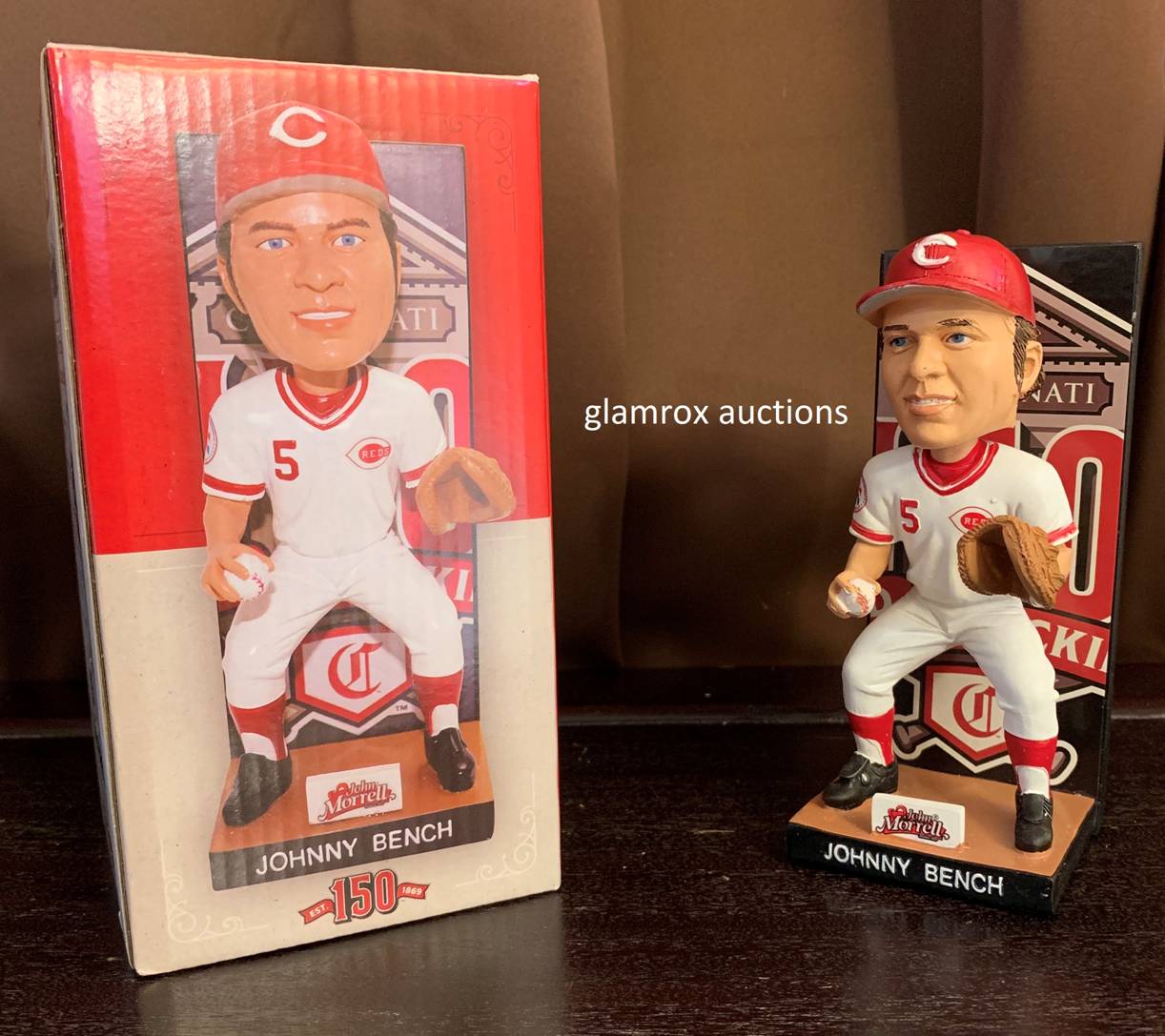 <![endif]>
<![if !vml]>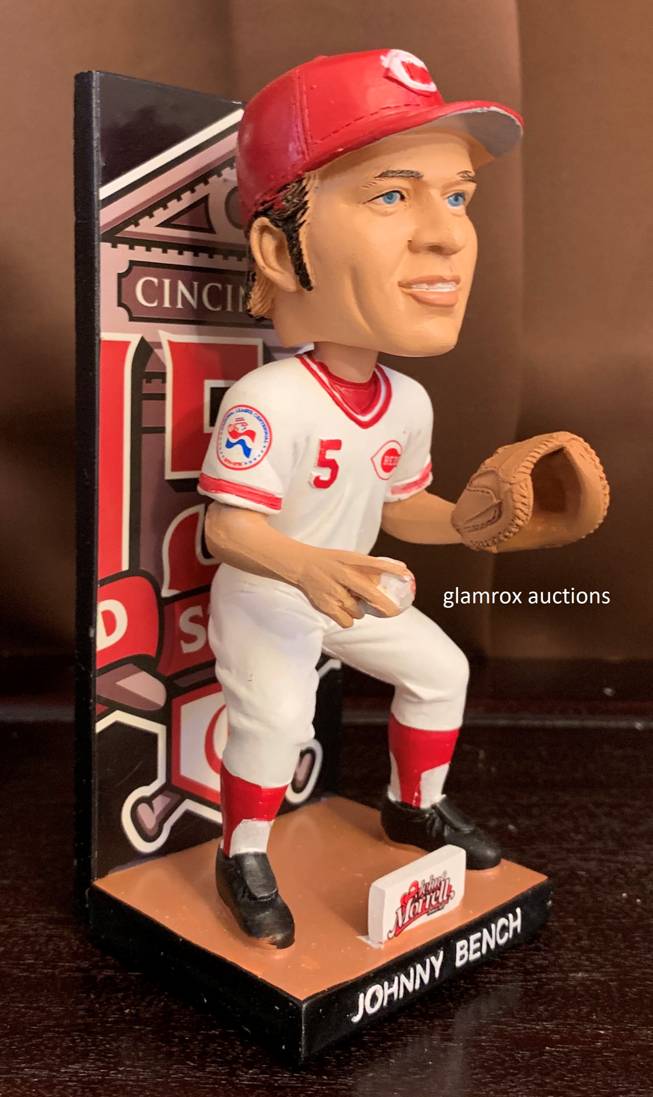 <![endif]>
<![if !vml]>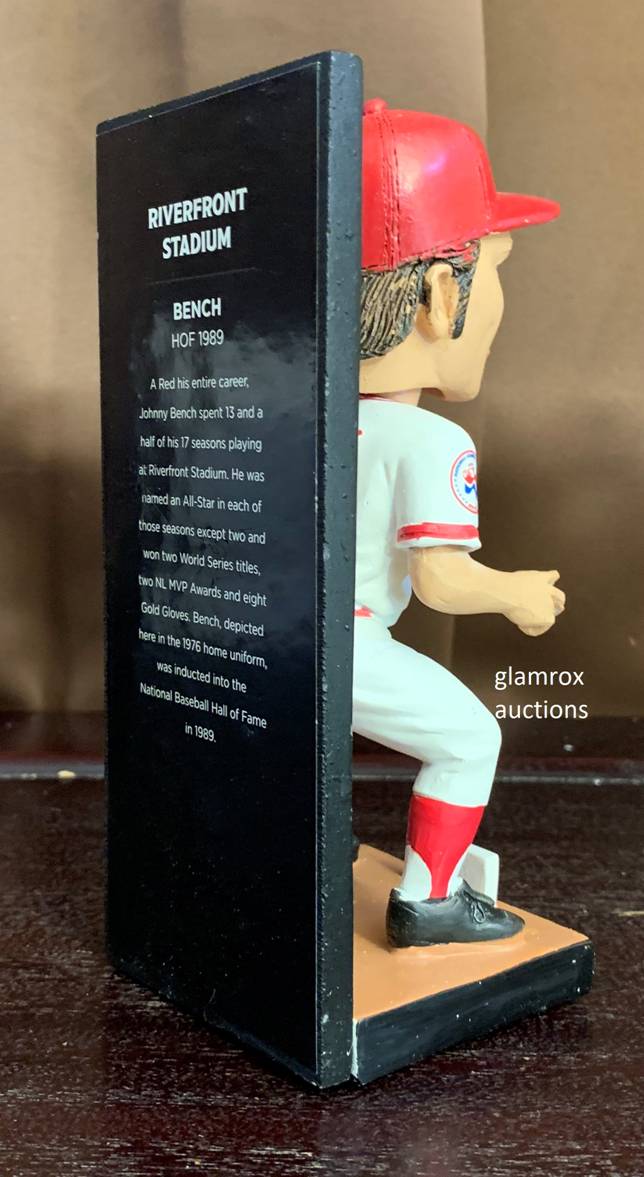 <![endif]>
September 7-Ken Griffey Jr. Bobblehead
<![if !vml]>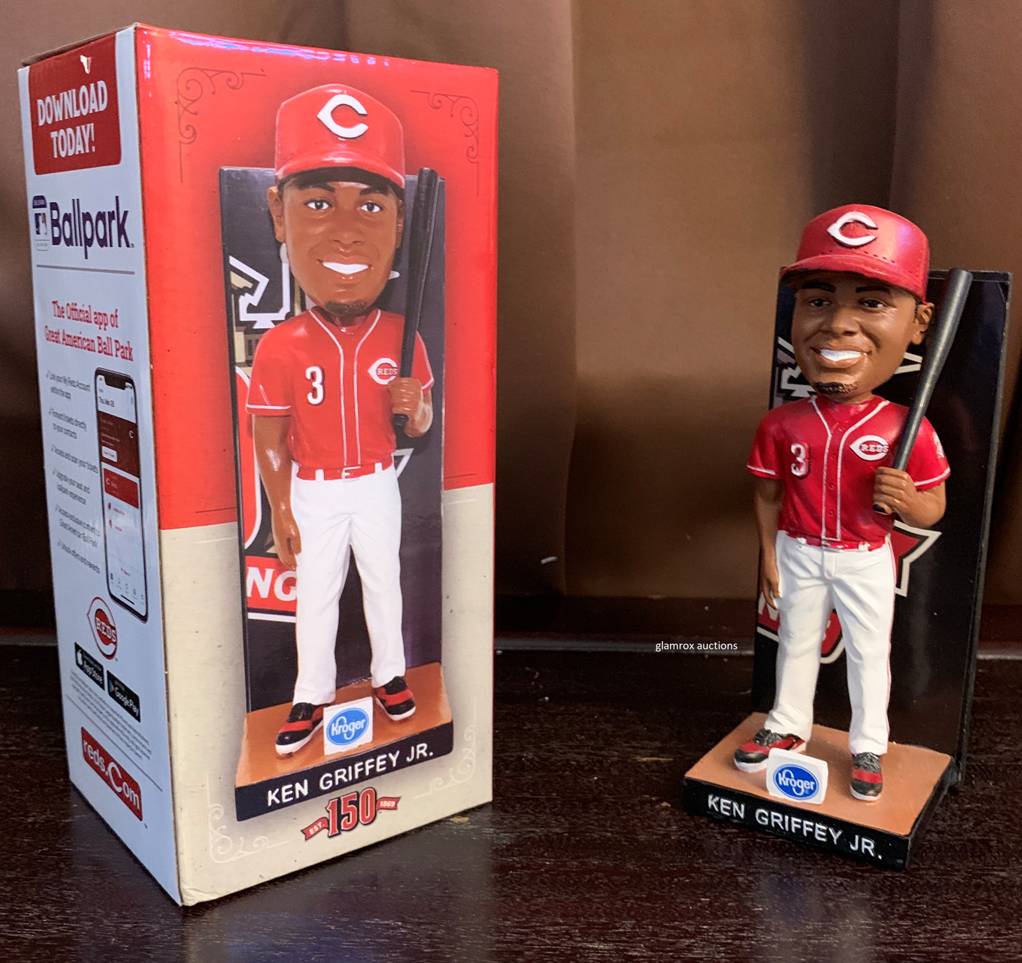 <![endif]>
<![if !vml]>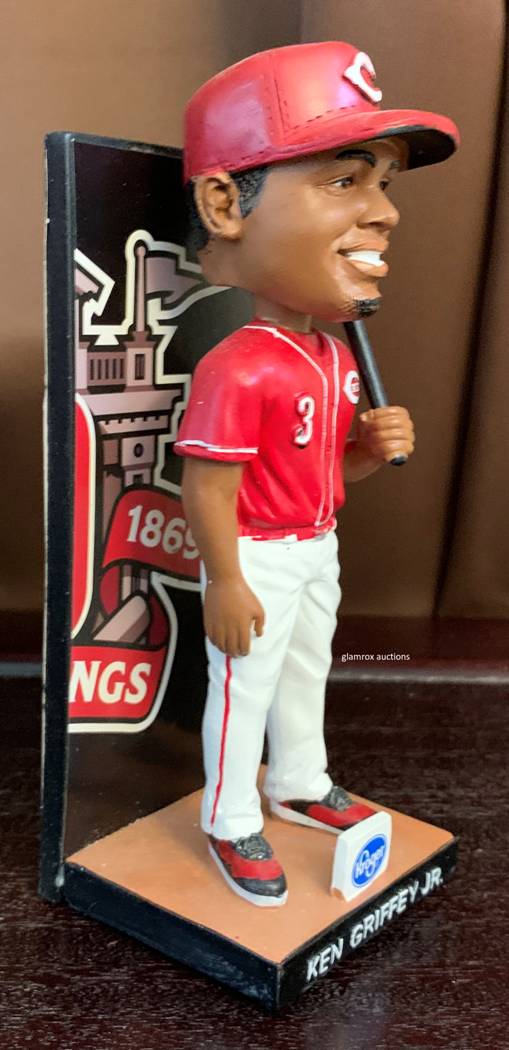 <![endif]>
<![if !vml]>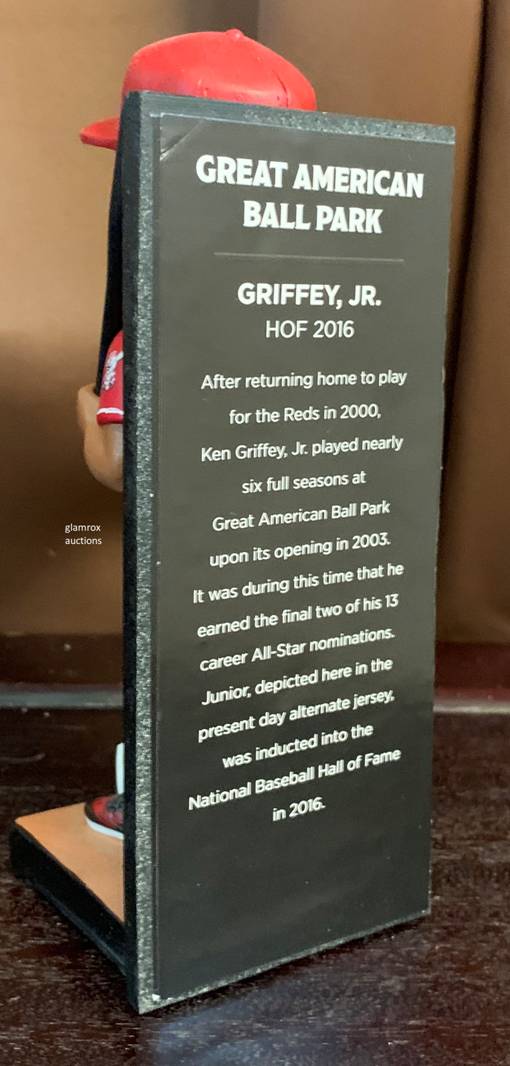 <![endif]>