Wifasso.com
Henry's Random Thoughts
2020 Cincinnati Reds SGA

Bobbleheads
Bobbleheads Given Away on "Fan Appreciation Weekends" Due to Ban on Fans at Games
With a 60 game season and no fans allowed in attendance in 2020, the Reds offered two "Fan Appreciation Weekends" where fans could get bobbleheads and other items for free by lining up in the parking lots of various Kroger stores. The weekends were the last two in September, and the caravan stopped at four Kroger stores each weekend. The bobbleheads given out were Trevor Bauer the first weekend and Sonny Gray the second. Fans were allowed two of them per trip through the line. The first weekend there were no restrictions on getting back in line, and I was able to go through four times for a total of eight bobbles. The second weekend, they said only one trip through the line was allowed. Could I have perhaps gotten through a second time? Probably, but I didn't feel up to trying, so I called it good at one trip. What can I say, my hunger for bobbles may be fading compared to my younger days, when I would have surely kept going back until they kicked me out. Anyway, they were also giving out the Marty Brennaman commemorative microphone, one per trip through the line, in addition to the bobbleheads and some t-shirts.
They also had an event for people with season packages after the two weekends where ticket holders could drive up near the stadium and get two of each bobble and another microphone. The same bobbles were on offer. Someone I knew had such a package and wasn't going to take advantage, so I ended up getting a few more that way.
Well, here they are. The gimmick with the microphone is that when you press a button, a recording plays with Marty saying "….and this one belongs to the Reds." Presumably there's a battery in there, and the speaking feature will last as long as the battery holds out. Interestingly, the Reds had quite a few other players to give out in 2020, so I would guess that those are in storage and will be given away next year, hopefully at games that fans are allowed to attend. Maybe I'm reading into this too much, but somebody had to make the call as to which ones to give out this year, and one factor might have been that the two players featured will not be on the team next year. Time will tell. Bauer had a career year in the short season, winning the first Cy Young Award in team history. As a free agent, he will command big money, money the Reds don't usually spend. Gray is still under contract next year, and a team trying hard to compete would keep a guy like that, but there's a chance the good old "prospects" and "cash considerations" will prevail yet again and he will be traded.
<![if !vml]>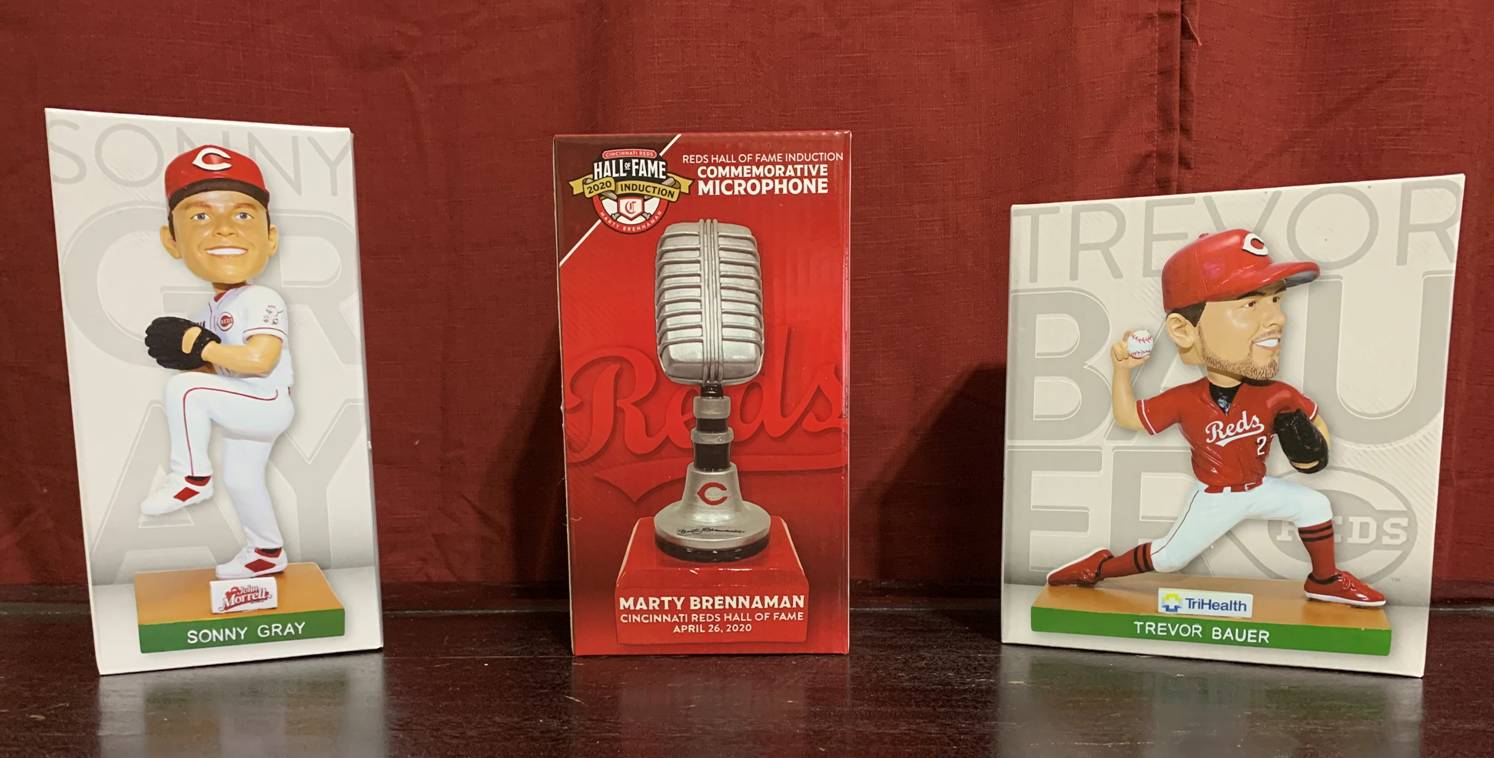 <![endif]> 
<![if !vml]>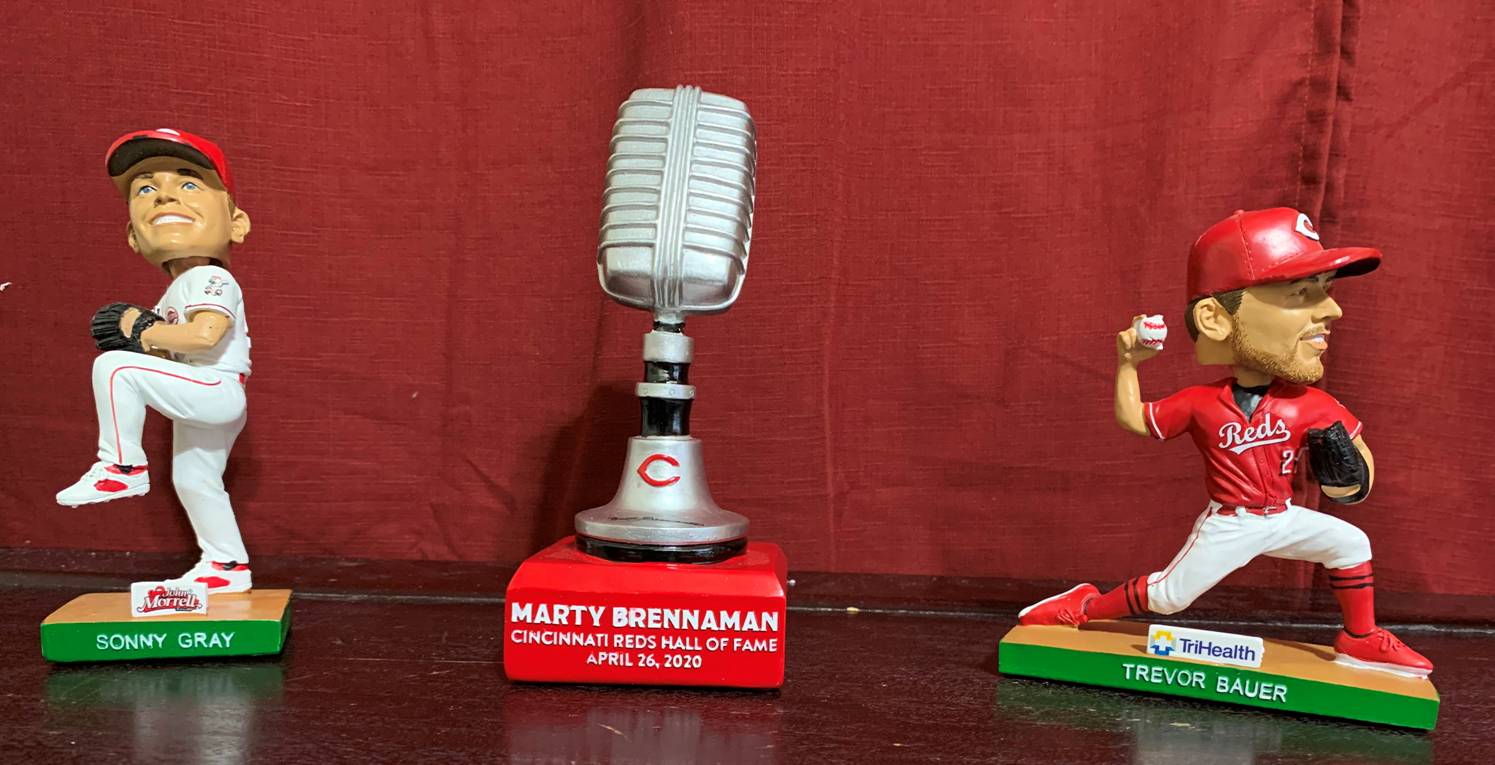 <![endif]>
<![if !vml]>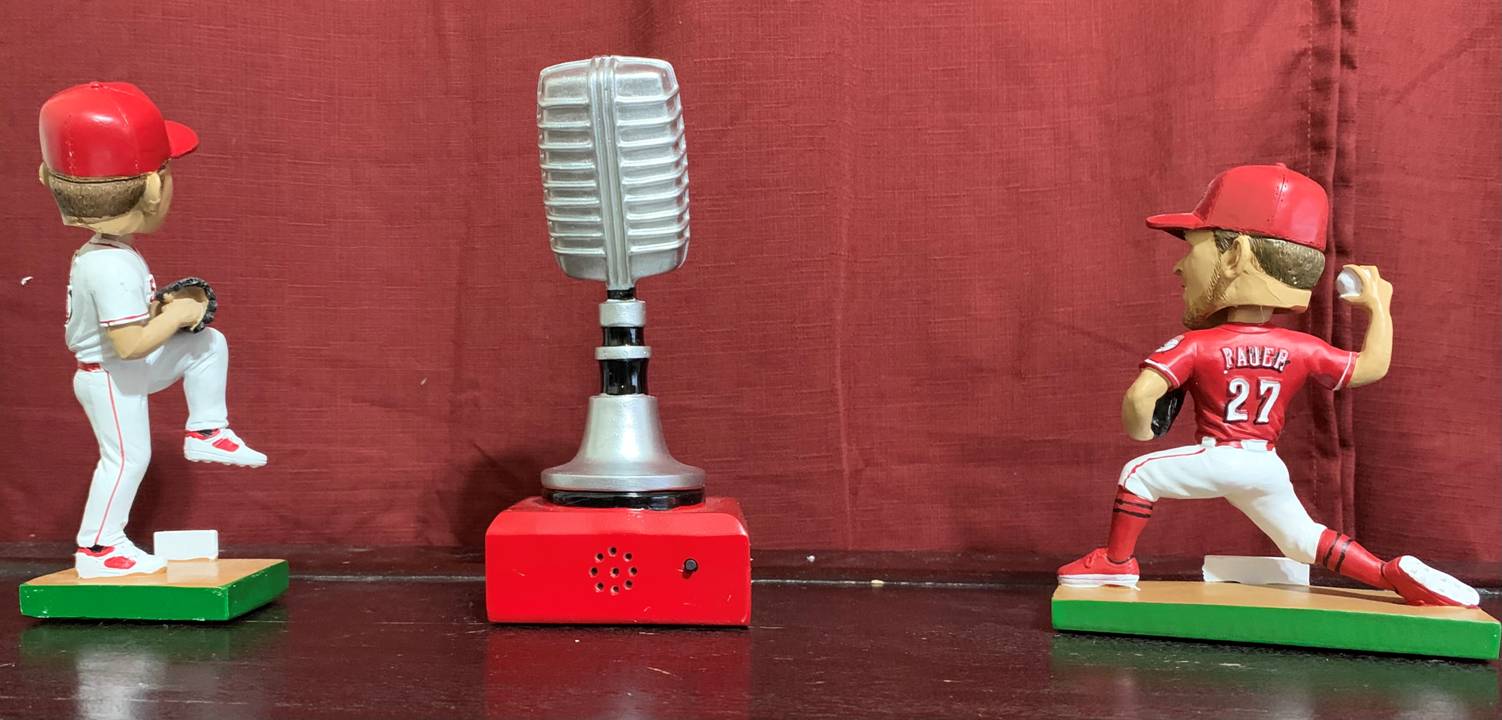 <![endif]>
April 2020-Bobbleheads on Hold Along With 2020 Baseball Season
The plan was to have a full slate of bobblehead giveaways this year along with two Funko Pops. I believe it would have added up to eight or nine giveaways. The first one was to be a triple bobblehead featuring Joey Votto and two all-time greats, but the rest of them were going to be current players. After skipping current players in 2019 and bringing in some fresh faces, there were enough current guys to feature without the promos getting stale. As of this writing (5/2/20), though, the COVID-19 outbreak has cancelled all April and May games, and the rest of the season is uncertain. Current ideas being floated are cancelling the season, playing a short schedule offsite in warm-weather states, playing a modified season at home stadiums with no fans in the stands, or putting things off and hoping conditions improve to have a limited, late season with fans. The one thing for certain right now is that a 162 game season won't happen.
Promos and giveaways have to be made overseas to keep the cost within reason. After all, they are essentially handed out for nothing for a ticket that at least in theory you bought to watch a baseball game. This means foreign sourcing and long supply chains. What that means is that they have to be ordered well in advance with the goal being to have them shipped in plenty of time. No doubt all of them were ordered before COVID-19 became a crisis, which was sometime around March 11. I have a feeling that some were delivered by then, although I have no sources to confirm that. Some were probably being made at the time and some were probably done and in transit. So the team has all or nearly all of these perfectly good promos sitting in storage somewhere. So my feeling is that they will see the light of day. Either the entire run will just be pushed back to 2021, or part of the run will be pushed back to 2021, or they will be distributed in some alternate fashion. (Maybe the team will sell them for charity.) The only one that might end up in the Dumpster would be a player who got dealt and was no longer with the Reds at the time of would-be giveaway. Even worse would be a player that never played a real game in a Reds uniform at all. But the frugal Cincinnatians running the Reds might even try to get some value out of these, so we may yet see them all.