Wifasso.com
Henryís Random Thoughts
Cincinnati Reds Hall of Fame Bobbleheads
Over the last few years, the popular Reds Hall of Fame located next to the stadium has caught on to the value of the bobblehead as a promotional tool. As one might guess, these bobbleheads are of a nostalgic bent. To my knowledge, one of these bobbleheads has honored former owner Marge Schott (with dog), while five others have honored the legendary Johnny Bench.
They donít make nearly as many of these as they do the stadium giveaways. Iím pretty sure they are limited to 5,000. The distribution of them is a little more controlled, too. Customers are limited to one per visit per day. You canít run in circles for quantities like you do at the stadium. Basically, you can get one per paid admission, but they have also had deals where you could get several different ones in exchange for buying a membership. They may or may not run such a promotion in the future. Pictured are the ones I have. Iím not sure if I have them all. I bought a collection from a guy that included them. I will probably get future ones straight from the source, assuming I keep collecting them. (A person has only so much space.)
Since getting them in bulk isnít easy, expect to pay more for these on Ebay than you would for SGAís of the same vintage.
Marge Schott-2010
Unsurprisingly, the Hall didnít have a sponsor for this one, as Schott left the ownerís role in disgrace due to some racially insensitive comments. But there was demand for it from those who remember all the good things she did, such as keeping ticket prices low, being approachable to the fans, and using her considerable fortune to support charities like the local zoo. The team also won during her stint as principal owner, although it is debatable as to whether it was she or her predecessors who built the foundation for the winning.
<![if !vml]>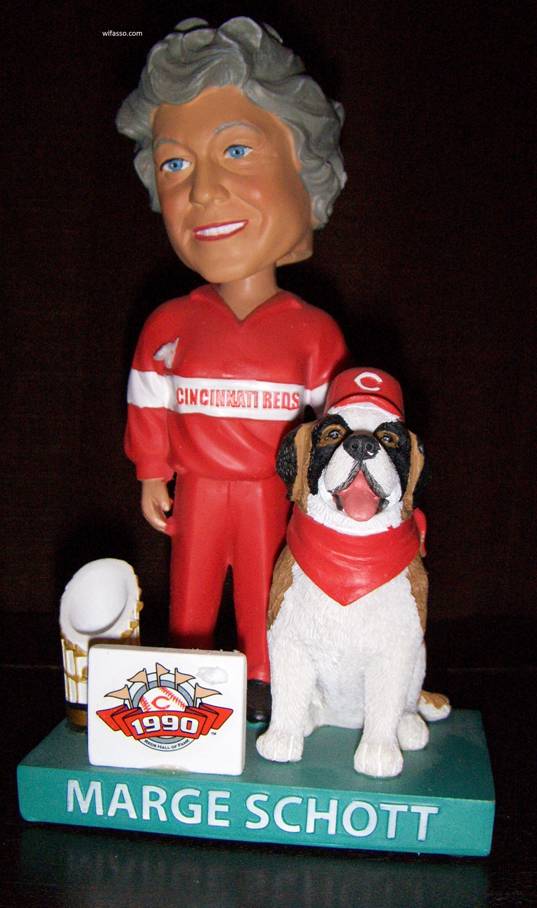 <![endif]>
Marge is pictured here in a period jumpsuit, with the World Series trophy (from 1990) and her omnipresent dog, which created a fair amount of scooping work for the grounds crew back in the day. Fortunately, they chose to ignore her longtime smoking habit, unlike editorial cartoonists of the time.
<![if !vml]>
<![endif]>
Margeís signature transaction, done early in her run as owner, was to bring Pete Rose back as player manager. It was marketing gold, as Cincinnati absolutely adored Pete at the time, and is still fond of him now in spite of all the trouble.
<![if !vml]>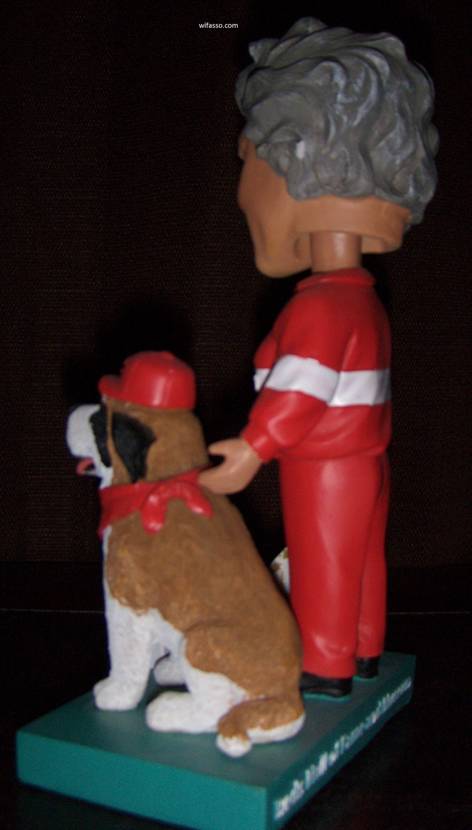 <![endif]>
†
Johnny Bench-2011
Also unsurprising is the fact that a prominent law firm showed up as the sponsor of the next yearís effort, a series of Johnny Bench bobble heads. Had the firm not stepped up, Iím sure there would have been a line out the door of other sponsors willing to do so. Bench, along with Rose, is among the biggest sports heroes in this town. And unlike Rose, he hasnít messed up his post-baseball life.
<![if !vml]>

<![endif]>
Even the boxes line up for a very impressive display. If they keep this methodology up, the Ted Kluszewski and Dave Concepcion runs should be pretty long if they decide to do them.
<![if !vml]>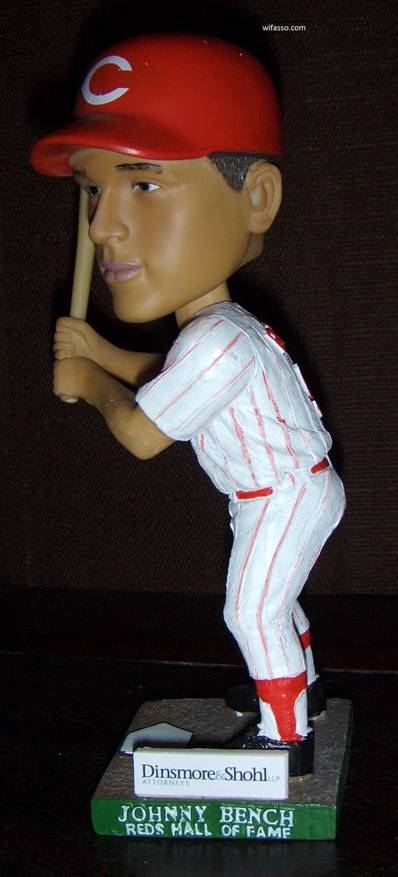 <![endif]>
The above one is a rookie-era pose, as he is in a uniform with pinstripes.
<![if !vml]>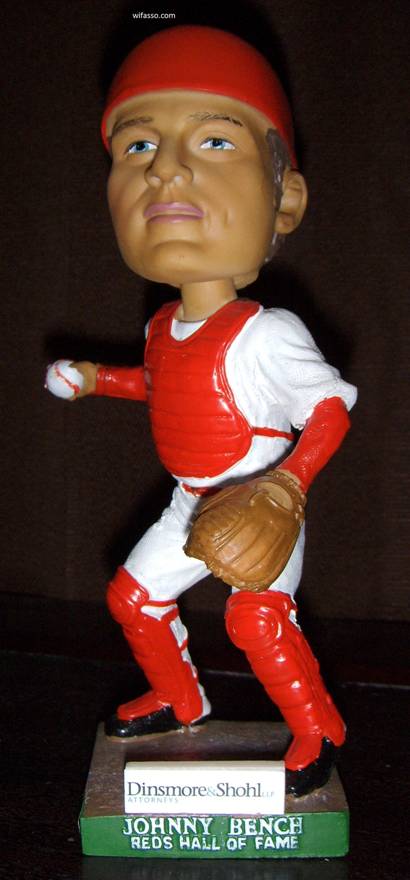 <![endif]>
<![if !vml]>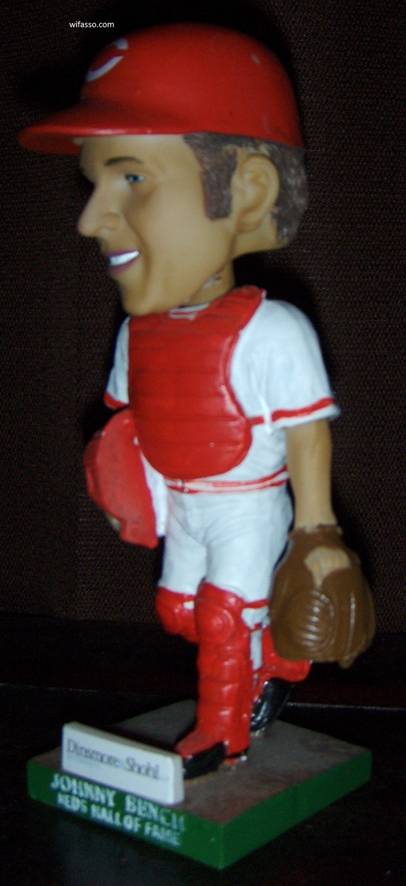 <![endif]>
<![if !vml]>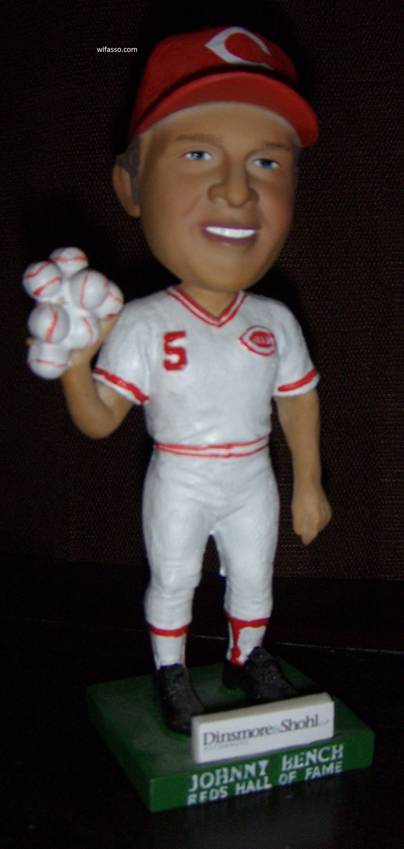 <![endif]>
Above is a pose showing off his well-publicized ability to hold seven baseballs in one hand. The only other Reds body part that might have been capable of holding seven baseballs was Ernie Lombardiís nose.
<![if !vml]>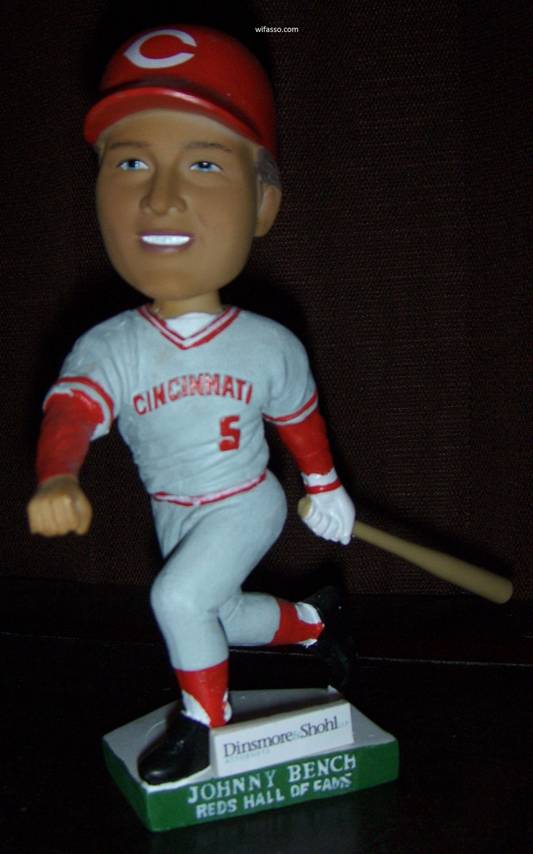 <![endif]>
2018 Reds Hall of Fame

Bobbleheads
<![if !vml]>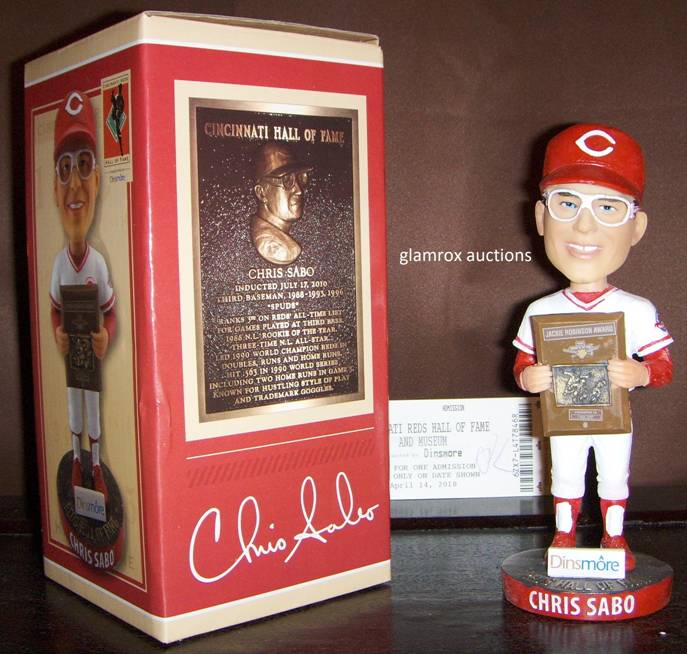 <![endif]>† <![if !vml]>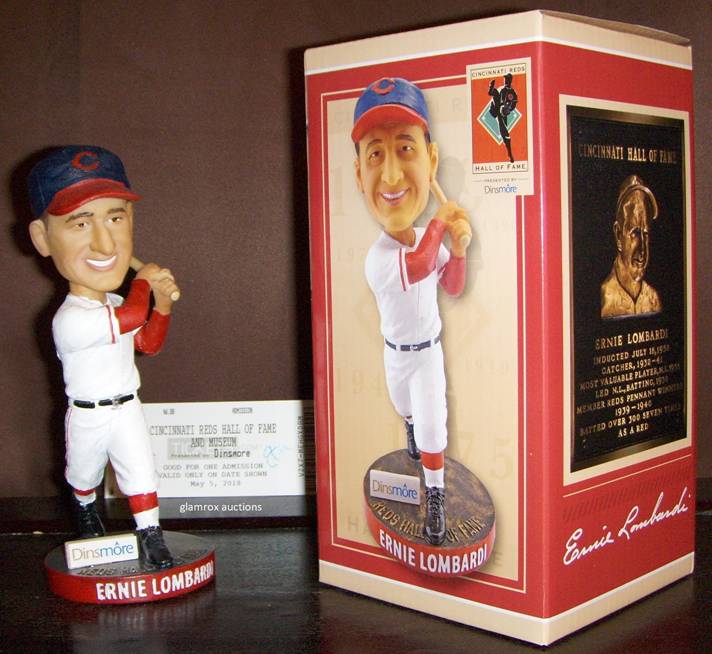 <![endif]>
<![if !vml]>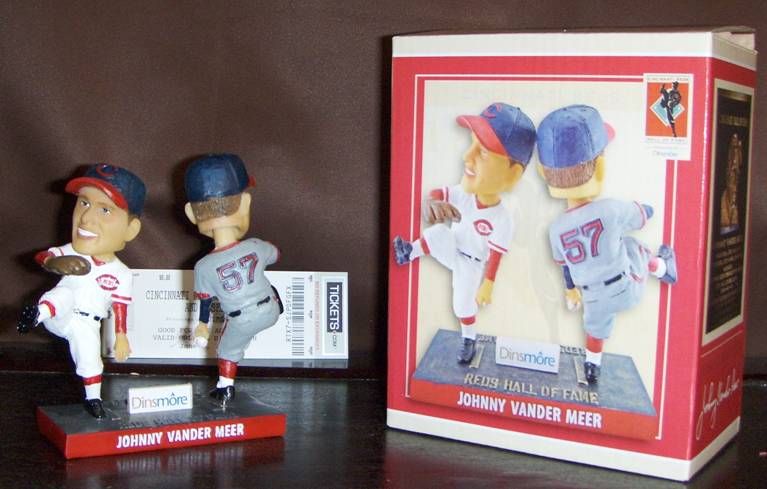 <![endif]>† <![if !vml]>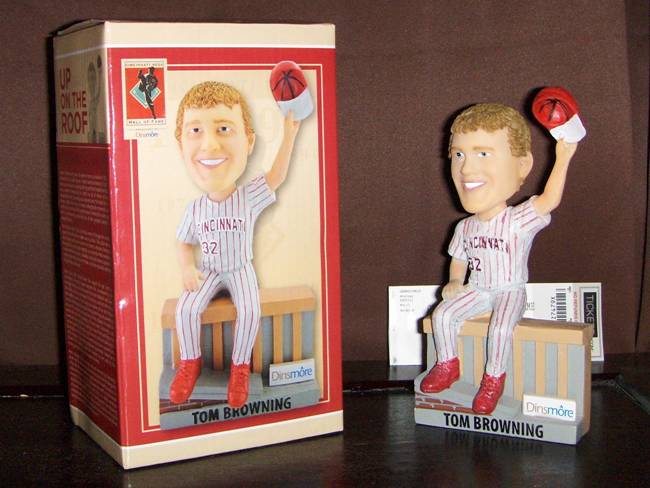 <![endif]>
<![if !vml]>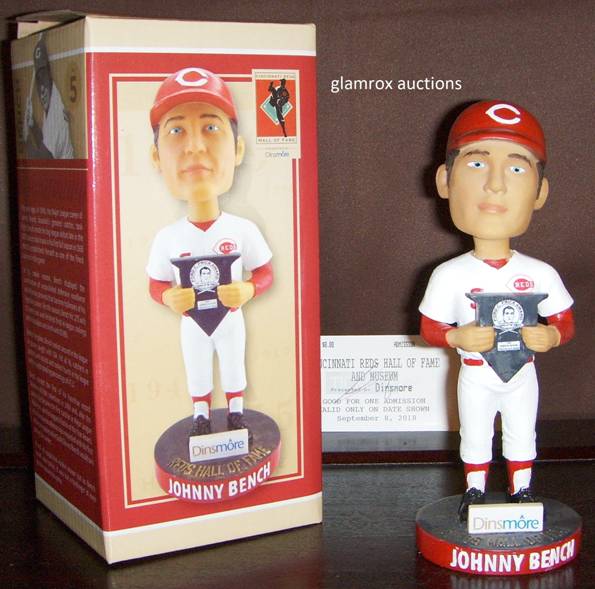 <![endif]>††††† <![if !vml]>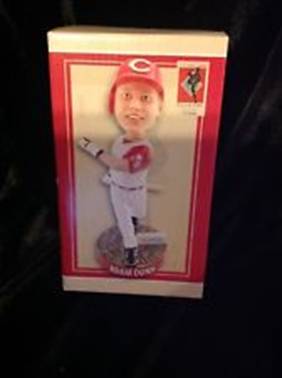 <![endif]>
2018 Reds Hall of Fame

Bobbleheads
<![if !vml]>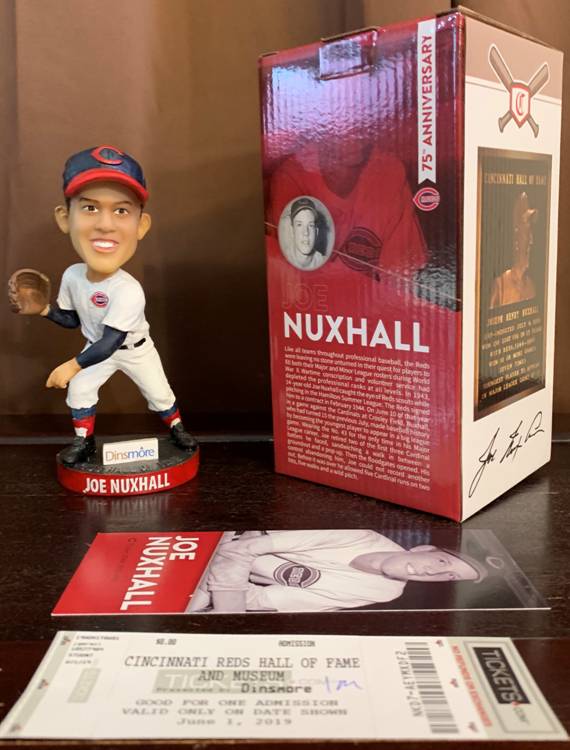 <![endif]>†<![if !vml]>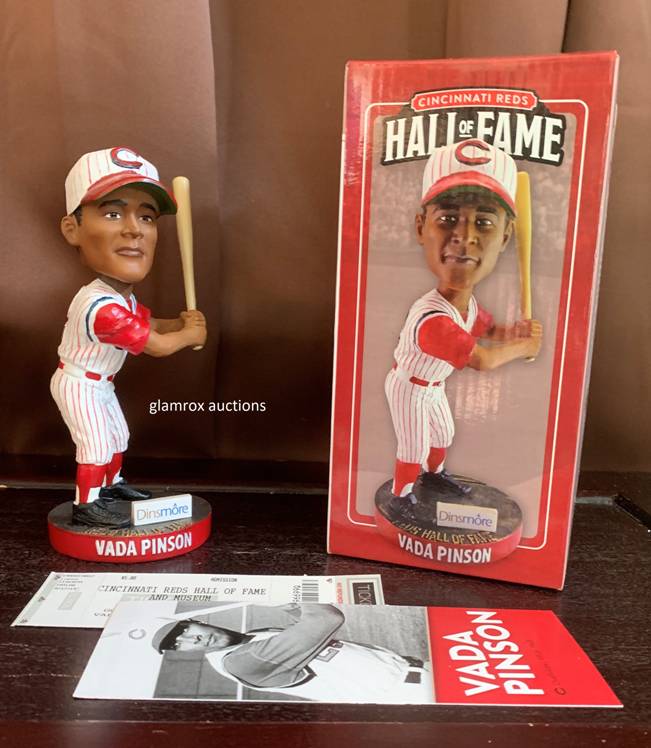 <![endif]>†<![if !vml]>
<![endif]>†<![if !vml]>
<![endif]>†<![if !vml]>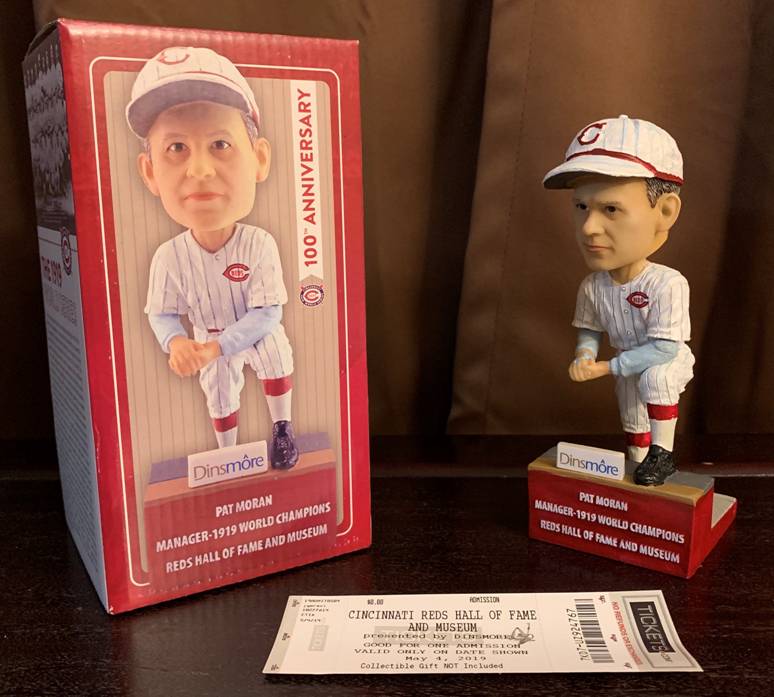 <![endif]>
<![if !vml]>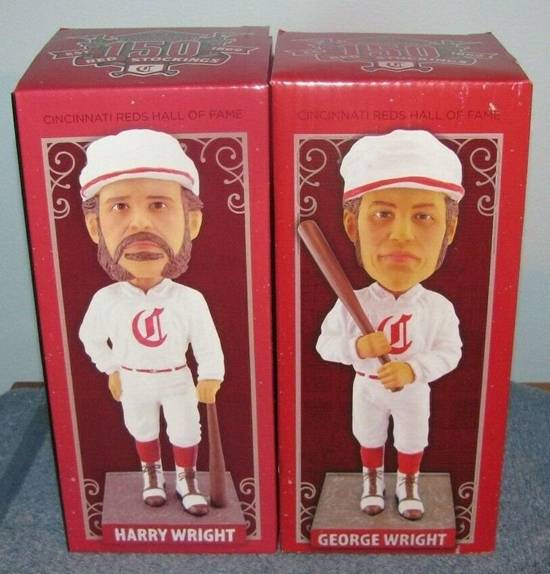 <![endif]>