Wifasso.com
Henry's Random Thoughts
<![if !supportEmptyParas]> <![endif]>
Bishop Henry Joseph Grimmelsman
<![if !supportEmptyParas]> <![endif]>
First Bishop of Evansville, Indiana, Educator, Bible Scholar and World Traveler.
<![if !supportEmptyParas]> <![endif]>
(See bottom of page for links to more information.)
<![if !supportEmptyParas]> <![endif]>
<![if !vml]>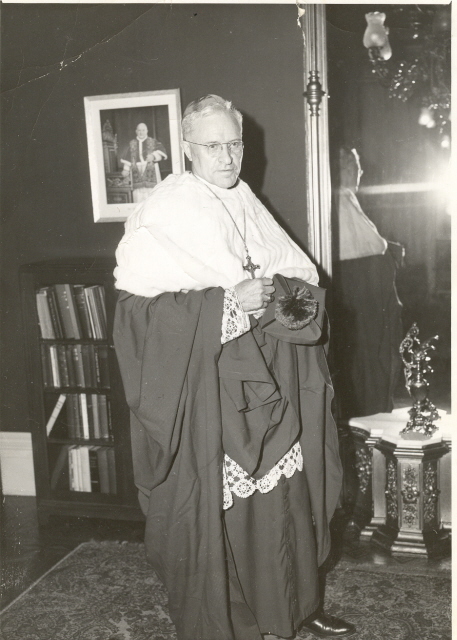 <![endif]>
<![if !supportEmptyParas]> <![endif]>
<![if !supportEmptyParas]> <![endif]>
Milestones
<![if !supportEmptyParas]> <![endif]>
Date                 Age      Event                            Title
22 Dec 1890                Born Cincinnati
15 Aug 1915    24.6     Ordained Priest            Priest
11 Nov 1944   53.9     Appointed                    Bishop of Evansville, Indiana, USA
21 Dec 1944    54.0     Ordained Bishop          Bishop of Evansville, Indiana, USA
18 Oct 1965    74.8     Retired                         Bishop of Evansville, Indiana, USA
18 Oct 1965    74.8     Appointed                    Titular Bishop of Tabla
26 Jun 1972     81.5     Died                             Bishop Emeritus of Evansville, Indiana, USA
<![if !supportEmptyParas]> <![endif]>
Source: www.catholic-heirarchy.org
<![if !supportEmptyParas]> <![endif]>
Early Life
He was born into a deeply religious family in Cincinnati in 1890, the son of G H and Frances Grimmelsman. His father was in charge of the safe deposit box department of the Central Trust Bank. He was one of ten siblings, seven of whom made it to adulthood. He was one of five siblings called to a life in the clergy. Three sisters became nuns and one of his brothers, John A. Grimmelsman, became a priest, working early on as a chaplain at Mt. St. Joseph College before founding St. Dominic parish (suburban Cincinnati) and serving as its pastor until retirement.
He grew up in a three-story brown brick house at 925 Mt. Hope Avenue in the Cincinnati neighborhood of Price Hill. The house still stands today. His mother passed away in 1910 and his father followed in 1916.
Education
Henry attended Holy Family School in Lower Price Hill, where his grades were outstanding. Holy Family turned out four future bishops in that era, including Urban John Vehr, future archbishop of Denver. Vehr was in the same grade as Grimmelsman. Grimmelsman was called to the priesthood early on, and after studying at Ohio seminaries, St. Joseph's College (Indiana), and the University of Innsbruck in the old Austro-Hungarian Empire, he was ordained in his old parish church at the age of 24. He was originally supposed to complete his doctorate at Innsbruck before returning to the States, but the outbreak of World War I ended his first stint there. He therefore got to see a 500 year-old empire that was about to disappear forever.
After ordination, he studied at Catholic University (Washington, DC) and had another stint at Innsbruck where he received a doctorate in Sacred Scripture. He was well-prepared to serve God as a Bible scholar.
Educator and Author
One of his first assignments was as a parish priest at the ornate St. Lawrence Church in Price Hill. In 1920, he was appointed Professor of Scripture and Hebrew at Mt. St. Mary's Seminary in Cincinnati. In 1932, he was named rector of the Pontifical College Josephenum in Worthington, Ohio. The Josephenum was the only such institution in the Western Hemisphere, a seminary not answerable to any diocese, since its charter was from the pope. In Grimmelsman's time, it focused on training students of German descent for priestly service in German-American communities. As these communities blended into the American mainstream, this institution began taking students from dioceses that did not have seminaries of their own.
Being an expert in Scripture, he wrote two books about Old Testament Books, one on the Book of Exodus and one on the Book of Ruth. These slender volumes were textbooks for those studying to be priests. A typical page consisted of a few lines of Scripture at the top and an extended commentary on that snippet below. He also gave the all-important "Nihil Obstat" approval of the 1941 official Catholic version of the New Testament in American English.
He also wrote some smaller pamphlets, one about a trip to the Holy Land he took in the 1920s, and one dealing with his first stint at Innsbruck. The pamphlets were written after he had retired as bishop. There were many other publications and essays in addition to the above.
Bishop of Evansville
In 1944, at the peak of World War II, he was appointed bishop of the brand new diocese of Evansville, Indiana. Previously part of the Archdiocese of Indianapolis, you couldn't find a spot in the Archdiocese farther away from Indianapolis than Evansville. The area was therefore a bit of a backwater as far as the Church was concerned. He set to work building infrastructure, establishing parishes and, perhaps most important to him, educating and encouraging new priests.
He had the reputation as a no-nonsense taskmaster, as you might expect of someone who had a mission of building up a new diocese. Late in his tenure as bishop, he was summoned to Rome to participate in the famous Second Vatican Council. His expertise was relied on in matters pertaining to Scripture.
Retirement/Death
In 1965, he retired from his duties as bishop. He remained in Evansville for nearly seven years until his death in the summer of 1972. He set up a small chapel in the bishop's house and continued to say a daily Mass until weeks before his death, when physical impairment made him unable to do so. He died peacefully of natural causes. He is buried at St. Joseph Catholic Cemetery in Evansville.
References:
Many specifics regarding his ministry were obtained from the June 30, 1972 issue of "The Message," a periodical published by the Diocese of Evansville. Information about early life, as well as the photo, were obtained from the Grimmelsman family. The publications authored by Bishop Grimmelsman are available in many of the larger American Catholic libraries. 
<![if !supportEmptyParas]> <![endif]>
<![if !supportEmptyParas]> <![endif]>
<![if !supportEmptyParas]> <![endif]>
<![if !supportEmptyParas]> <![endif]>
<![if !supportEmptyParas]> <![endif]>